Luka Dončić Reveals His Perfect Description of Stephen Curry
Since returning from a sprained left ankle, Luka Dončić is leading a surge by the Dallas Mavericks. Dallas is 18–6 since the first of the year and 6–2 in February. But during All-Star Weekend, the three-time selection saved his highest praise for a player with two MVP awards already. When asked about Golden State Warriors legend Stephen Curry, the ordinarily talkative Slovenian superstar wasted few words.
Few players have been as dominant as Dončić upon arrival in the NBA. Taken third overall in the 2018 NBA Draft, he is one of only two players to average 26 points, eight rebounds, and seven assists through his first four seasons. The other is Oscar Robertson, so it's pretty good company to keep.
But the 22-year-old star remains awestruck by the brilliance of Curry.
Stephen Curry gave Luka Dončić a first-hand look at greatness last season
In February 2021, Dallas hosted the Warriors in consecutive games. Golden State hammered the Mavericks in the first, winning 147–116, and the Mavs sought a split in the rematch.
Luka Dončić brought his A-game. But so did Stephen Curry. Dallas came away with a 134–132 win behind 42 points, 11 assists, and seven rebounds from Cool Hand Luka. But Chef Curry didn't let his team go quietly, erupting for 57 points — hitting 11-of-19 from beyond the arc — in the loss.
It was the second-highest scoring output of Curry's career, behind his 62-point explosion in a win over the Portland Trail Blazers a month earlier.
What makes Curry unique is the combination of volume and accuracy from three-point range. A player has dropped 11 or more 3s in a game 26 times in NBA history. Almost half of those — 12 — belong to Steph. Klay Thompson and Damian Lillard are the only players to do it more than once.
The rest of the list is a remarkable mixture of legends and surprises. It includes Dennis Scott, Kobe Bryant, Donyell Marshall, J.R. Smith, Deron Williams, Kyrie Irving, Marcus Smart, Zach LaVine, Buddy Hield, and Fred VanVleet.
Dončić isn't quite there as a consistent deep threat, hitting 33.5% this season and 33.2% for his career. He's a product of the new NBA; one built squarely in Curry's image.
Dončić is still processing the greatness of Stephen Curry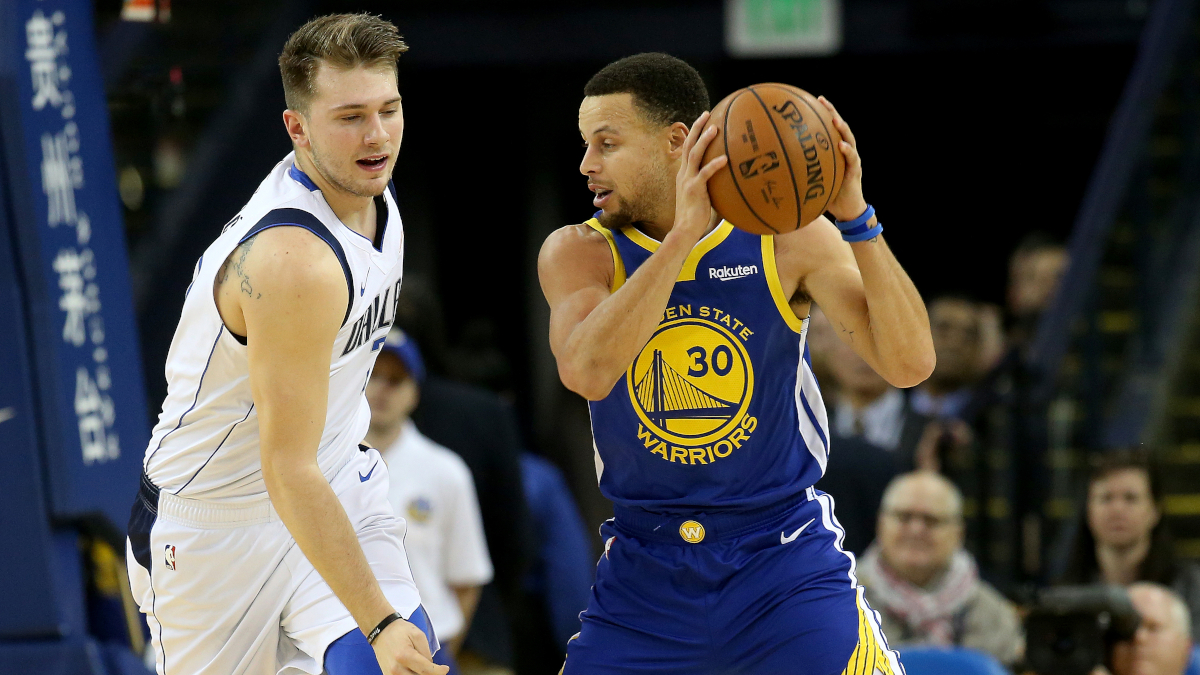 Stephen Curry brings out the best in Luka Dončić based on their head-to-head meetings. The Slovenian averaged 29.1 points in seven career matchups and canned 46.7% from deep (28-of-60). Curry countered with 30.6 points and made 43.0% of his triple tries (40-of-93).
The Warriors have the upper hand with four wins to three for Dallas.
The teams split their first two meetings this year, with the Mavericks' improved defense limiting the two-time MVP to a combined 32 points on 3-of-19 shooting from long range. Luka had 51 points, 15 boards, and 11 assists in the two contests.
Asked to describe Curry in one word, Dončić didn't hesitate, per Tom Dierberger of NBC Sports Bay Area.
"Unbelievable."
The young star got an opportunity to expound on that. He doubled down.
"Unbelievably amazing."
He's not wrong.
Curry is shooting 37.8% from deep this season, which is (a) considerably better than the league average of 34.9% and (b) on pace for a career-low.
Save for a five-game, injury-shortened 2019–20 season, Curry has never shot worse than 41.1% from the hinterlands. For perspective, that figure alone would rank 22nd in NBA history. His career mark of 42.8% is 10th, but his average of 8.8 attempts per game dwarfs those above him on the list.
All-time leader Steve Kerr took 1.8 attempts per game. The next closest to Curry in the top 10 is Brooklyn Nets sharpshooter Joe Harris, who takes 4.8 long balls a night.
Luka Dončić is playing like he wants to join Curry in the MVP club
Since the calendar turned to 2022, Luka Dončić and the Mavericks have been on a tear. In that span, Dallas is 18–6, and at 35–24 is 1.5 games behind the Utah Jazz for a top-four spot in the West.
As for Dončić, he's averaged 29.3 points, 10.3 rebounds, and 9.4 assists over those 24 games, sitting out their Jan. 7 win at Houston after he tweaked his right ankle.
While Stephen Curry was an early frontrunner in the NBA MVP race, Dončić is closing fast. In eight games in February, he's putting up 36.3 points, 10.6 boards, and 9.4 assists and is shooting 43.0% on 9.9 three-point tries a night.
New coach Jason Kidd has the Mavericks playing exceptional defense. This season, Dallas is fifth in the NBA, allowing 107.2 points per 100 possessions. Last season, it was 21st. Since the first of the year, only the Boston Celtics (100.9) have defended better than the Mavs' 105.0 rating. Their plus-8.0 net rating is third in the NBA in that span, trailing only Boston (plus-13.1) and the Phoenix Suns (plus-10.8).
The two-time All-NBA selection has fallen short twice in the playoffs. Dallas exited in the first round in 2020 and 2021 courtesy of the Los Angeles Clippers despite Dončić averaging 33.5 points a game.
It's not hard to imagine 10 years from now, and there will be a young player at All-Star Weekend asked to describe Luka Dončić. Given the track he's on, that future answer might sound a lot like how Luka talked about Stephen Curry in Cleveland.
Statistics courtesy of Basketball Reference,Stathead, and NBA.com.
RELATED: Luka Doncic's Response to Body Criticism Should Be a Serious Wake-up Call for Zion Williamson