Luka Doncic Could Actually Be Sabotaging the Mavericks' Chances to Land Bradley Beal
The Dallas Mavericks have become a contender in the Western Conference thanks to the sensational rise of Luka Doncic, but the Mavs might not have the assets to acquire another star.
Dallas Mavericks star Luka Doncic has rapidly ascended the ranks of the elite talents in the NBA, but his rise might also impact the team's ability to trade for a star like Bradley Beal.
Doncic's future in Dallas has become a major topic of discussion. The Mavs star reportedly feuded with former director of quantitative research Haralabos Voulgaris over the course of the past season. The organization has since undergone significant change, hiring Jason Kidd to replace Rick Carlisle as head coach and bringing in Nico Harrison to replace longtime general manager Donnie Nelson.
The expectation still seems to be that Doncic will sign a $200 million supermax rookie extension with Dallas later this summer. However, his decision could be impacted by the Mavs failing to acquire Beal or another star. This could be challenging for the Mavs, though, as they lack premium assets or significant draft capital due to their recent success and commitment to winning.
Luka Doncic has made the Mavs perennial playoff contenders
It was not all that long ago the Mavs were a franchise in dire straits.
Dallas won a combined 57 games between the 2016-17 and 2017-18 seasons. The Mavs had the No. 5 pick in the 2018 NBA draft but traded up for the rights to draft a Slovenian sensation who had made a name for himself in the Euroleague.
Luka Doncic had been turning heads since his days starring for Real Madrid and won the Euroleague MVP as an 18-year-old back in 2018. That includes Mavs governor Mark Cuban, who recalled being impressed by the youngster's ability to dominate against seasoned professionals.
The Mavs moved up the board to take Doncic and make him the franchise's centerpiece in 2018. He has since made Dallas a perennial playoff contender.
Doncic and the Mavs went 33-49 in his rookie season but have posted a winning percentage over .570 in each of the past couple of seasons. This is largely due to Doncic, who led the NBA in usage rate this past season while also ranking fourth in value over replacement player (VORP).
The 22-year-old's meteoric rise has given the Mavs hope for the future. Simultaneously, the success has limited Dallas' draft capital and could impact its ability to add a suitable co-star for Doncic.
Mavericks might not be able to trade for a star like Bradley Beal
Grant Afseth of Sports Illustrated noted the Mavs organization has long held Beal in high esteem. Trading for him is another challenge entirely.
As Afseth states, Beal, whose two-year extension begins this upcoming season, would have to request a trade. He has yet to make such a request.
Moreover, the Mavs might not have the package to acquire a player of Beal's caliber. Afseth opined that an offer consisting of Kristaps Porzingis, Jalen Brunson, 2020 first-round pick Josh Green and a pair of future first-rounders could land an impact player. However, the Washington Wizards might demand higher draft picks and young players with greater upside should they look to trade Beal and rebuild in earnest.
The Wizards have every right to make big demands for Beal should he want out. The 28-year-old averaged over 30 points per game in each of the last two seasons and is one of the top offensive combo guards in basketball. He is also likely to have a large market if he is made available, which only benefits the Wizards.
Who will the Mavs pursue to team with Luka Doncic?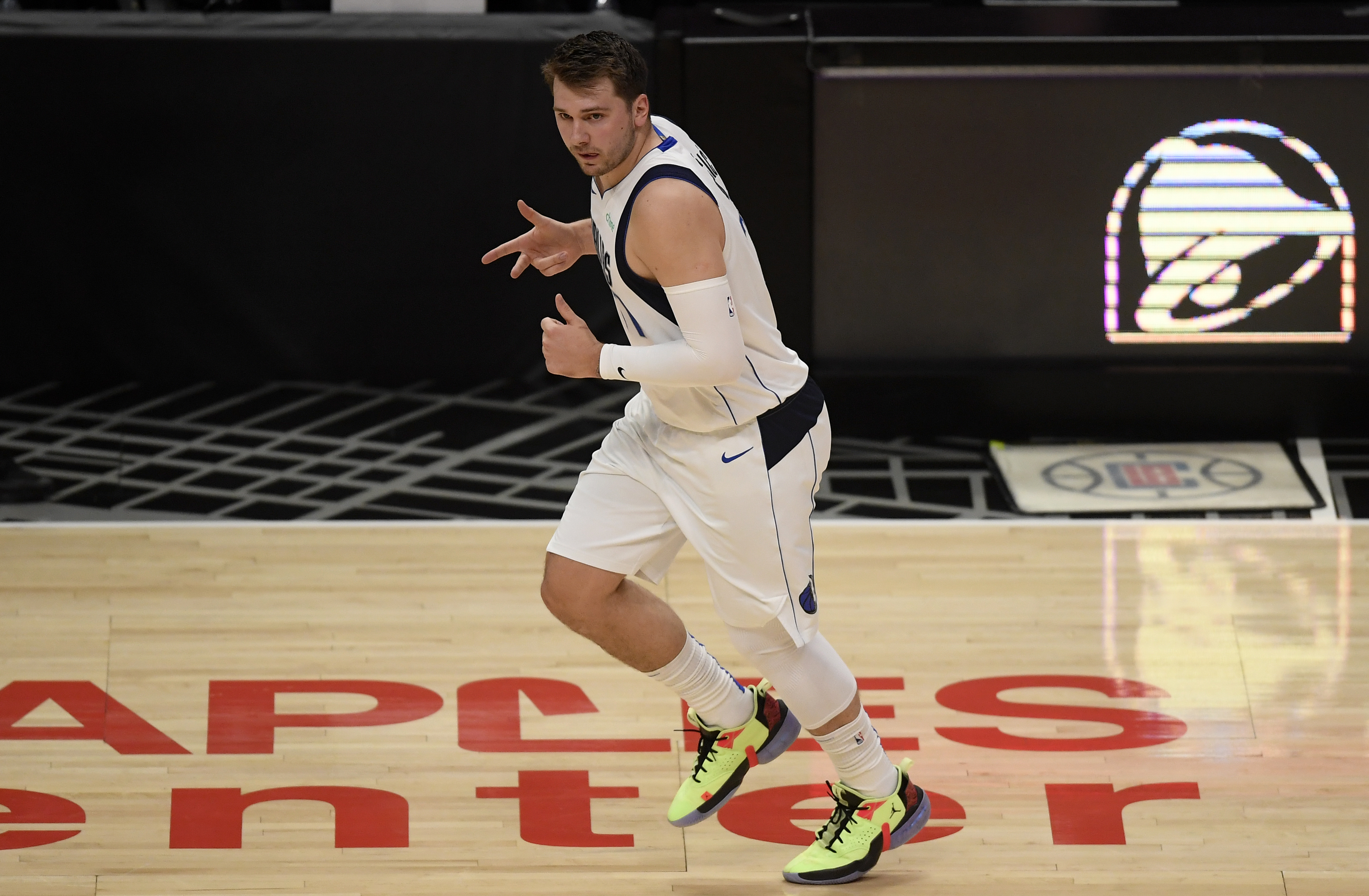 Dallas might not be able to make a run at Beal. But can the Mavs upgrade the roster with a new co-star for Doncic? The answer could hinge somewhat on Kristaps Porzingis.
It is hard to decipher what Porzingis' value might be this summer. He has upside as a center capable of spreading the floor and protecting the rim. He also has a lengthy injury history and averaged just 13.1 points and 5.4 rebounds in Dallas' first-round playoff loss to the Los Angeles Clippers. His contract might be a sticking point.
Porzingis is owed over $65 million in the next two seasons with a $36 million player option for the 2023-24 campaign. Can Dallas find a suitor willing to take on that money in a deal for a key player? The Mavs might have to turn to free agency and orchestrate sign-and-trades to upgrade the roster, or perhaps move off other contracts.
Kristian Winfield of the New York Daily News reported that the Mavs are interested in Spencer Dinwiddie, an unrestricted free agent. Bleacher Report's Jake Fischer reported last month that Dallas could pursue Kelly Oubre Jr.
The Mavs seem to be purveying several options to get Luka Doncic some help and make the next leap in their development. However, Dallas might have to go after players of a lesser caliber than Bradley Beal.
RELATED: Kristaps Porzingis Snuck out to a Strip Club During the Playoffs, and Luka Doncic Wasn't Happy About It
Stats courtesy of Basketball Reference. Contract information courtesy of Spotrac.