Luka Dončić vs. Team USA Is the Olympics Gold-Medal Matchup We All Need
While Team USA had to come back from a double-digit deficit to eliminate Spain in the 2020 Tokyo Olympics quarterfinals, Slovenia continued to cruise. How good has Slovenia been? It is the only nation in the history of the Olympics men's basketball tournament without a loss. Sure, the Slovenians have only played four games, but behind the brilliance of Luka Dončić, they're also only two wins from a gold medal.
Not bad for a first-time Olympic qualifier. The bracket lines up for a potential Slovenia-Team USA gold-medal game. There are a lot of rather large ifs to deal with first. Slovenia must get through France. Meanwhile, Team USA faces the same Australian Boomers it lost to in a pre-Olympics exhibition.
How good have Luka Dončić and Slovenia been? Extremely
In four games thus far at the Tokyo Olympics, Slovenia has had one game with a final margin in single digits. That was their group-clinching 95–87 win over Spain on Aug. 1. Luka Dončić and company opened with a 118–100 thumping of Argentina and blew out Japan 116–81. In the quarterfinals, the Slovenian steamroller flattened Germany, 94–70.
He had 20 in Slovenia's win over Germany but flirted with a triple-double with 11 assists and eight rebounds. Slovenia also got 27 points on a brilliant shooting game from Zoran Dragić.
Slovenia leads the Olympic Games with an average of 105.8 points per game. The squad is shooting 49.8% overall and 37.4% from 3-point range.
The leading scorer at the Olympics, Dončić is averaging 26.3 points per game. Dragić is getting 16 a night. Vlatko Cančar, Mike Tobey, and Klemen Prepelič give Slovenia five double-figure scorers.
France and Slovenia tip off at 7 a.m. Eastern on Aug. 5. Team USA's semifinal with Australia goes off at 12:15 a.m. the same day.
No disrespect to Australia or France, but the world needs Luka Dončić vs. Team USA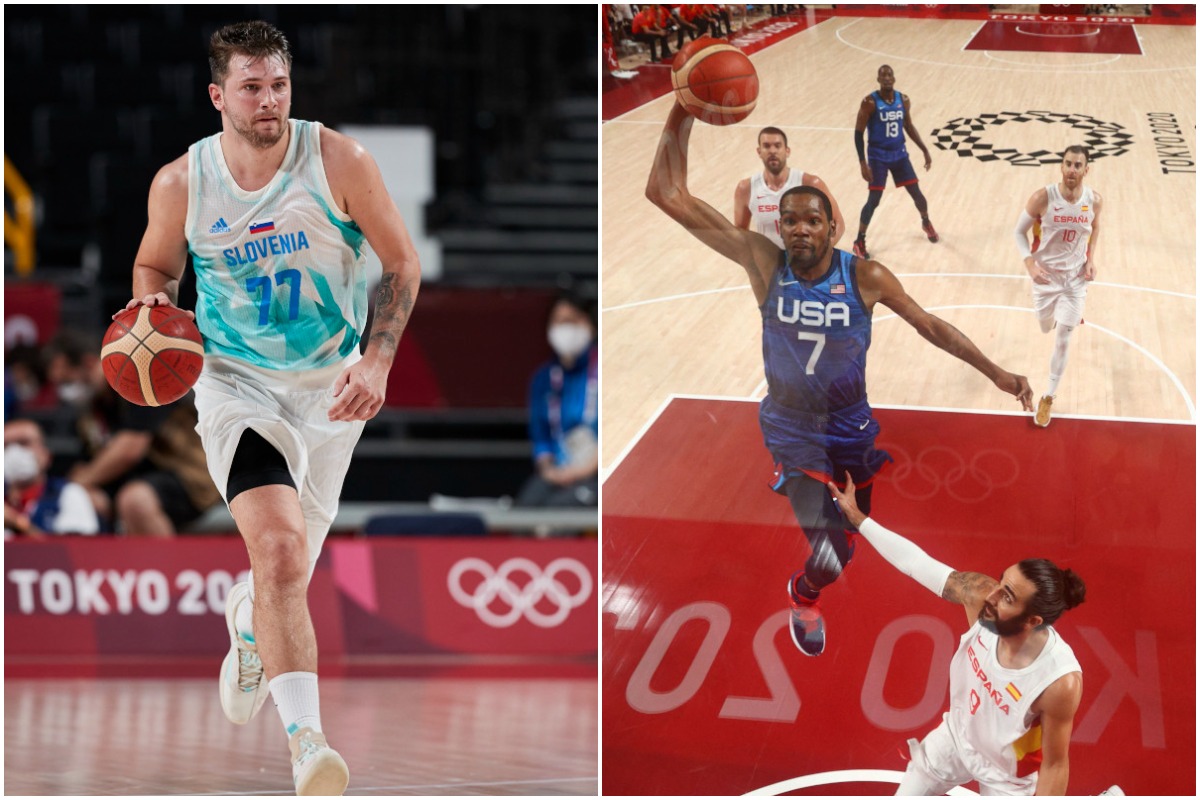 Team USA is far and away the most decorated nation in Olympic men's basketball history. In 18 previous Olympiads, Team USA has piled up 15 gold medals, a silver medal, and two bronze medals. Slovenia, on the other hand, is the new kid on the block. It is playing in its first Olympics.
Meanwhile, Luka Dončić has a lot of that Danny Manning and the 1988 Kansas Jayhawks vibe. His 48-point outburst against Argentina in Slovenia's opener against Argentina tied for the second-most points in an Olympic game and was just the 13th 40-point game in Olympics history.
Australia's Eddie Palubinskas scored 48 points against Mexico at the 1976 Games in Montreal. The record of 55 points was set by Brazilian Oscar Schmidt in 1988 against Spain at the Seoul Games.
Slovenia vs. Team USA is a David-and-Goliath story waiting to happen, only if David and Goliath were both teams of extraordinarily large human beings.
Team USA is the last team left in the field with a loss
The final four teams standing in Tokyo have a combined record of 15–1. Australia, France, and Slovenia remain unbeaten. Team USA's loss to France in the group stage is the lone blemish to be found.
Australia, Team USA's semifinal foe, survived a test in Tokyo. In their second group stage game, the Boomers held off Italy for an 86–83 win. They also had double-digit wins over Nigeria and Germany. Australia posted the largest victory in the quarterfinals, demolishing Argentina 97–59 after leading by 15 entering the fourth quarter.
France has its 83–76 win over Team USA to go with convincing victories over the Czech Republic and Iran in group play. In their quarterfinal, France came from behind to beat Italy 84–75.
Team USA has gotten inspired play from Kevin Durant in its last two wins. After scoring just 20 points in Team USA's first two games, Durant has scored 52 over its last two. His 29-point performance in the quarterfinal win over Spain included 17 in the second half. Team USA opened the second half on a 22–6 run and held off the Spaniards down the stretch.
Luka Dončić. Team USA. Now, all we need is for the teams to cooperate and make it happen.
Statistics courtesy of FIBA.