Luka Doncic Was Already Compared to Larry Bird and Magic Johnson
There have been plenty of interesting storylines percolating throughout the NBA season. The Clippers and Lakers are as good as we thought they'd be, Giannis Antetokounmpo has taken another Eurostep to greatness, and the NBA is considering making major changes the format of the season in response to a dip in ratings. But few things have been as exhilarating as the historically great season taking place in Dallas, courtesy of the Luka Doncic aka the Wonder Boy.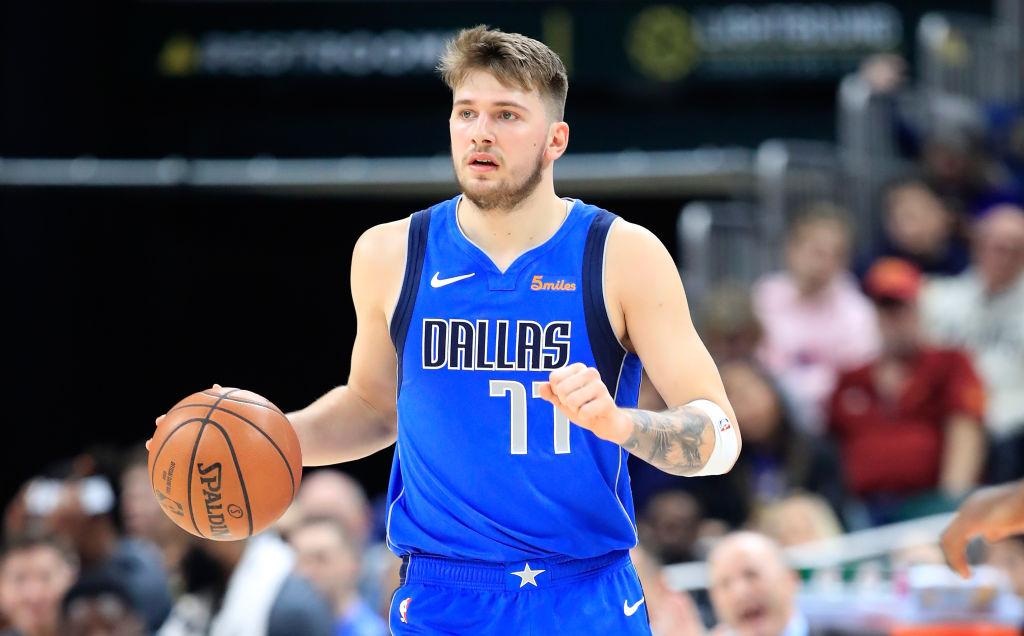 A born prodigy who's still shocking the world
That was the nickname that followed Luka Doncic as he slalomed through defenses as teenage phenom playing for Real Madrid in Spain's ACB league. He did things no player ever had at his age.
He made his professional debut at 16 and became the youngest player to ever win the EuroLeague MVP award. That hype followed him into the NBA Draft, where he was viewed as one of the top prospects in 2017 alongside the likes of Deandre Ayton, Marvin Bagley, and Trae Young.
But there were also critics that didn't think he could replicate his success in the NBA, mostly due to his lack of athleticism and a more general wariness about feats accomplished outside of the American basketball system.
Doncic quickly proved those haters wrong. He was named Rookie of the Year after putting up a 20 points, 5 rebounds and 5 assists average that only four other rookies had ever put up. And this year, he has taken a leap that not even LeBron James did as a 20-year-old. 
Luka Doncic's leap to superstardom
The statistics — a 30 point triple-double from a second-year player — are staggering. Luka Doncic hasn't even played 100 games in the NBA yet, and he already looks like an unstoppable force in most games, despite the fact that he's only shooting 33% percent from the three-point line.
Offensively, he has everything a modern player needs to be elite in 2019. He glides across the court with a slow-footed deception that evokes the style of James Harden. He doesn't blow by defenders with a rapid first step, instead, he beats them with a level of skill and cleverness that belies his age. Getting to the rim shouldn't be this easy for someone who struggles to dunk in the half-court.
But it's his passing ability that takes him into another stratosphere. It's simply unreal. Doncic has mentioned that he looked up to LeBron as a developing prospect (he even got him to sign his jersey after one of their games last year) and his ability to facilitate and run an offense at his size and age is reminiscent of the Lakers superstar. 
The Dallas Mavericks offense rests mostly on his shoulders. Kristaps Porzingis is still working his way back from his knee injury. The likes of Seth Curry and Jalen Brunson are nice role players, but they can't carry an offense. Doncic initiates almost every offensive set when he's in the game (he has the third-highest usage rate in the league) and the Mavs have the best offensive rating in basketball. His stats are directly contributing to winning games. 
Luka Doncic is earning some high praise
His performances have compelled his coach to find comparisons in all-time greats. Rick Carlisle is known to be a particularly micromanaging head coach who can be harsh on his point guards. But the scale of Doncic's talents have convinced him that he should be less commanding:
"Guys like Doncic, Bird, Jason Kidd, Magic Johnson — sometimes they get bored and they want to get into a creative state and do some things to kind of break up the monotony," Carlisle said. "But the important thing is to understand that there's a time and place for everything. The most important thing is not to compromise your opportunity to win.

"I give him the trust to figure those things out."
Rick Carlisle has been in the game for a long time. He's coached a number of players who have a case to get into the Hall of Fame in the future. The fact that he's given Doncic so much control speaks volumes. 
The signs so far- – they're currently tied for the third-best record in the Western conference — confirm this to be the right decision. Luka's dominance barely has any precedent in the modern era. And he still has room to improve.
Most people expected Luka Doncic to be a star in the league at some point, but no one thought a season like this would happen so soon. The future is now.