Mac Jones Already Impressed Josh McDaniels Without Throwing a Meaningful Pass for the Patriots Yet
New England Patriots offensive coordinator Josh McDaniels' football legacy, and his overall future, depend on Mac Jones.
Jones, a rookie quarterback from Alabama, is the potential heir to Cam Newton — and, by extension, Tom Brady. Although the 15th overall selection hasn't thrown a meaningful pass for the Patriots yet, he already found a way to impress his offensive coordinator.
Josh McDaniels praised Mac Jones and his SEC experience
Although Mac Jones only started one full season in college, he shredded SEC defenses with such precision that the New England Patriots felt comfortable selecting him in the 2021 NFL draft's first round.
Jones' history in the SEC definitely impressed Josh McDaniels during the pre-draft process. According to NESN, the longtime Patriots offensive coordinator explained that the quarterback's success under Nick Saban made the Patriots optimistic about his chances in the NFL.
"He's demonstrated an ability to function at a pretty high level in their system and their offense with their terminology. He competed in a league that is, I would say, is widely regarded as one of the top conferences, if not the top conference, in all of college football."

Josh McDaniels
McDaniels expanded on how he and the Patriots evaluated Jones before they drafted him.
"To play the position of quarterback, there's not just one thing you need to do well," McDaniels said. "He certainly stood out in certain obvious ways relative to throwing the football, and command, and protecting the ball, and not hurting his football team. A lot to look at and digest when you studied him."
McDaniels needs Jones to build off his success in the SEC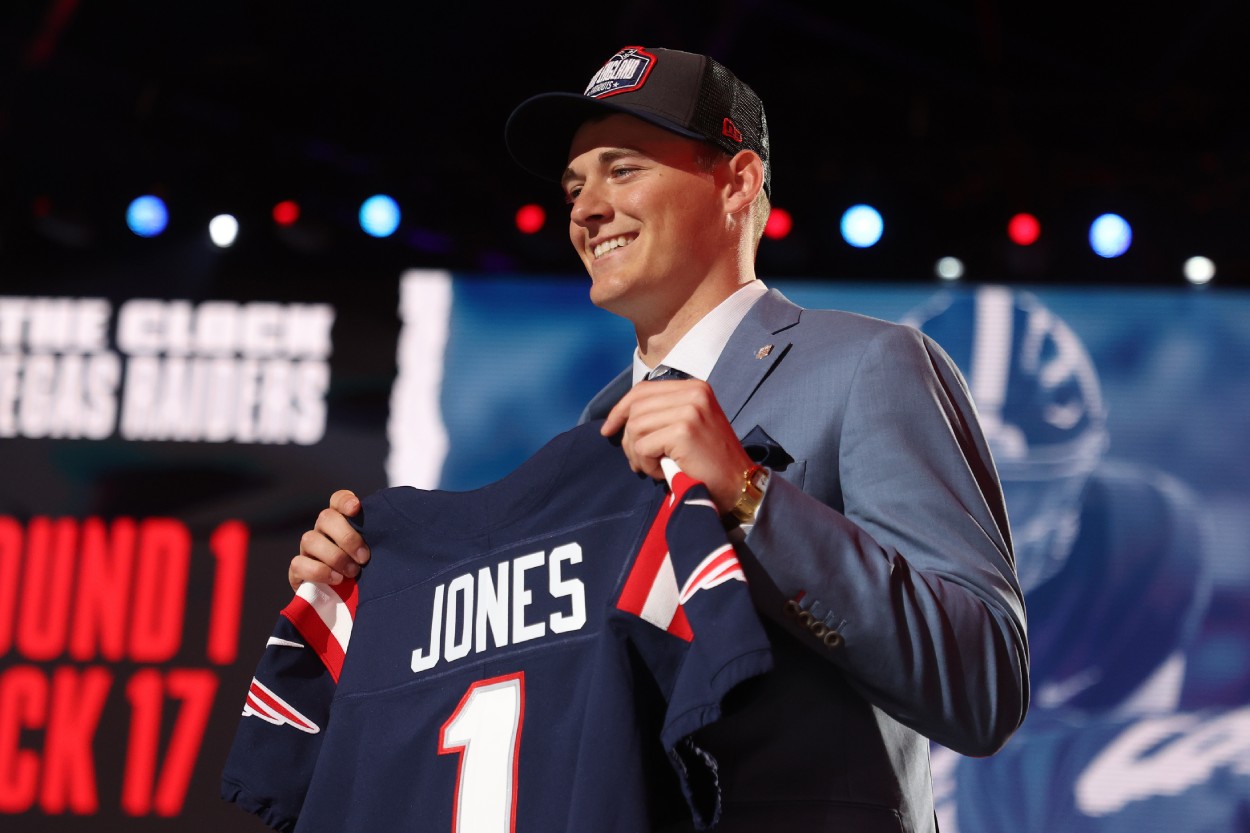 When the 2020 NFL season ended with Tom Brady hoisting the Lombardi Trophy, Bill Belichick and the Patriots sat at home with the proverbial egg on their face.
If Jones pans out for the Patriots, he'll slowly but surely find a towel powerful enough to brush as much of the egg and yolk off as he can. That would be good news for McDaniels, the veteran offensive coordinator whose reputation has taken a hit in recent years.
Remember, McDaniels agreed to become the Indianapolis Colts' head coach in 2018 but backed out at the last minute. Since then, he has remained with the Patriots, guiding an offense consisting of inconsistent performances and under-performing players.
Belichick has stuck with McDaniels thus far, but the loyalty needs to result in points and wins. Teams outscored the Patriots 353-326 last year en route to New England's 7-9 finish. The Patriots' 20.4 points per game average ranked sixth-worst among NFL teams.
When should Patriots fans expect to see Jones start instead of Cam Newton?
Belichick and the Patriots re-signed Newton, the former NFL MVP, for a reason. Even after last season's struggles, they believe he gives them an opportunity to win games and get back to the postseason.
Still, the Patriots are no strangers to taking risks and making bold decisions with who to put on the field. If Jones plays well enough in the preseason and adjusts properly to the NFL, perhaps the Patriots would be open to starting him in Week 1 against the Miami Dolphins.
For now, Patriots fans should circle November 19, one day after the team plays Matt Ryan and the Falcons on Thursday Night Football. Suppose the Patriots are in a position through the first 11 games where they are unlikely to make the playoffs or are in desperate need of an offensive jolt. In that case, Belichick could turn to Jones with the 10-day break between games and start getting him ready for a home game against the Titans on November 28.
But, given how history repeats, maybe Patriots fans should expect Jones to make his first start in late-December against the Colts; as of publication, the league had not announced if that game would occur on Saturday, December 18, or the next day. That would be fitting, considering Brady made his first career start for the Patriots in September 2001 against Peyton Manning and the Colts.
Like Sportscasting on Facebook. Follow us on Twitter @sportscasting19.