Mac Jones Blatantly Ripping off Tom Brady With His New 'MJ10' Logo Could Cause Major Problems for the Patriots
Through the first 12 weeks of the season, Mac Jones has played like a budding superstar. He's outperforming fellow rookies Trevor Lawrence, Zach Wilson, Trey Lance, and Justin Fields, and he's led the New England Patriots to an impressive 8-4 record.
Despite endless pre-draft questions regarding his speed and athleticism, Jones proves there's still a place in the NFL for stereotypical pocket passers. The Patriots are cruising toward their first playoff appearance since Tom Brady departed and are even lining themselves up for a fairly deep run.
Mac Jones is playing like a franchise quarterback
Jones has passed for 2,850 yards and 16 touchdowns, firmly looking the part of New England's next franchise quarterback. He ranks top-15 in passer rating and quarterback rating (QBR) and is third in completion rate (70.3%).
It's worth pointing out that the collection of pass-catching targets at his disposal aren't the greatest either. The Patriots' top three receivers in terms of yards are Kendrick Bourne, Jakobi Meyers, and Nelson Agholor. None of them have been established No. 1 options during their NFL careers.
Needless to say, Bill Belichick and the Patriots have to be feeling pretty good about their first-round selection. However, a recent off-the-field decision by Jones could be putting the whole ordeal in significant jeopardy.
Mac Jones is trying to trademark 'MJ10'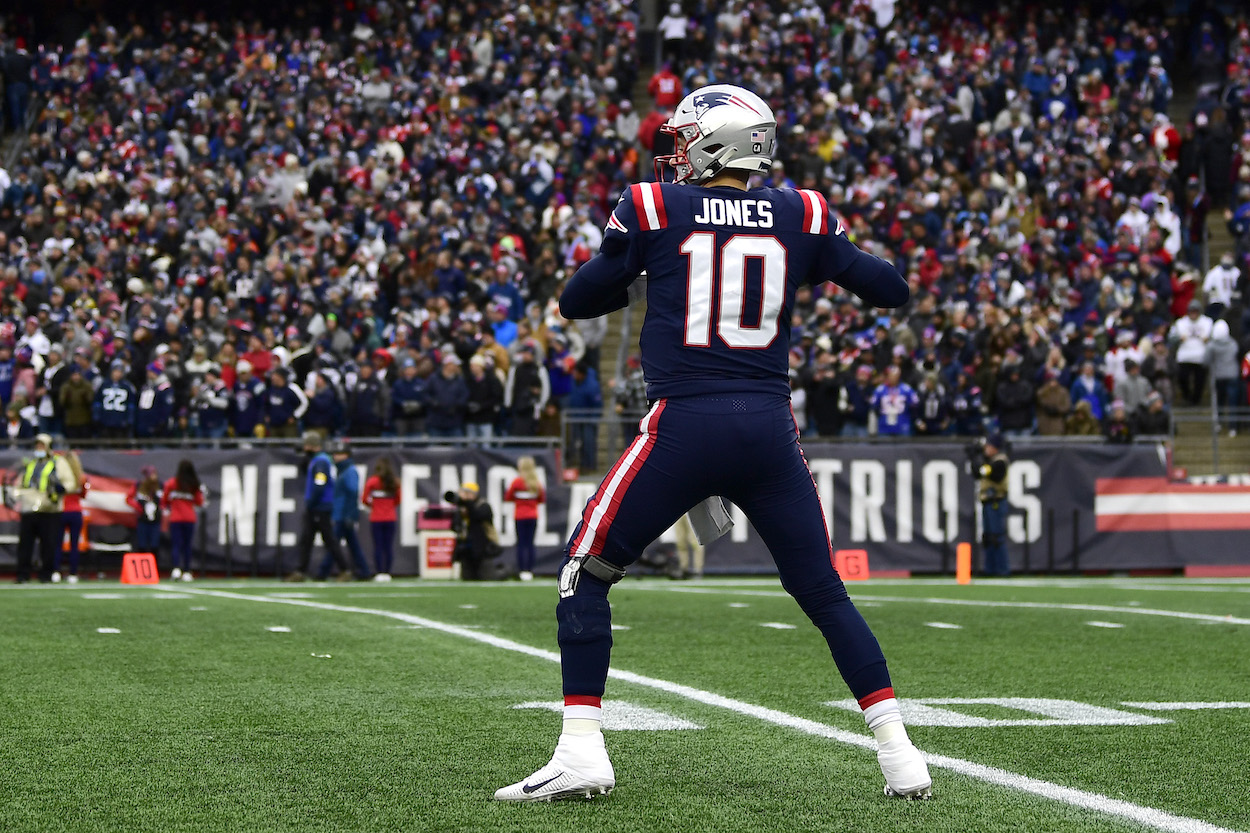 With Jones emerging as the favorite to win Offensive Rookie of the Year, set to be the Patriots' starting quarterback for the next several years, he's quickly taken the necessary steps to capitalize on his ascending fame.
According to Nicole Yang of the Boston Globe, Jones is filing a trademark on the phrase "MJ10," intending to create a logo and brand around it. Similar to how Cleveland Browns quarterback Baker Mayfield jumped at the opportunity to star in television commercials during his rookie season, Jones is wasting little time attempting to become a star on and off the field.
On the surface, this is a minor detail. Almost every player in the NFL has a brand or a logo these days. However, upon a closer look, it's worth wondering if such a decision could cause issues in the Patriots' locker room. New England has long been a team-over-individual organization. Now, a 23-year-old rookie is attempting to upstage that precedent less than a season into his NFL career.
Are the Patriots trying too hard to replace Tom Brady's aura?
Upon first seeing the "MJ10" trademark, it's impossible not to draw comparisons to Tom Brady's "TB12" logo. They're the same idea and premise, both originating from New England. The only difference is that Brady waited several years to create a brand, whereas Jones did not.
Ultimately speaking, the Patriots can't control Jones creating a logo or not. However, it does feel like the team, as a whole, is really leaning into this idea of Jones blossoming into the next Tom Brady. The organization caught a lot of flack for allowing Brady to leave in 2020, especially after winning a Super Bowl during his first year with the Tampa Bay Buccaneers.
Jones turning out to be an acceptable Brady replacement takes a lot of heat off Bill Belichick and company.
However, it's all quite a bit of pressure to place on a rookie quarterback who wasn't even selected in the top-10 of his draft class. Playoff expectations, Brady comparisons, and now a logo/brand. If Jones ends up flopping as an NFL starter down the road due to all this background noise, the Patriots will only be subject to further criticism.
All stats courtesy of Pro Football Reference.