Mac Jones Is Channeling Chargers Star Justin Herbert as He Quietly Prepares the Patriots for an Unexpected Playoff Run
Article Highlights:
New England Patriots quarterback Mac Jones' numbers are similar to Los Angeles Chargers star Justin Herbert's stats
Jones is winning games even if he's not torching defenses
The Patriots will be back in the postseason if their rookie quarterback keeps things up
New England Patriots fans hoped for two things from Mac Jones when he officially arrived earlier this year. Obviously, they wanted him to win games and take the six-time Super Bowl champions back to the postseason.
Jones still has a long way to go before he can make progress on that second task, which is emerging as a legitimate long-term replacement for Tom Brady. As for that first mission, the Alabama product is taking strides by channeling Los Angeles Chargers star quarterback Justin Herbert.
Advanced statistics show Mac Jones and Justin Herbert are having similar seasons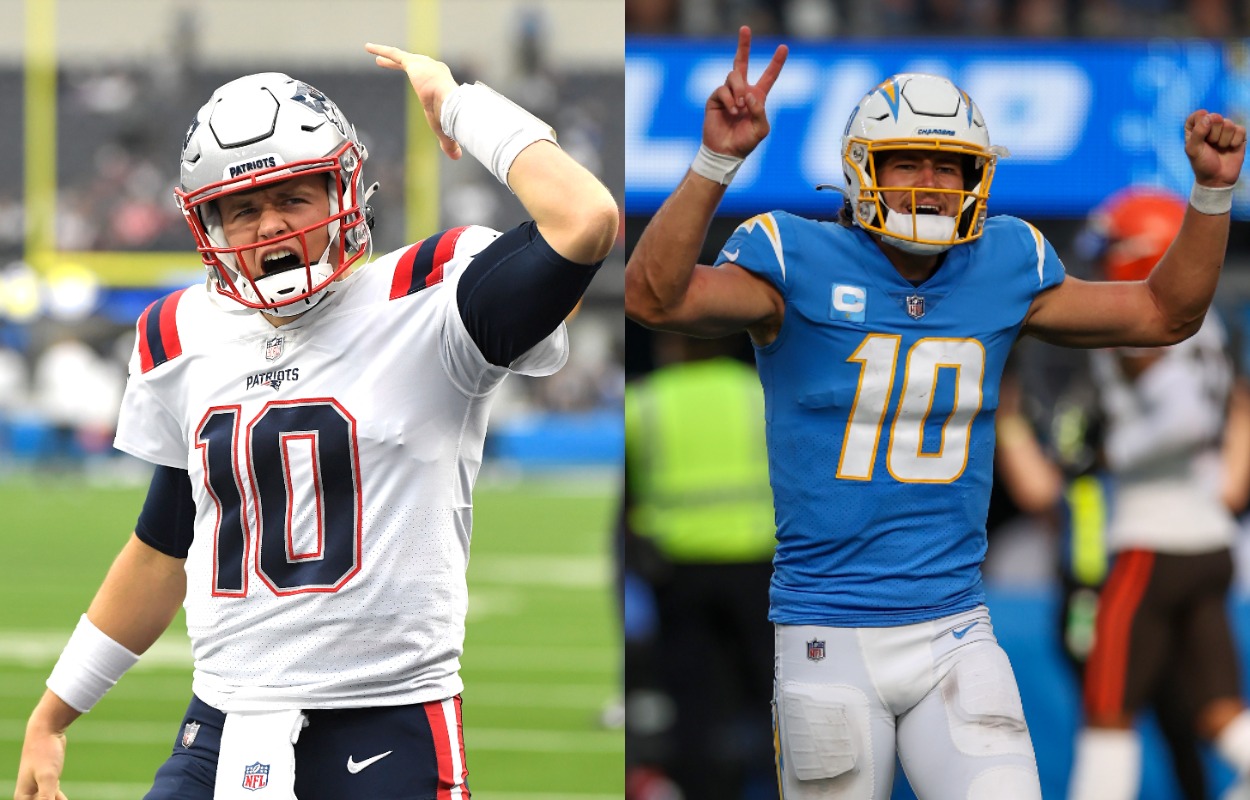 In an era where we've watched the likes of Dallas Cowboys standout Dak Prescott and Arizona Cardinals star Kyler Murray carve through defenses as rookies, Jones' overall numbers are underwhelming. He completed 68.1% of his passes through the season's first eight games for 1,996 yards, nine touchdowns, and six interceptions.
With the 17-game season, that's a 4,242-yard, 19-touchdown pace. The Patriots will surely take those numbers, especially after last year's Cam Newton-led offense struggled to score points. New England is averaging five more points per game with Jones at quarterback.
The advanced statistics don't paint Jones as an elite quarterback who has lesser numbers because of mediocre weapons. According to The Athletic, Jones only had 11 completions of 20-plus yards in the air and averaged 7.1 yards per attempt through the season's first eight weeks. Those numbers aren't great, especially not in the modern pass-happy NFL.
However, here's where things get interesting. Herbert, who won four of his first five starts before a recent losing streak, has identical numbers in both categories. The difference is the reigning NFL Offensive Rookie of the Year completed 63.7% of his passes for 1,994 yards, 16 touchdowns, and six interceptions through the season's first two months, albeit in seven games to Jones' eight.
Jones is steadily progressing as a rookie even if he's not lighting up the stat sheet
The easy knock against Jones is going to be his love of the dink-and-dunk and check-downs. He's not throwing many deep passes, and there's no reason for the Patriots to change that right now.
What matters is Jones has rallied the Patriots from a 1-3 start to position them at 4-4 entering Week 9. Two of those four losses, including the Week 4 home match with Brady and the Tampa Bay Buccaneers, were decided either in the final minute or overtime. A third loss, way back in Week 1 against Tua Tagovailoa and the now 1-7 Miami Dolphins, is because Patriots running back Damien Harris fumbled at the Dolphins' 9-yard line with less than four minutes left.
On the one hand, you're free to argue the Patriots are 4-4 because they swept the New York Jets and held off the miserable Houston Texans. But that's what teams want from their rookie quarterback. Franchises want their young quarterbacks to win the winnable games and compete against the better teams, just as he did against the Chargers.
Although Jones only completed 18 of his 35 pass attempts against the Chargers, he didn't turn the ball over in a 27-24 victory. How can the Patriots want anything different? He moved the ball on offense and did enough to ensure his defense's strong performance didn't get wasted.
Before upsetting Herbert and the Chargers, Jones held his own in close losses to Brady's Buccaneers and Prescott's Dallas Cowboys, two of the NFC's top teams.
Jones will have the Patriots playing in the postseason if he keeps his recent play up
If the 2021 NFL Playoffs began today, Jones and the Patriots would be the last team out. New England has three winnable games ahead against the inconsistent Carolina Panthers, the injury-plagued Cleveland Browns, and the rebuilding Atlanta Falcons. The Patriots also have the tiebreaker advantage over Herbert and the Chargers, who would currently be the AFC's seventh and final seed.
The key for the Patriots is a pivotal five-week stretch beginning in late November. Not only do Jones and the Patriots play the Buffalo Bills twice, but they also have matchups with the Tennessee Titans and Indianapolis Colts. A 5-4 finish, coupled with some help from other teams, could easily sneak the Patriots into the postseason.
Fair or not, the Patriots' playoff hopes are on Jones' shoulders. If he keeps up his recent play and limits his turnovers, the Patriots should make it back to the postseason. In the process, Jones would match Brady in an important category: reaching the playoffs in their first year as a starter.
How did that turn out for Brady? Let's just say football fans would have even more incentive to hate the Patriots if history repeats.
Like Sportscasting on Facebook. Follow us on Twitter @sportscasting19.
RELATED: Dak Prescott Offered a 9-Word Prediction That Should Have Patriots Fans Sold on the Mac Jones Era