Mac Jones Could Have a Better Rookie Season Than Trevor Lawrence and Justin Fields if a Mock Draft Proves To Be True
Trevor Lawrence and Justin Fields are supposed to be the top two quarterbacks selected in the 2021 NFL draft. It's for good reason, too, as they are both extremely talented young prospects. However, Alabama's Mac Jones was just a Heisman finalist and has proven to have a ton of potential. In fact, Todd McShay of ESPN has Jones going to a specific team in one of his mock NFL drafts, and if he proves to be right, Jones could actually have a better rookie season than both Lawrence and Fields.
Mac Jones has had a great season with the Alabama Crimson Tide
RELATED: Alabama QB Mac Jones Coached a Women's Football Team To a Championship
After appearing in 11 games in 2019 and throwing for 1,503 yards, 14 touchdowns, and three interceptions, Mac Jones became the starter for Nick Saban's team this season.
Jones has helped the Alabama Crimson Tide offense become one of the best offensive units of all-time this year, too. He has thrown for 4,036 yards, 36 touchdowns, and only four interceptions this season, which helped him finish third in the Heisman Trophy voting. His play, though, also helped his top receiver DeVonta Smith catch 105 passes for 1,641 yards and 20 touchdowns, and Smith ultimately won the Heisman.
Additionally, Alabama's offense also scored an incredible 48.2 points per game, and Jones helped lead them to a 12-0 record through their first 12 games. He also led them to the College Football Playoff national championship game.
Todd McShay has him going to the Indianapolis Colts
RELATED: Cowboys Fans Will Love Who Mel Kiper Jr. Has Dallas Taking in the 2021 NFL Draft
According to USA Today's Colts Wire, ESPN's Todd McShay has Mac Jones going to the Indianapolis Colts with the No. 21 overall pick in his recent mock draft.
"The top end of this signal-caller class is special, and the Colts are squarely in the mix for one of them, with 39-year-old Philip Rivers finishing up his one-year deal," McShay wrote, according to Colts Wire. "Jacob Eason is the only name on the Colts' 2021 QB depth chart at the moment. Jones puts excellent placement on deep balls, anticipates well and shows poise in the pocket."
If things fall differently, the Colts could go with another quarterback in the draft. NBC Sports has them selecting Kyle Trask of Florida. If McShay's mock draft proves to be right, though, Jones could have an excellent rookie season.
Mac Jones could have an excellent rookie season with the Colts
RELATED: Where Will Your Favorite Team Be Drafting in the 2021 NFL Draft?
Let's make things clear: even if the Colts select Jones, he might not even play in his rookie season. The Colts could easily bring back Philip Rivers — who proved to still have something left in the tank — for the 2021 season and have Jones sit under him for a year or two.
If Jones were to start right out of college, though, he would be set up to succeed right away.
The Colts went 11-5 this past season, and had they even had Andrew Luck at QB, they could have been one of the top two seeds in the AFC. Indianapolis has a great offensive line, and they also like to focus on running the ball. Rookie running back Jonathan Taylor proved to be one of the top running backs in the NFL this year, too, as he finished third in the league in rushing with 1,169 yards.
Taylor would take some pressure off Jones in the passing game, and when Jones would have to throw the ball, the offensive line would be able to protect him. He would also have some nice weapons to throw to when passing. Nyheim Hines was a great weapon out of the backfield for Indy this season and could be a good security blanket for him. Hines led the Colts in receptions with 63 to go with 482 yards and four touchdowns. Rookie receiver Michael Pittman Jr. also came on strong toward the end of the year, as he caught 26 passes for 368 yards and a TD from Week 10 to Week 17. He also caught five passes for 90 yards in the Colts' lone playoff game.
He could have a better rookie season than Trevor Lawrence and Justin Fields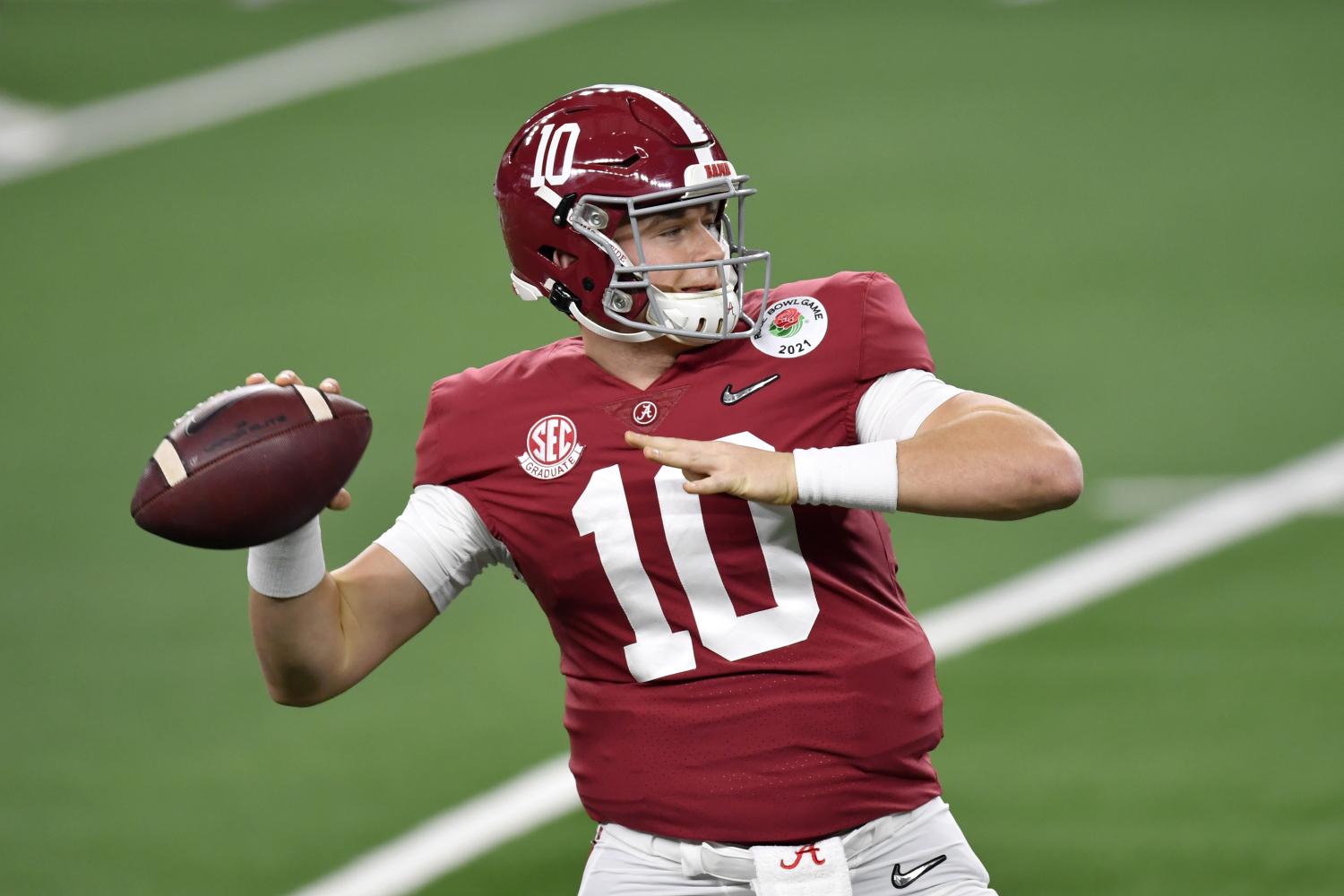 RELATED: Tim Tebow Offered Trevor Lawrence Some Great Advice About the New York Jets and the 2021 NFL Draft
Jones would easily be able to succeed in his rookie season with the Colts because he would have a ton of talent around him to make up for any mistakes he would make. 
Guys like Trevor Lawrence and Justin Fields, though, would be going to teams like the Jacksonville Jaguars and New York Jets, who don't have any talent. There will most likely be a ton of pressure on Lawrence and Fields to cover up any insufficiencies from the get-go.
Mac Jones might not even go to the Colts, though, and if he does, he might not even start right away. If he does, however, start for Indy in 2021, he would be in a great situation instantly. Fields and Lawrence, on the other hand, will most likely be in some horrible situations.
It will be interesting to see what happens this offseason.
Stats courtesy of Sports Reference and Pro Football Reference