Mac Jones Has the Patriots Poised to Follow a Recent Trend That Tom Brady Routinely Used to His Advantage
Article Highlights:
Mac Jones and the New England Patriots have an opportunity to enter their bye week at 9-4
Patriots legend Tom Brady has experience winning Super Bowl titles after having an extremely late bye week.
Recent history works against teams with early byes winning the Super Bowl
The NFL's decision to add an 18th game ensured we'd run into some schedule oddities along the way. Few, if any, are stranger than Mac Jones and the New England Patriots having a bye week in the second week of December.
Four teams — the Patriots, the Indianapolis Colts, the Miami Dolphins, and the Philadelphia Eagles — won't play in Week 14. It'll be a strange sight, but if recent history is an indication of what is to come, then Jones should feel great about his chances of channeling his inner Tom Brady and bringing another Lombardi Trophy back to Foxborough, Mass, in the coming months.
Mac Jones and the Patriots have a late bye week, just like Tom Brady and the 2020 Buccaneers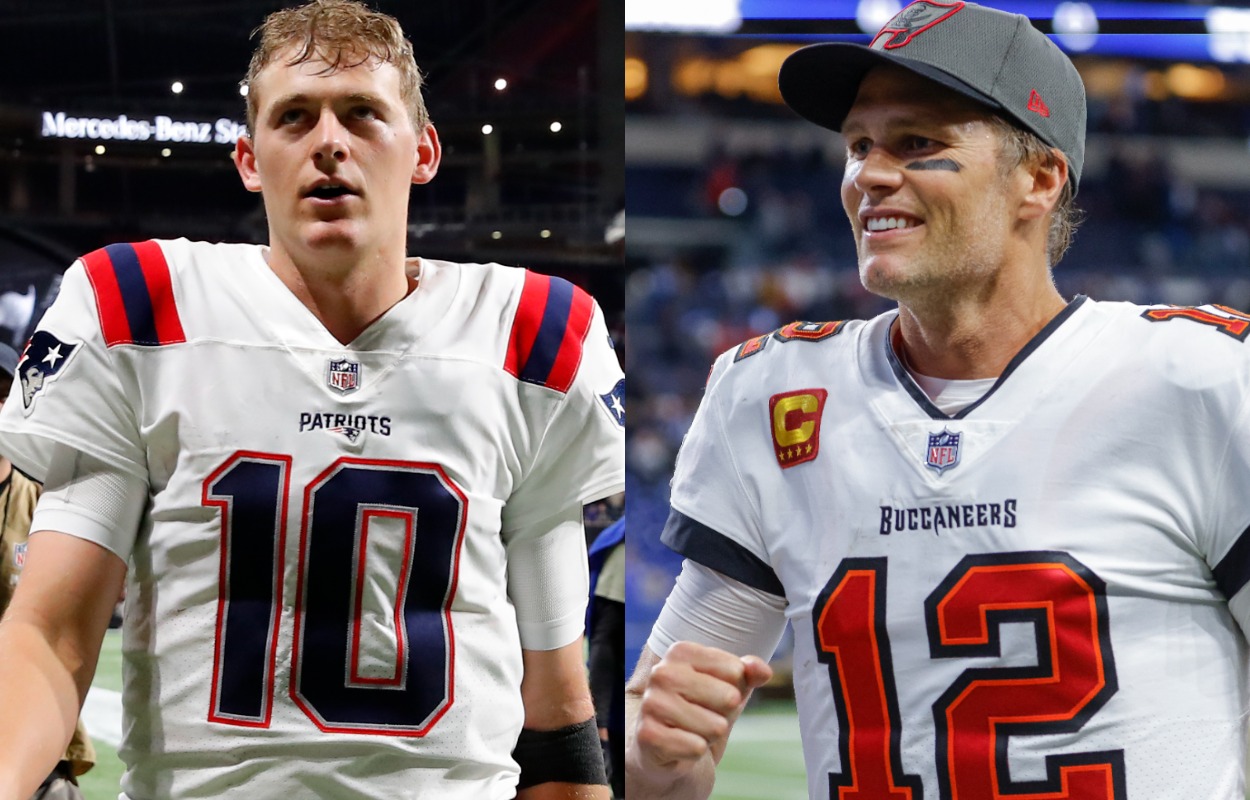 The NFL has embraced spreading bye weeks out in recent years, allowing teams to have scheduled time off in December. This year's group includes a Patriots team which, depending on how their Dec. 6 game against the Buffalo Bills goes, could enter the bye at 9-4.
As strange as a December bye sounds, Brady and the Tampa Bay Buccaneers know the idea well. Last year's Bucs entered a Week 13 bye at 7-5 and having lost three of their last four games.
The Buccaneers' late bye allowed Brady, then 43, to recharge and complete 69.1% of his passes for 1,333 yards, 12 touchdowns, and a single interception over the final four weeks. The Buccaneers outscored opponents 148-75 and won every game in that span.
We think you know the rest. After securing a wild-card berth, the Buccaneers won all four postseason games and routed Patrick Mahomes and the Kansas City Chiefs, 31-9, in Super Bowl 55. How can anyone argue against the late bye after putting two and two together?
Brady has historically used a late bye week to his advantage
Now, we know what you might be thinking. How can we prove that there is any correlation between a late bye week and winning a Super Bowl? Well, we can't, but we're going to try anyway.
Although Jones is still searching for his first playoff start, the 44-year-old Brady is pursuing his eighth Super Bowl ring. Of the six titles Brady won in New England, four came after a November bye week. He recently took advantage of a Week 11 bye in 2018 (the week of Nov. 18) and won the Super Bowl less than three months later.
What about the other two, you ask? The 2001 Patriots intended to play the Carolina Panthers in Week 2 before the Sept. 11 attacks postponed all games. The Patriots had a Week 16 (week of Dec. 29) bye in 2001 after the league rescheduled all Week 2 games following 9/11. However, the NFL pushed that game to Week 17 and gave the Patriots a Week 16 bye.
Here is where things get especially interesting. The NFL initially gave the Patriots a Week 17 bye but moved things up one week after the 9/11 postponements. Yes, New England's season would have involved 16 straight games before ending the year a week early.
As for 2004, there's no intriguing story there. The NFL used to give teams bye weeks as early as Week 3, and the Patriots fell into that group 17 seasons ago. 
Recent history tends to favor teams who had November or December bye weeks
More often than not, the team holding the Lombardi Trophy at a February championship parade benefited from a later bye week. For example, Patrick Mahomes and the Kansas City Chiefs had a Week 12 (Nov. 25) bye in 2019.
Two years earlier, the Philadelphia Eagles — who defeated Brady and the Patriots in Super Bowl 52 — had a Week 10 (Nov. 12) bye. The 2015 Denver Broncos are the last team to win a Super Bowl after an October bye week. However, Denver had theirs in Week 7, when most games occurred on Sunday, Oct. 25.
The 2009 New Orleans Saints are the last team to win a title after a truly early bye week. Drew Brees and a loaded Saints offense rested in Week 5 (Oct. 11) after a 4-0 start. New Orleans finished the year 13-3 and took down Peyton Manning's Colts in Super Bowl 44.
If we can offer some advice to anyone interested, pay attention to when your team has a bye next year. If your team isn't playing in either of December's first two weeks, you may want to start looking at hotel rooms in Glendale, Ariz., come February 2023.
Like Sportscasting on Facebook. Follow us on Twitter @sportscasting19.