Mac Jones Putting an Intense Amount of Pressure on Bill Belichick to Name Him Starting QB
Mac Jones was one of the biggest question marks heading into the 2021 NFL Draft. Some analysts had him graded as a late first/early second-round talent, and others had him pinned to go third overall to the San Francisco 49ers. Ultimately, the Alabama product landed with the New England Patriots.
Thus far, Jones has given Bill Belichick and New England zero reason to regret such a decision.
Mac Jones looked impressive in his first two NFL preseason games
Jones put out a quietly productive performance, getting his first taste of NFL action on August 12 against the Washington Football Team. It wasn't off-the-charts good, but it was a strong outing for a quarterback who's yet to receive the nod at QB1.
Jones went 13-19 for 87 yards and zero interceptions. It's worth highlighting that Washington had an elite defense in 2020 and is expected to field a similarly dominant one in 2021. While 87 yards on 13 completions may not seem overly impressive, it could have been a lot worse for the Patriots' first-rounder.
A week later, Jones followed up his encouraging first outing by taking it to the Philadelphia Eagles. It ended up being a nightmare performance for Philly, as Jones went 13-19 for 146 yards.
Jones would've easily eclipsed 200 yards on the night had wide receiver N'Keal Harry hauled in a deep ball down the left sideline. It was a near-perfect pass by Jones — an outstretched Harry failed to haul it in as he dove to the grass.
Pressure is being diverted to Bill Belichick
It's still the preseason, but Jones has done his part thus far. When asked to do so, he's churned out productive performances and looks comfortable controlling and commanding the offense.
The Patriots (Belichick) have remained consistent this offseason — they plan to enter Week 1 with Cam Newton as the starting quarterback. However, it's becoming increasingly hard to ignore the pressure that Jones is placing on the organization to name him the starter sooner rather than later.
After all, Jones was drafted to be the "second coming" of Tom Brady for New England (this is an exaggeration, Brady is irreplaceable). The goal should be to get him on the field to start winning football games as soon as possible. As much as teams like to prioritize learning years for rookie quarterbacks, if Jones is ready, then he's ready.
Cam Newton isn't going to hand the starting job over to Mac Jones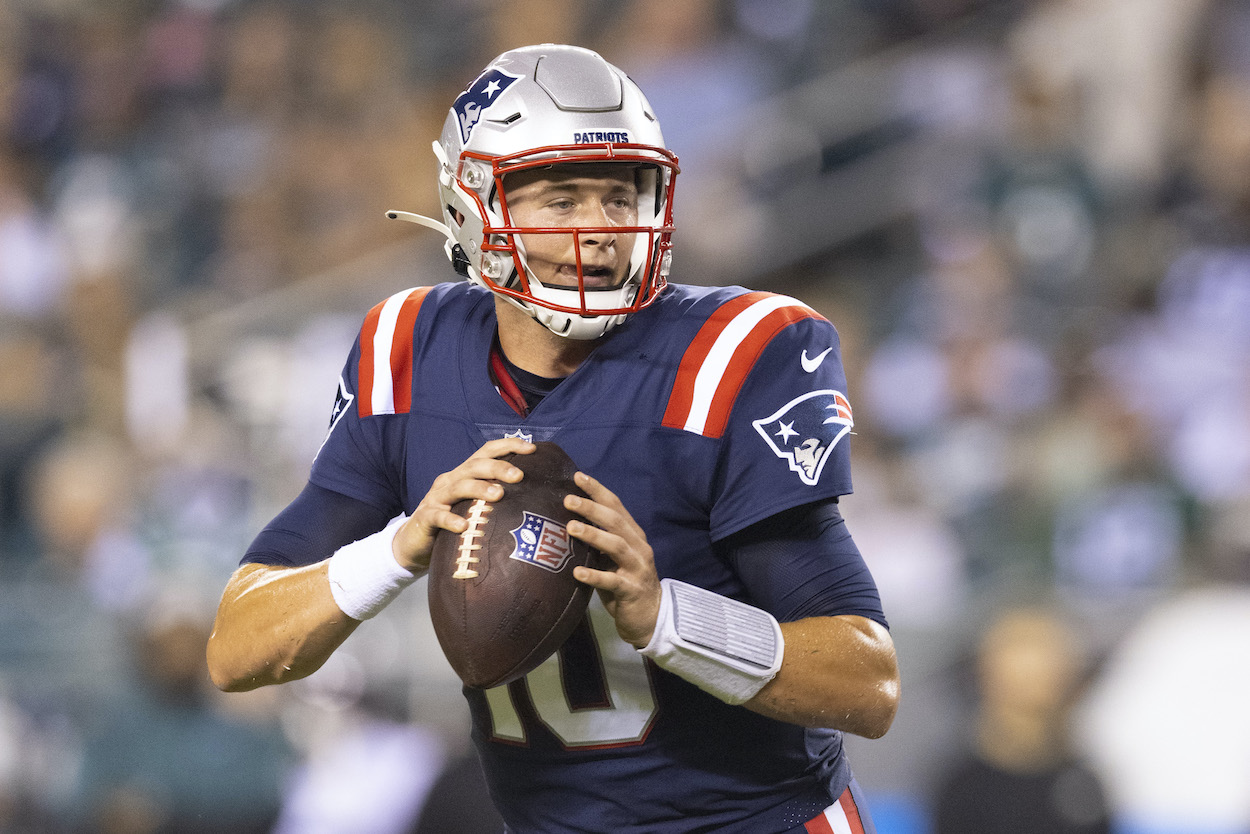 The tricky piece to this Patriots quarterback puzzle is Newton. He's playing on a one-year contract and is unlikely to hand the starting quarterback job over to a rookie.
Newton himself looked impressive against the Eagles, throwing for 103 yards and a touchdown. As good as Jones has played during his two preseason outings, Newton is doing just enough to hang onto QB1 duties.
It will be interesting to see when New England finally rips off the band-aid. Jones obviously has to start eventually. Could a third straight strong preseason outing by Jones see him get action as soon as Week 1? Or will the Patriots stick to their initial plan of slowly easing Jones into the system while Newton continues to play?
Only time will tell.
All stats courtesy of ESPN.