Madden Gives Tom Brady a '97' for the 6th Time as the NFL Video Game Franchise Announces Madden 23 Ratings
Madden 23 has revealed its player ratings ahead of the official release. Unfortunately, while no quarterback in 2022's version of the virtual game will boast double-nines upon the game's launch, the star at the top of the QB heap is none other than Tom Brady.
The Buccaneers quarterback received a 97 rating — not for the first time. As football fans discuss these latest Madden ratings, they're trying to understand how they work. Find out below how these ratings work and how many times Brady has bagged a 95+ rating.
What are Madden ratings and how do they work?
Ratings are the arbitrary statistics measuring a player's skills in the Madden NFL series. Each athlete is measured on a scale of 0 to 100. Therefore, the higher the stat, the better a player is.
For instance, a high throw power stat increases the distance the player can throw the ball. A high injury stat increases the player's resistance to injuries, and a higher speed stat results in the player having improved maximum running speed. Attributes present in the NFL series include:
Overall ratings
Passing-specific ratings
Ball-carrier ratings
Receiving ratings
Defense ratings
Blocking ratings
Kicking ratings.
Each of these has sub-attributes that further define the main attributes.
How Madden 23 ratings are announced
Just like the NFL draft, Electronic Arts (EA) reveals the annual ratings by way of a grand event — something to keep fans engaged during the offseason. The ratings are typically revealed before the next version of the game.
Unfortunately, there is never a specific date for these reveals, but it is easy to make an educated guess based on previous years. Madden 21's rating reveal took place from July 13-17. Madden 22's rating reveal took place from July 25-30.
Tom Brady's Madden 23 ratings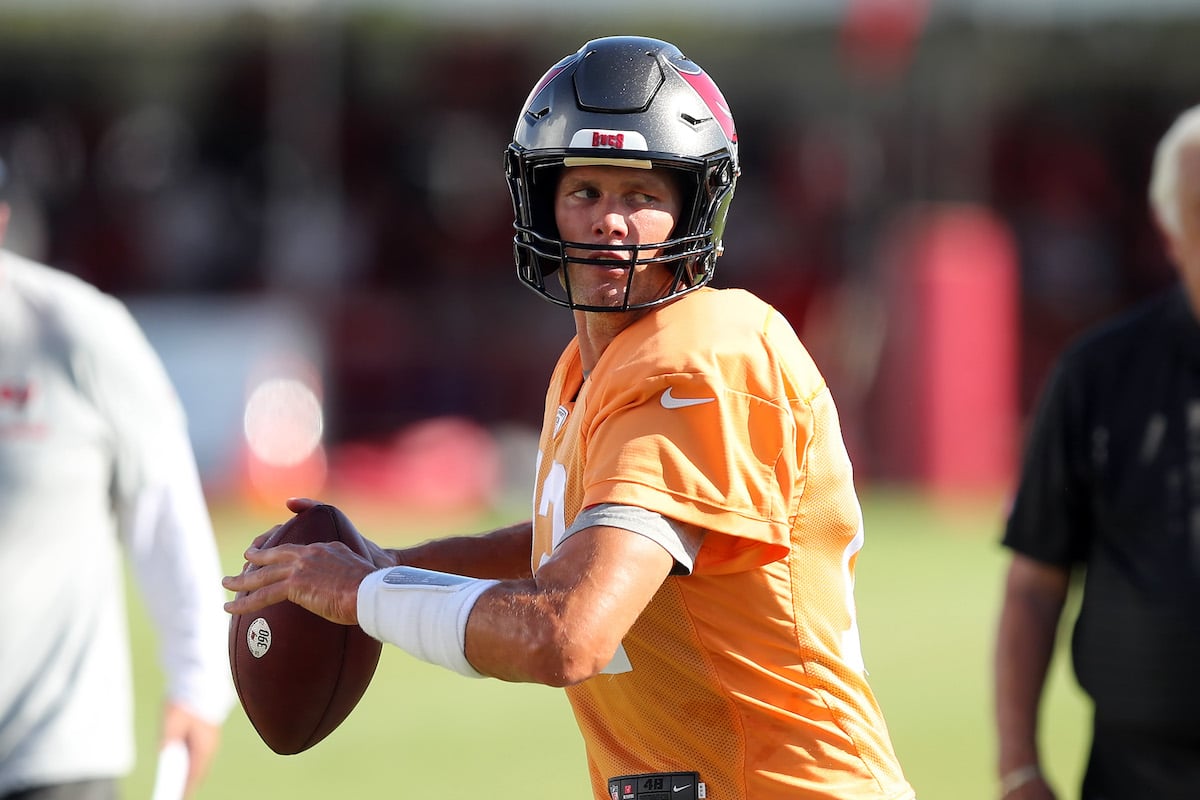 Below is Brady's rating breakdown, according to ESPN.
Overall: 97
General: 82
Speed: 71
Toughness: 99
Stamina: 99
Injury: 99
Jumping: 63
Awareness: 70
Agility: 70
Strength: 64
Acceleration: 70
Throw on the run: 83
Passing: 93
Throw power: 92
Throw under pressure: 86
Play action: 99
Throw accuracy deep: 95
Throw accuracy short: 99
However, Tom Brady's 97 rating for Madden 23 is nothing compared to his several 99 ratings in the past. Some of the other high ratings that Tom Brady received in the past include:
97 rating: Madden 22, Madden 16, Madden 25, Madden 10, and Madden 06
98 rating: Madden 13 and Madden 07
99 rating: Madden 18, Madden 19, Madden 12, Madden 08, and Madden 09
Brady's initial days in the ratings weren't as pleasant. His first Madden rating was a 57. He's enjoyed successful ratings, competing with Peyton Manning to get 99 ratings. Furthermore, in the 20-year history of the franchise, Brady has been successful enough to avoid the Madden curse, which affected 16 of the best NFL talents. 
What are fans saying about the Madden 23 ratings?
The controversial nature of developing Madden ratings always receives criticism. Some players are happy; others are disappointed. 
Cincinnati Bengals wide receiver Ja'Marr Chase expressed the desire to keep working and be extra motivated after discovering he wasn't ranked among the top 10 receivers in Madden 23. Brady shared some inspiration with Chase. The QB implored him to "not sweat it" given that Brady himself wasn't put in the game during his second year. 
Given his prowess on the field, most fans believe that Brady's Madden 23 "97" rating is well deserved. However, according to a tweet by ESPN, a section of fans dispute these ratings with the backing of their personal opinions and preferences. 
For some fans, Allen should be at the top instead of Brady. Regardless, Brady's long-standing 20-plus-year career has allowed him to attract relatively high Madden ratings. 
Related: How Many Times Did Tom Brady Earn a 99 Overall in Madden?