Madison Bumgarner and the 10 Best Career ERAs in World Series History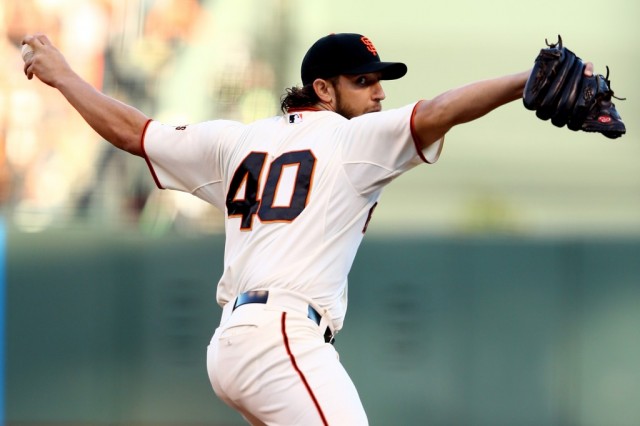 Giants star Madison Bumgarner put together a dominating performance in the 2014 World Series en route to winning the series MVP award. Bumgarner won two games for San Francisco as a starter, including an 117-pitch masterpiece Sunday night, then came in as a reliever on two days' rest to throw another 68 pitches and close out the Royals in Game 7.
Bumgarner has firmly etched his name among the greatest pitchers ever to take the mound in a World Series. But where does Bumgarner's career Series era rank among the best in history?
Here are the top 10 pitchers in World Series history by career ERA, according to statistics from Baseball-Reference.com. Some of the hurlers on this list are ones you'd expect, while others might be names you've never even heard before. How does Bumgarner's World Series ERA stack up all-time?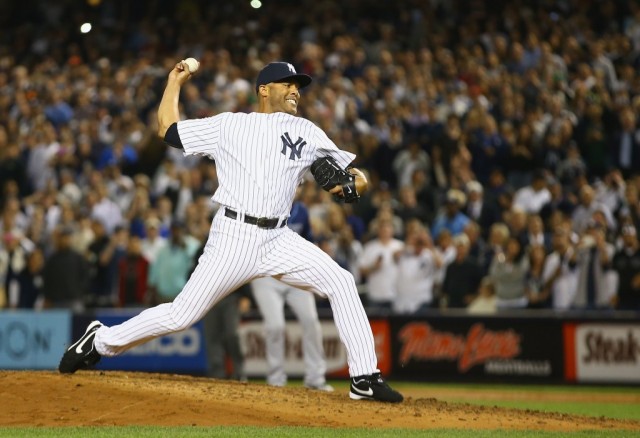 10. Mariano Rivera (0.99 ERA)
Yankees legend Mariano Rivera (pictured) appeared in seven World Series between 1996 and 2009, winning five rings in all. Rivera was named MVP of the 1999 Fall Classic and finished his career with a 0.99 ERA and 11 saves on baseball's biggest stage.
9. Christy Mathewson (0.97 ERA)
New York Giants pitcher Christy Mathewson pitched in the World Series four times, including three seasons in a row from 1911-1913. Mathewson's best performance came in 1905, when he won three games and didn't allow a single run.
8. Sandy Koufax (0.95 ERA)
Dodgers great Sandy Koufax won three championships in four trips to the World Series from 1959-1966, and was named Series MVP in 1963 and 1965 victories. Koufax struck out 61 batters in 57 career Series innings and threw four complete games in his seven starts, posting a 0.95 ERA overall.
7. Sherry Smith (0.89 ERA)
Sherry Smith pitched for the Brooklyn Robins in the 1916 and 1920 World Series. (Yes, there really was a baseball team known as the Brooklyn Robins. Now, they're referred to as the Los Angeles Dodgers). Smith averaged more than 10 innings pitched in his three appearances, including a 14-inning pitcher's duel with…
6. Babe Ruth (0.87 ERA)
When you think of Babe Ruth in World Series history, stellar pitching might not be the first thing that comes to mind. But the 'Sultan of Swat' was 3-0 lifetime as a pitcher in three Fall Classic outings, winning championships with the 1916 and 1918 Red Sox.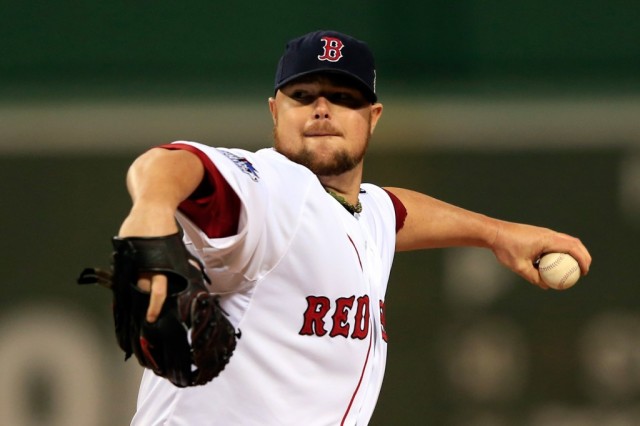 5. Claude Osteen (0.86 ERA)
Dodgers pitcher Claude Osteen only gave up two earned runs in 21 innings pitched during the 1965 and 1966 World Series. Apparently, Osteen needed some more run support, however: He finished with a 1-2 career record as a World Series pitcher.
4. Harry Brecheen (0.83 ERA)
Cardinals lefty Harry Brecheen appeared in three World Series in four years for St. Louis, posting a career record of 4-1 on the hill during the Fall Classic to go with a sparkling ERA of 0.83. His Cardinals won it all twice, beating the St. Louis Browns in 1944 and the Red Sox two years later.
3. Jon Lester (0.43 ERA)
In two career World Series (so far), Jon Lester (pictured) has a perfect 3-0 record in the three games he has pitched, allowing a single earned run over 21 innings. Lester's victories (one over the Rockies in 2007 and two against the Cardinals in 2013) helped the Red Sox win championships in both series.
2. Jack Billingham (0.26 ERA)
Jack Billingham, part of Cincinnati's 'Big Red Machine' dynasty in the 1970s, was dominant in seven appearances over three World Series. Overall, Billingham gave up just one run during 25.1 innings pitched, contributing to the Reds' back-to-back championships in 1975 and 1976.
1. Madison Bumgarner (0.25 ERA)
No player in baseball history has a better career ERA than Giants ace Madison Bumgarner, who has now pitched 36 innings between the 2010, 2012, and 2014 World Series, yielding merely one run. Bumgarner already has three rings at the age of 25 and will go down in the record books for the way he dominated Kansas City when it mattered most.