MLB
MLB: Madison Bumgarner's No-Trade List is an act of Genius
At 29 years old, Madison Bumgarner is in the midst of his prime, and he is inarguably one of the best pitchers in baseball. When he retires, he'll have put up historic numbers. Based on his stats and a number of factors, that gives Bumgarner incredibly high trade value for his team, the San Francisco Giants. Bumgarner has contractual conditions on where he can be traded, and they're actually quite brilliant.

Madison Bumgarner's stats
To understand Bumgarner's situation, it helps to first evaluate his career (and 2019 season) numbers for context. Bumgarner has had a great career thus far. Consider these statistics:

Career 3.07 ERA
112-87 win-loss record
1,649 strikeouts
15 complete games — a rarity in this day and age of highly controlled pitcher usage
Only 393 walks issued
A 1.11 WHIP
Excellent postseason performances with three championships and one World Series MVP
This year, Bumgarner is 2-4 with a 4.04 ERA and 58 strikeouts after nine starts. That's a bit of a dip to be sure, but there are plenty of games left in 2019, and Bumgarner is coming off two seasons where he battled various injuries.

The likelihood of a Madison Bumgarner trade this season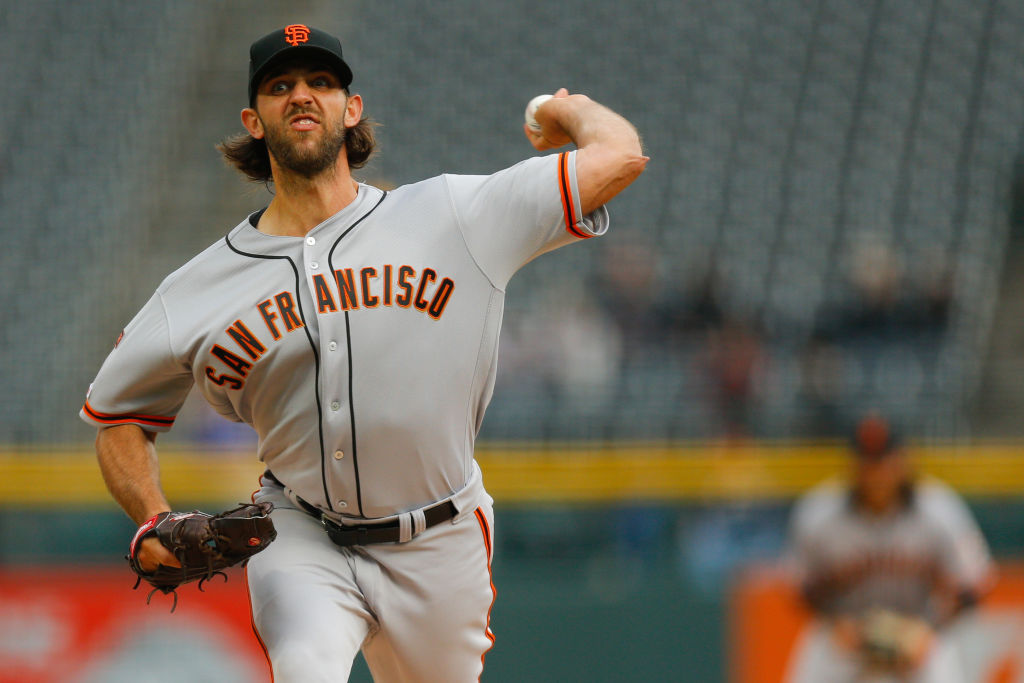 According to an interview between Bumgarner and NBC Sports Bay Area, he'd like to remain with San Francisco for the rest of his career. There are a few obstacles in the way of that happening, however, namely:

Bumgarner is a free agent after this season. His last contract was an eight-year, $58 million deal. Based on other pitcher contracts that have been handed out in recent years, Bumgarner's age, and his performance, he's likely to command a hefty payday.
The Giants are bad and aren't likely to turn it around any time soon. They went 73-89 in 2018, and through 43 games in 2019, they had an 18-25 record. Less than two months into the season and they're already 10.5 games out of first place.
In an ideal world, the Giants would sign Bumgarner to a big-money, long-term deal to keep him. But with the lack of a promising short-term future in San Francisco, handing out a megadeal to a player who's great now may not be the smartest move. It may be smarter to restock the farm system with promising young talent as the Giants would likely command a great haul for Bumgarner on the open trade market.

What teams are on Bumgarner's no-trade list?
The Athletic's Ken Rosenthal reported Bumgarner's no-trade list consists of eight teams:
New York Yankees
St. Louis Cardinals
Boston Red Sox
Cleveland Indians
Chicago Cubs
Houston Astros
Milwaukee Brewers
Philadelphia Phillies
He can still be traded to those teams, but he has to approve the deal first. No-trade simply means he has the right to refuse a move to those eight teams.

Bumgarner's strategy
The teams Bumgarner listed are ones most likely to trade for him. They're teams with championship aspirations and the intent to contend for a title.

Teams not in contention — while no doubt having significant respect for Bumgarner's ability to make them better — would likely have no use for essentially renting an elite player's services for the rest of 2019. Bumgarner left these non-contending teams off his list because he didn't need to include them. They won't be candidates in the race of his services.

Why is his no-trade list an act of genius?
By identifying the teams most likely to trade for him on his no-trade list, Bumgarner will most likely have to waive his no-trade clause to be traded. That gives Bumgarner almost complete control over his next destination. In an era of sports where players are exercising more control over their playing career than ever, it's a masterstroke.

Not only that, but players typically receive extra compensation for waiving their no-trade clauses. Bumgarner would get a little something extra in his pocket for moving at the 2019 trade deadline, and he'll likely cash in with a hefty new contract in the offseason.

It also means that if Bumgarner wishes to remain with the Giants for 2019 while they work out a last-minute extension, he has the power to do that as well.

Ultimately, Madison Bumgarner's future is almost completely in his own hands, and that's why his no-trade list is so genius.