Madison Bumgarner's Lack of a Curveball Goes Back Way Before His MLB Career
One of the best starting pitchers in baseball over the past two decades, Madison Bumgarner was a force to be reckoned with during his peak years with the San Francisco Giants. He was a part of three different World Series-winning rosters during his 11-year Giants career and was named to four consecutive All-Star games between 2013 and 2016.
Whenever "MadBum" decides to hang up the cleats, he will stroll into the Hall of Fame as a first-balloter.
Madison Bumgarner didn't throw a curveball until he was 16 years old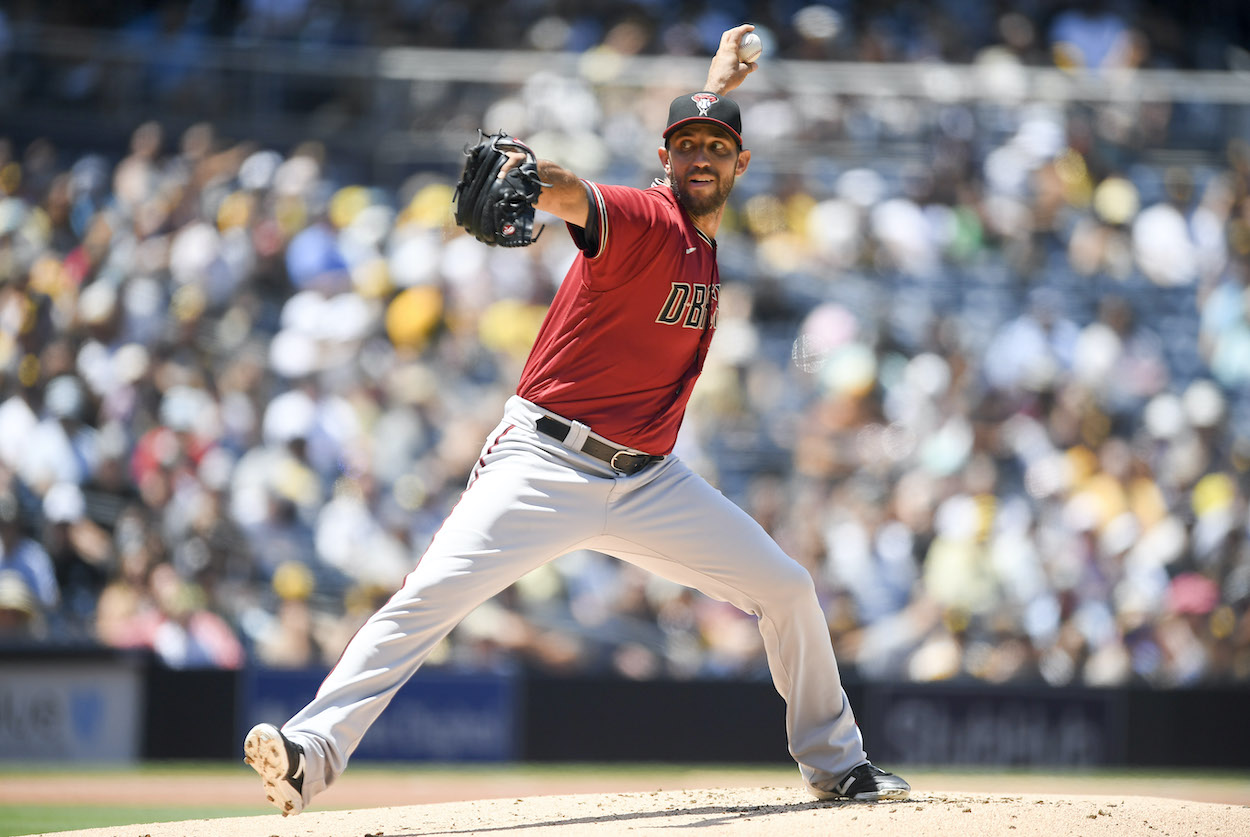 By all accounts and measures, Bumgarner has mastered the art of pitching. He relies heavily on a low-velocity fastball that he locates with precision while mixing in an 86mph cutter that dances off the plater faster than most sliders.
Bumgarner rotates in a change-up on occasion and throws a sweeping 75-78mph curveball.
The curveball, a pitch that Bumgarner didn't even learn how to throw until he was 16 years old (MLB.com).
Bumgarner's father was worried about potential injury
While there are rumors that can be dug up detailing little league officials preventing Bumgarner from throwing curveballs due to how good of a pitcher he already was, the truth of the matter is that Bumgarner's father didn't want his son using breaking balls until his body was physically prepared to do so.
Curveballs put a high amount of strain on the shoulder, which can cause lasting damage at a young age. With how prevalent Tommy John surgery has become in baseball these days, it makes perfect sense to restrict younger players throwing certain high-spin pitches.
Seeing as Bumgarner is currently in year 13 of his MLB career (he debuted as a 19-year-old in 2009), it looks like his father was correct to restrict his pitch arsenal early on. Bumgarner keeping his shoulder intact and in good condition has presumably aided his long pitching career thus far.
Health reasoning aside, Bumgarner didn't even need the breaking ball when working through the little league ranks. The future Hall of Famer's fastball ended up becoming so advanced as a teenager that he was able to strike out opposing hitters exclusively with the heater.
Bumgarner started his MLB career throwing the curveball 25.7% of the time before seeing it drop down to 9.9% in 2012 (Baseball Savant). It's never been Bumgarner's go-to pitch (his fastball, slider, and cutter all have/had usage rates north of 30%), something that can likely be attributed to his early days of avoiding it.
The current Arizona Diamondbacks starter is working through a tough season
While most baseball fans will always remember Bumgarner for his dominant tenure in San Francisco, his latest adventure in Arizona hasn't gone according to plan.
After signing a five-year, $85 million contract in 2020, Bumgarner is regressing to that of a back-of-the-rotation arm. He recorded a 6.48 ERA across 9 starts in 2020 and is rocking a 4.42 ERA through 17 starts in 2021. It's been an underwhelming addition for Arizona.
Having just turned 32 years old, there's still plenty of time for MadBum to flip the script on his DBacks tenure. His tires have some serious tread on them due to how early he debuted, but his low-velocity stuff should still be effective as he gets into his mid-30s.
Bumgarner threw a seven-inning no-hitter earlier this season though, which is pretty awesome.
All stats courtesy of Baseball Reference.
RELATED: The Orioles Signed Chris Davis to a Crippling $161 Million Contract, and It's Going to Get Worse