The Magic Need Tangible Progress More Than Flimsy Positivity To Make Another Rebuild Tolerable
To hear perpetually positive rookie coach Jamahl Mosley tell it, all is right with the world, and the Orlando Magic are perfectly on track. Also, in his blue-colored views, the baby-faced Magic are making nightly gains, players' spirits are high, the I-4 expansion project has been great for commuters, and the lines at Disney World have never been shorter. It's all gumdrops, rainbows, and lollipops for everyone in Orlando's candy land these days.
Well, about that … While taking a "better-days-are-(mercifully)-ahead" perspective might help the Magic stomach the stench of losing, raw data doesn't paint as promising a picture as the one presently painted. In the real world of the NBA, the Magic own the NBA's worst record at 7-34, they haven't won a game in three weeks, and this is their worst 41-game start in franchise history.
Their losing streak heading into Wednesday's game in Washington is nine — the third such skid of at least seven games this season. And, oh yeah, their only two home victories very easily could have been losses if not for furious fourth-quarter rallies against two road-weary Western Conference foes.
On the heels of all that manufactured joy and flimsy positivity comes word from Adrian Wojnarowski and ESPN that Magic President of Basketball Operations Jeff Weltman and GM John Hammond are on the verge of signing contract extensions.
No, seriously, they are about to finalize those transactions while the franchise is in the throes of one of the worst on-court stretches in team history. In some ways, it's the equivalent of the Titanic captain being approved for a life insurance policy on the morning of April 15, 1912.
At this point, the Orlando Magic might be two years away from being two years away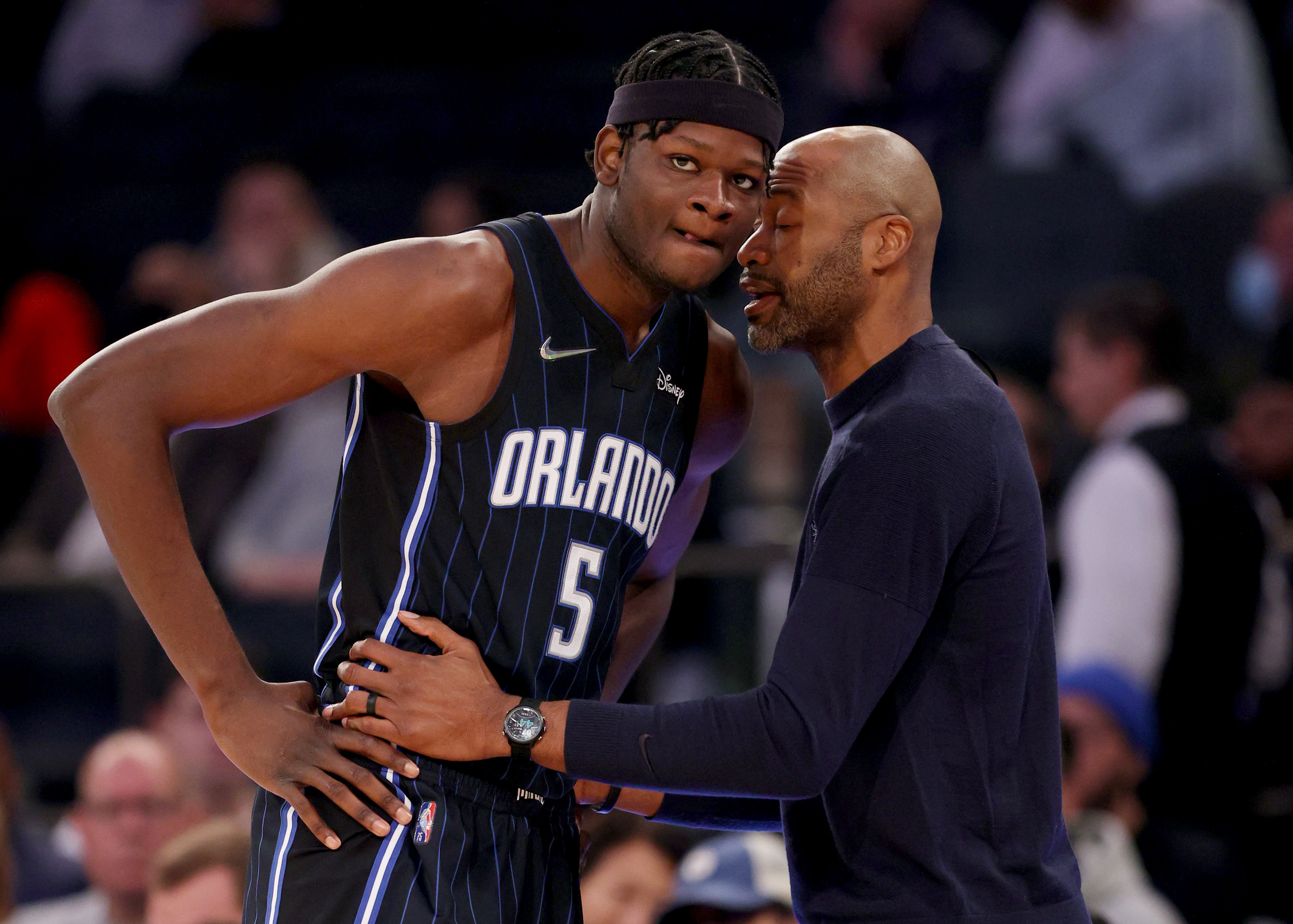 Magic fans, those of them still out there and understandably laying low, might have felt the need to go ballistic over the franchise handing out financial bouquets as the proverbial house burns down. However, apathy mostly reigns in Central Florida when it comes to NBA basketball these days.
With droves of Magic fans staying away from games — and who can blame them? — Amway Center has turned into a home away from home for visiting teams. When former Magic standout Evan Fournier returned earlier this season, he said it felt like he was playing in Madison Square Garden because all the Knicks fans were cheering every basket. Miami fans packed the building and chanted, 'Let's Go Heat' as the home squad was shredded by two guys named Max Strus and Gabe Vincent. And who can forget the scene from last week when Philadelphia 76ers superstar Joel Embiid cupped his hands to his ears as boisterous chants of 'M-V-P! M-V-P!' filled the air in the Magic's, ahem, home building?
Weltman and Hammond sent the Magic down this rebuilding path again last spring
After losing Jonathan Isaac and Markelle Fultz to serious knee injuries, Magic management rebooted the roster again last spring. Nikola Vucevic, the only Magic All-Star since Dwight Howard forced his way out of Orlando in 2012, was sent to the Bulls to star in Chicago. Fournier was dealt to Boston for little to nothing in return and, eventually, he ended up with the Knicks where he played masterfully last week following some uneven performances. Aaron Gordon, another core piece for years, was also dealt to the Denver Nuggets and he fetched youngster R.J. Hampton and Gary Harris.
Not long after, veteran coach Steve Clifford — whose no-nonsense approach and X-and-O expertise helped the Magic end a seven-year playoff drought — was also ushered out. His replacement was Mosley, whose job is now to be the coaching equivalent of a sacrificial lamb while guiding the youngest opening-night starting lineup in the history of the NBA.
While the 2021 reboot meant a fresh slate for the Magic's roster, it also was a gut punch to a fan base still trying to recover from the previously failed rebuild. (See: GM Rob Hennigan, one botched trade, wrong draft pick, and horrendous free-agent signing after another and the worst five-year stretch in franchise history).
The Magic are right to re-up basketball lifers Jeff Weltman and John Hammond, who have proven track records of identifying talent and building rosters. They started this rebuild, and they should be the ones to see it through — regardless of how many years (and tears) that it takes.
Head coach Jamahl Mosley preaching positivity even as the losses continue to pile up
On an almost nightly basis, opposing coaches have gushed with praise about Mosley's work in getting the Magic's young roster to play hard and remain competitive. Of course, they are usually saying that after their teams have whipped Orlando.
For now, the Magic are riding the thought that close losses are good losses. That's because, well, those near misses are better than being bullied and blown out on a nightly basis. Four of the last five defeats have come by five or fewer points. For now, that must suffice as progress — even though the Magic were never really much of a threat to win those close games.
"Whether the shot goes in or it doesn't go in, you focus on the process that the guys have committed to," Mosley said of Orlando's late-game strides in a post-practice news conference. "Then, when we're talking about being close, those are the moments that they can realize how close we are."
That party line is eerily similar to the one Jacque Vaughn repeatedly used as Magic head coach of a vastly inferior roster from 2012-15 while being mandated to be competitive. When very few of those "close losses" ever materialized into wins, Vaughn was whacked and replaced by a revolving door of James Borrego, Scott Skiles, Frank Vogel, Clifford, and now Mosley.
Are the Magic making as much progress as Mosley cites on a daily basis? Maybe and not so much.
They found a likely 10-year pro in Franz Wagner with the pick that came out of the Vucevic trade, but No. 5 overall pick Jalen Suggs has done little after a sluggish start and a thumb injury. Young pieces Cole Anthony and Wendell Carter Jr. have put up solid numbers, but both are probably backups on a playoff team. Terrence Ross and Gary Harris will likely end up with fates similar to the other veterans shipped elsewhere last spring. As for Fultz and Isaac, they could be close to their returns, but they will be hard-pressed to avoid this being another lost season in their injury-marred careers.
Progress? The decision-makers and the coach have long-term contracts in place to see this thing cringeworthy rebuild through, so there's that.
Real progress will replace fluffy spin and flimsy positivity when those reams of close losses materialize into victories. Tangible gains will be apparent when blips of minor strides are no longer used to mask unsightly losing streaks. And the progress will be believable again when opposing fan bases no longer overrun the Amway Center with chants for the visiting teams.
In the real world of NBA basketball, winning still matters, and frittering 82-game seasons away should be avoided at all costs. Until the Magic can at least get back to the point of competitive decency again, they would be wise to limit the positive spins that only further insult their remaining fans' intelligence.
RELATED: A Year Out From Tearing his ACL, Orlando Magic Guard Markelle Fultz is Eager to Play Basketball Again