Magic Johnson Uses 1 Tweet to Stick up for LeBron James but Also Put Kevin Durant, Giannis Antetokounmpo, and Other NBA Stars in Their Place
As LeBron James gets up there in age on the Los Angeles Lakers, the hottest debate in the NBA is who the league's best player is today. Is it Kevin Durant? Is it Giannis Antetokounmpo? What about reigning MVP Nikola Jokic?
The answer for NBA legend Magic Johnson is clear, and he used one tweet to put everyone in their place.
Magic Johnson and LeBron James recently attended the same NFL game
While the 2021-22 NBA season is right around the corner, the NFL season is officially in full swing, and two Lakers legends attended a game (what seemed like) together: LeBron James and Magic Johnson.
James tweeted a photo of the two at the Week 2 matchup between the Los Angeles Chargers and Dallas Cowboys, along with the crown and wand emojis to symbolize The King and Magic.
Luckily for them, the game also turned out to be pretty good, as Dallas sank a 56-yard field goal with time expiring to win 20-17.
Johnson, however, also tweeted the photo of him and James, and he added a pointed caption.
Magic Johnson used one tweet to praise LeBron but also put KD, Giannis, and others in their place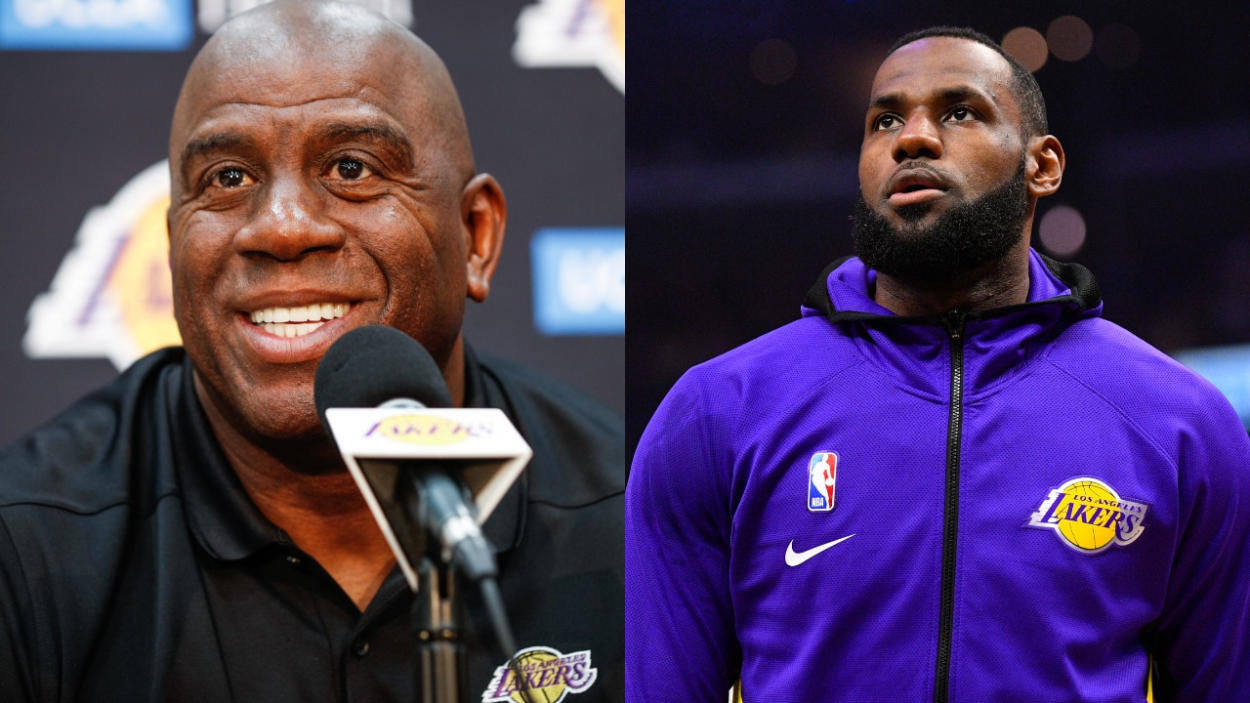 Given that LeBron James has dealt with injuries in two of the last three seasons with the Lakers and that he turns 37 years old in December, many fans and experts have decided that he's no longer the best player in the NBA.
That title now likely belongs to one of the three following players: two-time NBA champion Kevin Durant, reigning Finals MVP and two-time league MVP Giannis Antetokounmpo, or reigning league MVP Nikola Jokic. But Johnson's tweet during the Chargers-Cowboys game made it clear that he still thinks James is No. 1.
"Hanging out with the greatest player in the game today @KingJames!" Johnson tweeted, along with the same photo James posted.
Obviously, Magic might be a little biased. He's a Lakers legend, and James plays for the Lakers. Johnson even helped bring The King to LA when he was still a part of the team's front office.
But the Hall of Famer certainly knows hoops, and the big takeaway from his tweet is clear: LeBron James is still the best player in basketball, according to Magic Johnson.
Not everyone agrees with Magic Johnson's take on LeBron James
Given that Magic Johnson was a 12-time All-Star, five-time NBA champion, and three-time MVP in his career, his opinion holds a lot of weight. But not everyone agrees with him when it comes to this topic.
ESPN conducted a survey with 10 scouts and executives in August, and none of them even gave James a first-place vote. Durant and Antetokounmpo split the votes for No. 1, to which James replied by sarcastically tweeting that he's "#SuperWashed." He also posted, "THANK YOU! As if I didn't need more to [fuel] ME! #Washed (crown emoji)."
But who's right? Is Johnson correct? Or are these other experts right in saying he's no longer the top player?
It's hard to argue against LBJ. When healthy, he has still been as dominant as they come. The 17-time All-Star could have won MVP in 2019-20 with 25.3 points, 7.8 rebounds, and an NBA-leading 10.2 assists per game before he actually won Finals MVP that year by leading the Lakers to a championship.
Last year, before missing time with an injury, James averaged 25.8 points, 8.1 rebounds, and 8.0 assists, and the Lakers were 28-13. Had he and Anthony Davis stayed healthy, it's hard to imagine that they wouldn't have gone on a run to the NBA Finals again.
So, all in all, the only thing that should be keeping people from ranking James as the top player is his health. He only played in 45 games last season after only suiting up for 55 in 2018-19. But if The King can stay on the court in 2021-22, everyone who currently disagrees with Johnson may have to admit they're wrong.
When James is healthy, he's still more dominant than anyone in the NBA.
Stats courtesy of Basketball Reference
RELATED: Kobe Bryant Gave Jeanie Buss a Crucial Piece of Advice Before She and the Lakers Seriously Pursued LeBron James