Magic Johnson Achieved an All-Time NBA Record in 2021 Despite Not Playing Basketball Since 1996
A lot of special NBA players emerged during the '80s. Several, most prominently Michael Jordan, etched seemingly unbeatable records into the books. Earvin "Magic" Johnson has more than a few of his own. But not many from that era can say they re-gained a leaderboard-topping feat in 2021 except for the former Los Angeles Lakers star.
How did that happen? Johnson has Los Angeles Clippers superstar Kawhi Leonard to thank for it.
Kawhi Leonard gave up a key career milestone to Magic Johnson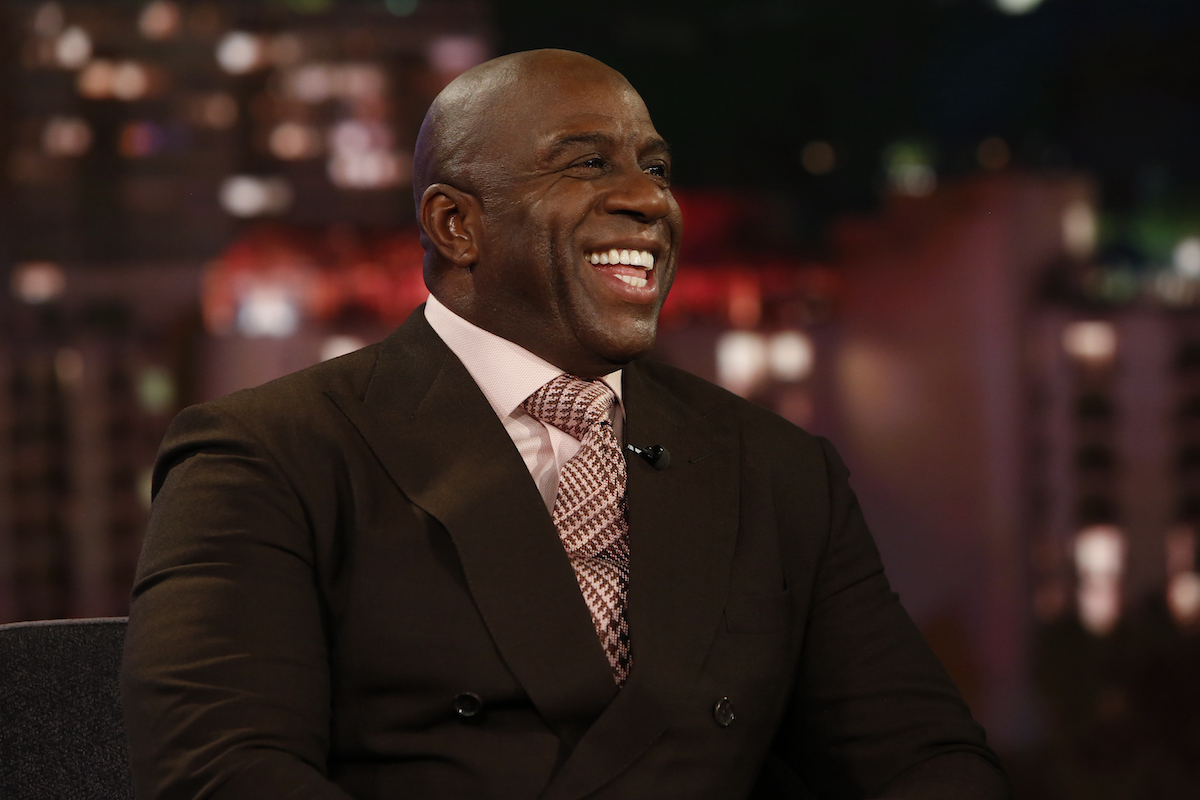 There's no doubt Leonard is one of the best athletes in the NBA currently. Even if he fully declines from here on out, his 2019 Game 7 buzzer-beater against the Philadelphia 76ers is iconic. The 30-year-old has two titles with two different teams, including the one he earned leading the Toronto Raptors for just that one 2019 season.
Leonard's knee issues, CBS Sports reports, are the major issue dragging his career down. Even before his stint with the Clippers, he required more rest days than other superstars. It also leads to some of his starting appearances being cut short. That could explain why Leonard's overall winning percentage dropped in the 2020-21 season.
It's something fans took note of in part because it knocked down one of Leonard's most interesting career records. Reddit users, using data that mirrors tracking on Basketball Reference, noticed that he went 42-21 this season, a 66.67% winning percentage.
This knocked his career-winning percentage down slightly, to 72.43%, enough to lose the top spot on the all-time leaderboard. So Johnson, long out of the lead, found himself back at the top of one of his career accomplishments, with a 72.81% mark.
Leonard still holds the top NBA winning percentage among active players
Leonard will probably not have much of an opportunity to take his spot back from Johnson anytime soon, DraftKings reports. He is expected to miss most, or all, of the 2021-22 season due to a partially torn ACL in his right knee.
Leonard is apparently ahead of schedule on his rehab, but the best-case scenario still has him benched for the bulk of the season. Nonetheless, his winning percentage record isn't anything to worry about from one perspective.
Leonard is by far the best out of active NBA players. Only former Raptors teammate Danny Green comes close, at 70.55%. With Green tied to the chaotic situation with the Philadelphia 76ers, he'll have to work hard to make up ground this year.
Even if Leonard gets his winning percentage spot back, Johnson has other NBA records
Magic Johnson might be amused by his latest all-time record coming so long after his NBA career ended. If he loses it again, he probably won't be much beyond amused about that, either. The now-62-year-old's career had more than a few accomplishments to make up for it, after all.
Johnson was nearly a part of another soon-to-be NBA dynasty — a simple coin flip away from getting drafted to the Chicago Bulls. Instead, he became instant Lakers royalty, earning the Finals MVP award at the end of his first season in 1980. He remains the only player to manage that feat in his rookie year.
Johnson averaged 19.5 points, 7.2 rebounds, and 11.2 assists overall, among the very best in NBA history. He won the finals MVP twice more, the league MVP three times, and was the NBA assists leader four times. In so many seasons, he was the best at something compared to the rest of the league.
Leonard might take back this one award, but Magic's body of work overall means it's just one small loss among many all-time successes.
RELATED: Magic Johnson's Net Worth Is Probably Much Higher Than You Think