Magic Johnson Blasts Russell Westbrook Prior to Lakers' Win: 'Take Ownership and Accountability'
Magic Johnson was the face of the Showtime Los Angeles Lakers. His skills were perfect for the bright lights of LA, and his million-dollar smile was made for Hollywood. However, he has since garnered a reputation for having simple – in other words, generic – tweets.
Johnson's criticism is never that strong, and his praise is essentially just retelling what he saw in the boxscore. But when he does give fiery opinions, all of Lakers Nation needs to listen. And he recently did just that when discussing Russell Westbrook on ESPN before the Lakers' win over the Golden State Warriors.
Russell Westbrook and the Lakers have struggled all season
Prior to Saturday, the Lakers were in a downward spiral. They had lost four straight and looked pretty pathetic while doing so, even suffering a blowout L to the Clippers.
And Russell Westbrook has been the scapegoat all year.
Westbrook is averaging 18.1 points, his lowest since his second season in the league, 7.6 rebounds and 7.2 assists. He's also shooting just 43.4% from the field and committing 4.0 turnovers per game.
Russ just hasn't clicked with LeBron James yet, and he's having trouble adjusting his game to his less athletic 33-year-old body.
So, before the Lakers' game against the Warriors on Saturday, Magic Johnson had some brutally honest criticism for Westbrook.
Magic Johnson blasted Russell Westbrook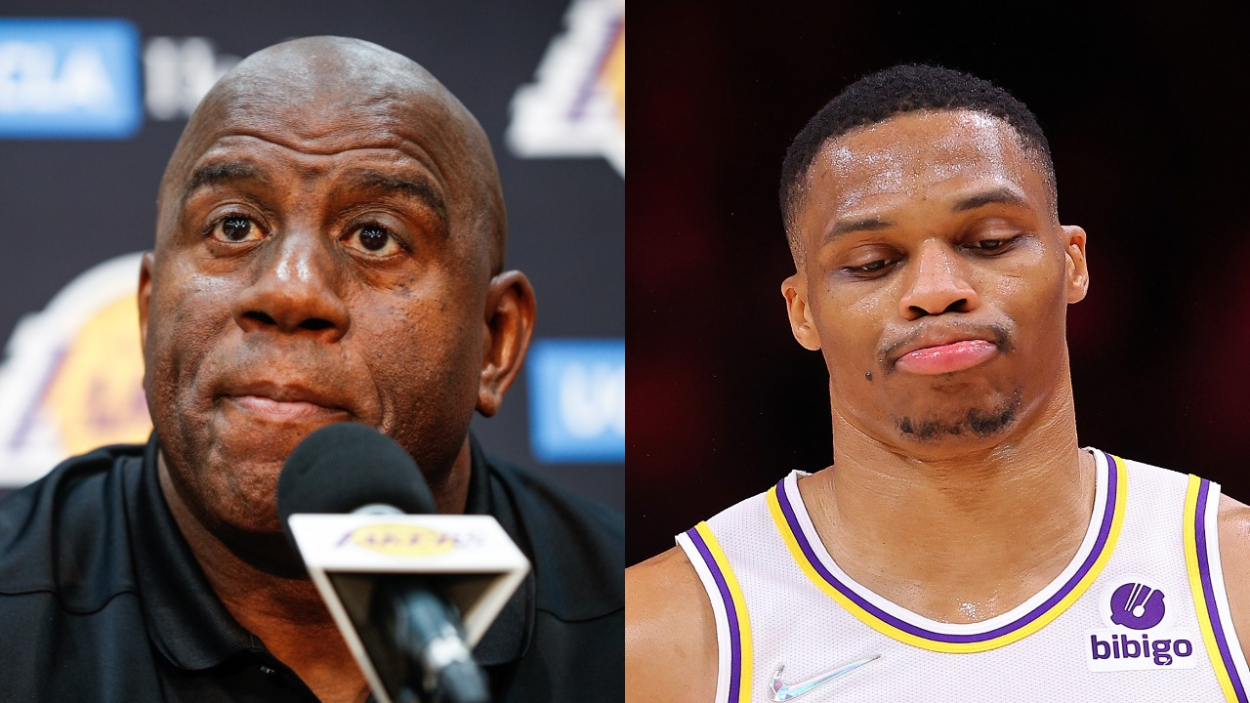 Magic Johnson is Team Lakers through and through. So, when he blasts LA's starting point guard, the position he played most of his career, the entire NBA world should take notice.
"Russell Westbrook, young man, you gotta know there was expectations when you call LeBron and Anthony Davis and said you wanted to be a Laker," Johnson said on the March 5 episode of NBA Countdown. "You saw Kobe Bryant play and win all those championships, and Kobe said you were the guy. So you know you had to come here and knowing that it's about championships when you put the purple and gold on. Quit battling the press. Take ownership and accountability, and say, 'Hey, I haven't played well, but I got a chance to turn it around.' So, I'm tired of excuses."
Johnson later admitted that the Lakers' struggles aren't all on Westbrook. But the UCLA product has to play better, given how much the team gave up for him via trade last offseason. 
"They could have had [DeMar] DeRozan; they could have had [Buddy] Hield, and we could have been a much better team," he said.
But The Magic Man had one comment that Westbrook needs to use as motivation.
"This trade could go down as the worst trade in Laker history," Johnson said. "If we don't get out the play-in game, that's what'll happen."
Magic Johnson praised Russ following the Lakers' big win
Magic Johnson has significant influence over the Lakers' franchise (just ask LeBron James). Anything he says shouldn't be taken lightly, especially if it's pointed criticism. And the Lakers probably didn't hear his comments before their game on Saturday, but they played like they did.
LA finally snapped its horrendous losing streak by winning 124-116 over the Warriors. The always confident James had an all-time great performance, dropping 56 points on 61.3% shooting. However, Russell Westbrook also had one of his best games of the season. He had 20 points, four rebounds, and four assists, and he shot 52.9% from the field.
Johnson made sure to praise Westbrook after the game.
"I am so proud of Russell Westbrook," he tweeted. "He was a big reason why the [Lakers] beat the Warriors, scoring 20 points tonight. That's how the Lakers need him to play night in and night out! He played hard, was aggressive, and made good decisions on the court."
Play well, receive compliments. Now, the big question is whether the Lakers (as a team) can continue competing at the level they did against Golden State. LeBron won't score 56 points every night, so it's time for Westbrook and company to pick up some of the slack.
All in all, Russ hasn't taken criticism well this season. But if he can become more of a Magic Johnson-type facilitator, he could help bring Showtime back to LA.
Stats courtesy of Basketball Reference
RELATED: Shaquille O'Neal Questions Lakers' Effort, Dwyane Wade Says They Have No Pride