Magic Johnson Chose Quick Cash With Converse Over Nike Stock Now Worth Billions: 'I Didn't Know Anything About Stock'
Magic Johnson was one of the NBA's greatest point guards of all time for the Los Angeles Lakers – maybe the single greatest. Johnson has also had considerable success off the court as a businessman. He's been an NBA broadcaster, basketball executive, and business owner. However, despite Johnson's considerable business acumen, he had one business decision he made in his career that he'd probably want back if he could get it. 
Here's the story of how Magic Johnson made a deal with Converse when he could have gotten a lot more from Nike in the long run.
What Converse and Nike offered Magic Johnson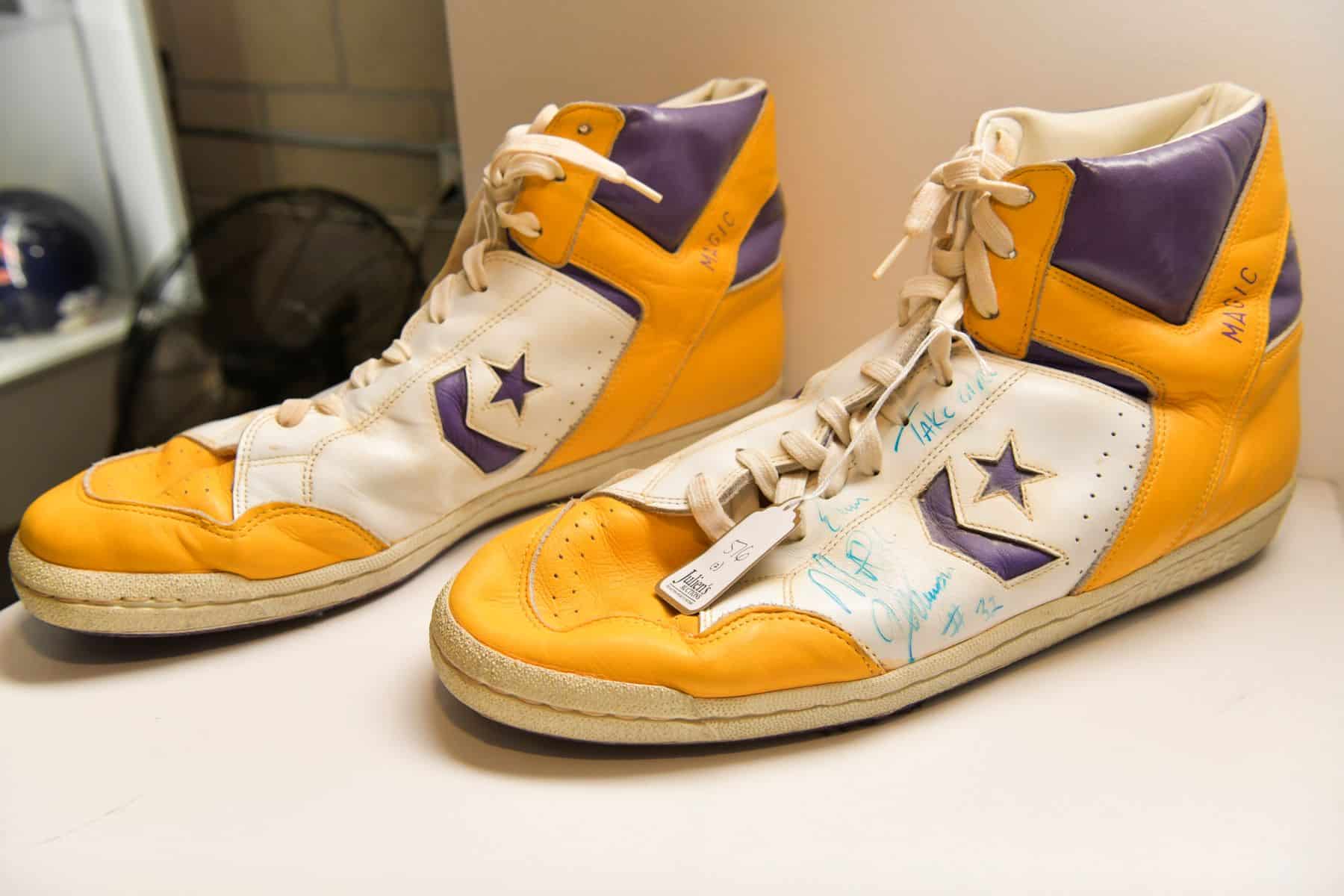 When Magic Johnson came into the NBA, he was one of the hottest commodities entering the sport in years. The league had seen a considerable downturn in the late 1970s, and Johnson, along with fellow college basketball star Larry Bird, was ushering in a new era. This was a few years before Michael Jordan's emergence, so Johnson and Bird's NCAA championship game showdown primed fans to watch them square off against each other in the NBA. 
Because of this, Johnson was courted by the major sneaker companies of the time. This included both Converse and Nike. According to Sports Rush, Converse offered Johnson a deal worth $100,000. Phil Knight, the founder of Nike, approached Johnson as well. At the time, Nike was known as Blue Ribbon Sports. This was before Nike became the powerhouse it is today as the biggest sneaker company in the world. Because of this, the company didn't have a lot of cash to offer Johnson. Instead, they offered him $100,000 in stock options. 
Why Johnson chose Converse over Nike
According to Black Enterprise, Magic Johnson's decision to go with Converse over Nike was simple. He wanted the cash. Johnson was still a young man at that point without an ounce of the business-savvy he'd acquired later on in his life. It's hard for many young athletes to think of the future over the present, particularly when they're presented with a lot of money at once. Johnson was no different than many athletes who have been in his position. 
Looking back, Johnson said, "I never heard of stock at 19 years old, so I took the money." It would be a move that he'd later regret, as Nike's stock would blow up in the ensuing years.
Magic Johnson's everlasting regret for not going with Nike
It's safe to say that Magic Johnson made the wrong choice in this case. The stock options Nike offered in 1979 are worth $5.2 billion today. Johnson said that fact "kills me every time I think about that." He even mentioned Air Jordan, noting,  "I'm like man, Michael Jordan would have been making me so much money." 
Now, it's impossible to know just how successful Nike would be in just a few short years. Additionally, Converse was still a well-regarded shoe company. Ironically, it's now since been acquired by Nike.
Still, no matter how you look at it, there's no question that Johnson fumbled the bag when he went with Converse over Nike. But he's also made plenty of good business choices ever since. It was a valuable lesson, but it was one he no doubt took the heart. Anyone would consider Johnson a success as a businessman and an entrepreneur. Of course, if he'd made a deal with Nike, he likely wouldn't have to do any work right now if he didn't want to, based on how insanely wealthy he'd be. 
RELATED: Magic Johnson Reveals How a Lansing Businessman Changed His 'Entire Life'