Magic Johnson Doesn't Shy Away From Criticizing Russell Westbrook's Disappointing Start With the Lakers: 'He Was in 1st Gear the Whole Game'
This week, the league's new Big Three officially began its reign, as Russell Westbrook, LeBron James, Anthony Davis, and the Los Angeles Lakers tipped off their season against the Golden State Warriors. However, despite James and Davis showing why they won a championship together two seasons ago, Westbrook struggled significantly, leading to the Lake Show's 0-1 start.
All in all, it will certainly take time for the Lakers to understand how to play together, but one of the franchise's greatest players, Magic Johnson, didn't shy away from criticizing Westbrook's disappointing start.
Russell Westbrook had a disappointing first game with the Lakers
Every basketball fan knows Russell Westbrook is one of the greatest players to ever live. He's a former league MVP and has averaged a triple-double in four of the last five seasons, including last year when he recorded 22.2 points, 11.5 rebounds, and a league-leading 11.7 assists per game for the Washington Wizards.
However, he looked horrible in his first start in a Lakers uniform.
LeBron James and Anthony Davis carried the team, as The King scored 34 points, pulled down 11 rebounds, and dished out five assists, while The Brow had 33 points and 11 rebounds. But Westbrook seemingly forgot his game in D.C., as he only recorded eight points, five rebounds, and four assists, and he shot 4-of-13 from the field, including 0-of-4 from 3-point range.
Obviously, fans shouldn't be too worried. Westbrook is a proven superstar, and it's just one out of 82 games. But the Laker faithful probably wanted to see a better start to the season, especially when it was a primetime game in front of millions of eyeballs.
Following the loss, the man who held the same job title as Westbrook in the 1980s didn't shy away from expressing his issues with the nine-time All-Star's performance.
Magic Johnson was critical of Westbrook's Lakers debut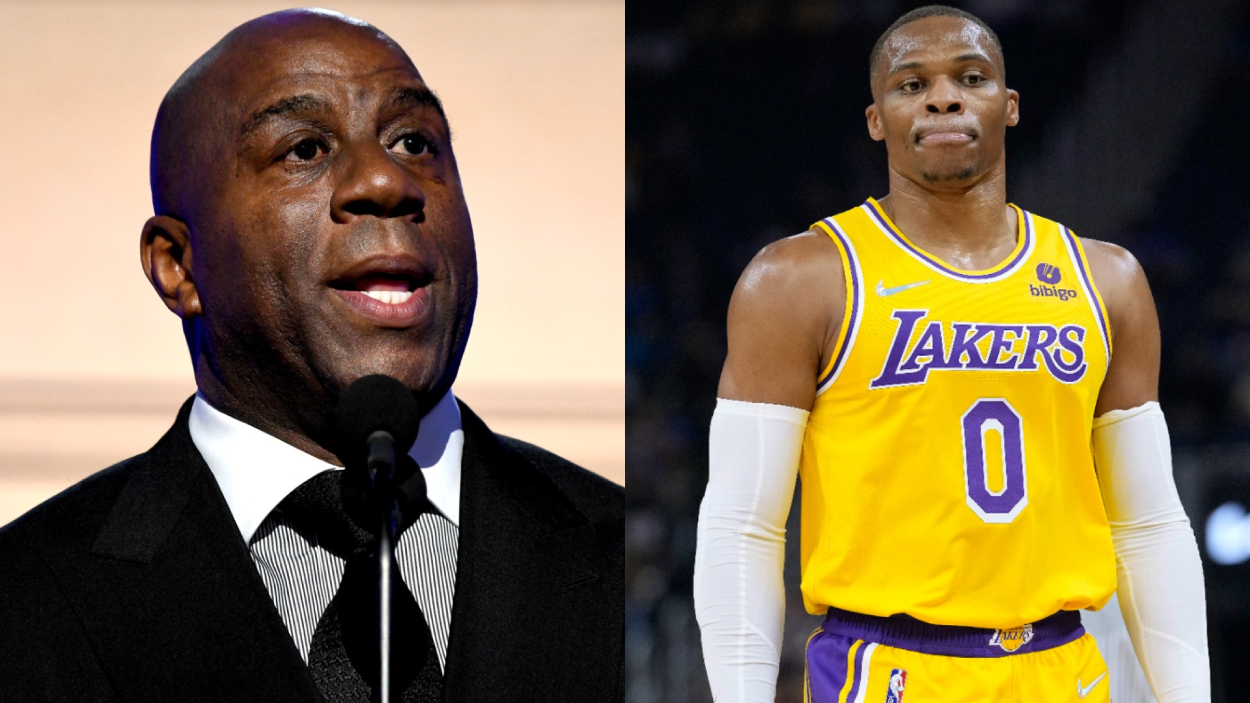 The day after the Lakers' loss to the Warriors, NBA legend Magic Johnson appeared on ESPN's NBA Today, and he wasted no time expressing how he felt about Russell Westbrook's first game in LA.
"Westbrook struggled because he was in first gear the whole game," Johnson said on the Oct. 20 episode. "To me, LeBron played faster than Russell did. He's gotta play fast to be effective. … I think he was nervous, first game in a Laker uniform, young man from LA, but he's gonna have to find, 'How do I play with these other two superstars?' Because they're gonna need his point-production."
Johnson's points were solid. Westbrook has made his money over the years off playing fast and using his athleticism to make plays. If he's not doing that, and if James — who is four years older than him — is playing quicker, he just simply won't be effective. The Lakers also need him to score his 20.0 points a night, which he has exceeded every season since his third year in the league. They didn't have a third option after James and Davis last year, which came back to bite them.
Johnson, though, later added that fans need to give the Lakers a month or two to figure things out. And that was the biggest takeaway from their first game; fans need to remember one thing: Rome wasn't built in a day.
The Lakers' Big Three just needs time
If history is any indication of how the Lakers and Russell Westbrook will play this season, things will be just fine.
Westbrook started slow each of the last two seasons. In 2019-20 for the Houston Rockets, he averaged 21.7 points and shot 39.9% through his first 19 games. He ended up averaging 27.2 points per game that year and shot 47.2% from the field. Last season with the Wizards, he only averaged 19.4 points, 9.2 rebounds, and 9.0 assists while shooting 41.3% from the field through his first 14 games. He later posted 22.2 points, 11.7 assists, and 11.5 rebounds per game on the entire season, and he shot 43.9% from the field.
James' Big Threes have also had slow starts in their first seasons together. The 2010-11 Miami Heat went 9-8 through their first 17 games but finished 58-24 and went to the NBA Finals. In a similar fashion, the 2014-15 Cleveland Cavaliers started 19-20 through their first 39 games before later finishing 53-29 and making the NBA Finals. During both of those instances, James gave a simple message to the doubters: "Rome wasn't built in a day."
And that's what everyone must remember after the first game of the season. As slow as Magic Johnson said Russ played, and as out of sync as the Lakers may have been at times, it was just the first of 82 games. They have plenty of time to get things together.
Yes, Russell Westbrook played poorly in his first start as a Laker, but as the great Aaron Rodgers said to Packers fans: R-E-L-A-X.
Stats courtesy of Basketball Reference
RELATED: Charles Barkley Shockingly Claims He'd Make Russell Westbrook a $44 Million Bench Player: 'I Would Play Russ With the 2nd Unit'