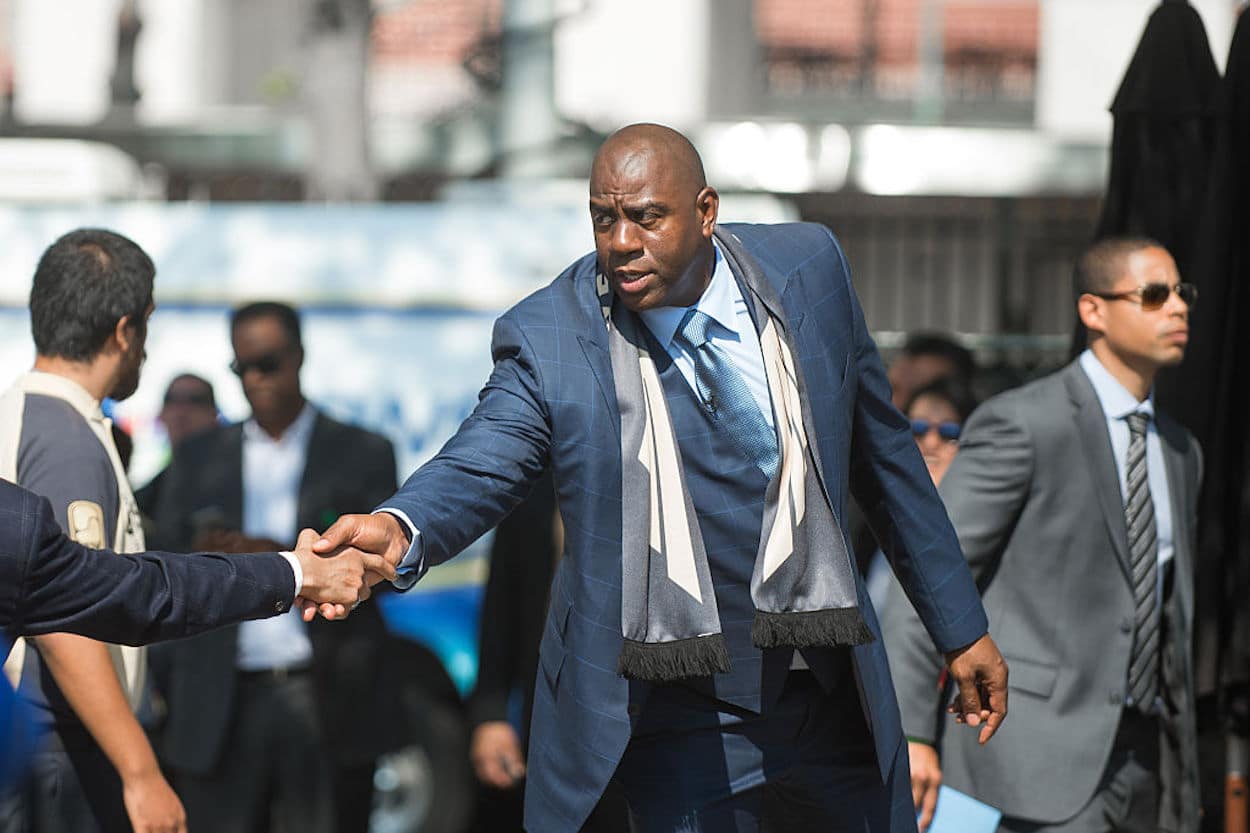 Magic Johnson Expressed Interest in NFL Ownership Long Before the New Broncos News
Magic Johnson may be known for his exploits on the hardwood, but he's also held a long-time interest in NFL ownership.
While you probably associate his name with the NBA, Magic Johnson isn't one to limit himself. The LA Lakers legend has built up a sizable business resume, which includes ownership of the LA Dodgers, LA Sparks, and LAFC. He previously owned a stake in the Lakers and, according to recent reports, is looking to join the NFL as part of a group bidding on the Denver Broncos.
That may seem like quite the departure, but Magic has been linked to NFL ownership before. While his interests have been focused on a potential team in Hollywood, he's not a complete stranger to the gridiron.
Magic Johnson is reportedly getting in on a bid for Denver Broncos ownership
Due to the limited supply, any sale of a sports franchise is a big deal. Faced with that reality, it's not surprising that Magic Johnson wants to get in on the action.
Without going too deep down the rabbit hole, the Denver Broncos' ownership situation has been somewhat in flux due to Pat Bowlen's declining health, eventual death, and the challenges of a trust controlling a single team. A sale, however, is finally on the horizon, and potential bidders have been lining up to open their checkbooks.
On May 2, CNBC's Jabari Young reported that the first round of bids was submitted and a vetting process had begun. He specifically mentioned former Walmart chairman and Walton family heir Rob Walton as one of the candidates; Josh Harris and David Blitzer, who are involved with the Philadelphia 76ers, New Jersey Devils, and Crystal Palace Football Club, are also interested.
On Thursday, May 5, however, news broke that the latter group was adding a bit more star power. According to Sportico, Magic Johnson and his approximate $600 million net worth will be teaming up with Harris' camp. Given that the Broncos are expected to be sold for an unprecedented sum, every extra dollar will surely help.
Magic is a football fan and has talked about NFL ownership before
From afar, Johnson's interest in the Denver Broncos may seem like an unexpected audible. A glimpse at the history, however, will show that he's long held an NFL interest.
In October 2010, Bleacher Report ran a post headlined, "NFL Rumors: Magic Johnson Ready for a Los Angeles NFL Team." That piece cited the NBA legend's recent sale of both his share of the Lakers and his Starbucks stores and wondered if he could use that money to bring pro football back to Los Angeles.
Then, in 2015, USA Today published a similar story, discussing Magic's potential interest in whatever football team landed in Hollywood. While he admitted that he hadn't been contacted by any NFL ownership, he did cite his track record with the Dodgers as proof that he could help a franchise.
The post also mentioned the former Laker's long-time ties to football, albeit from a fan's perspective. "Johnson is a huge NFL fan who was a season ticketholder for the Raiders and Rams before the franchises fled Los Angeles after the 1994 season," Jarrett Bell wrote at the time.
If you combine that NFL interest with his history of ownership and sheer net worth, it's easy to see why Johnson would latch onto a Denver Broncos bid. Putting the money up, however, is the easy part. When you're part of the group calling the shots, that's when things get trickier.