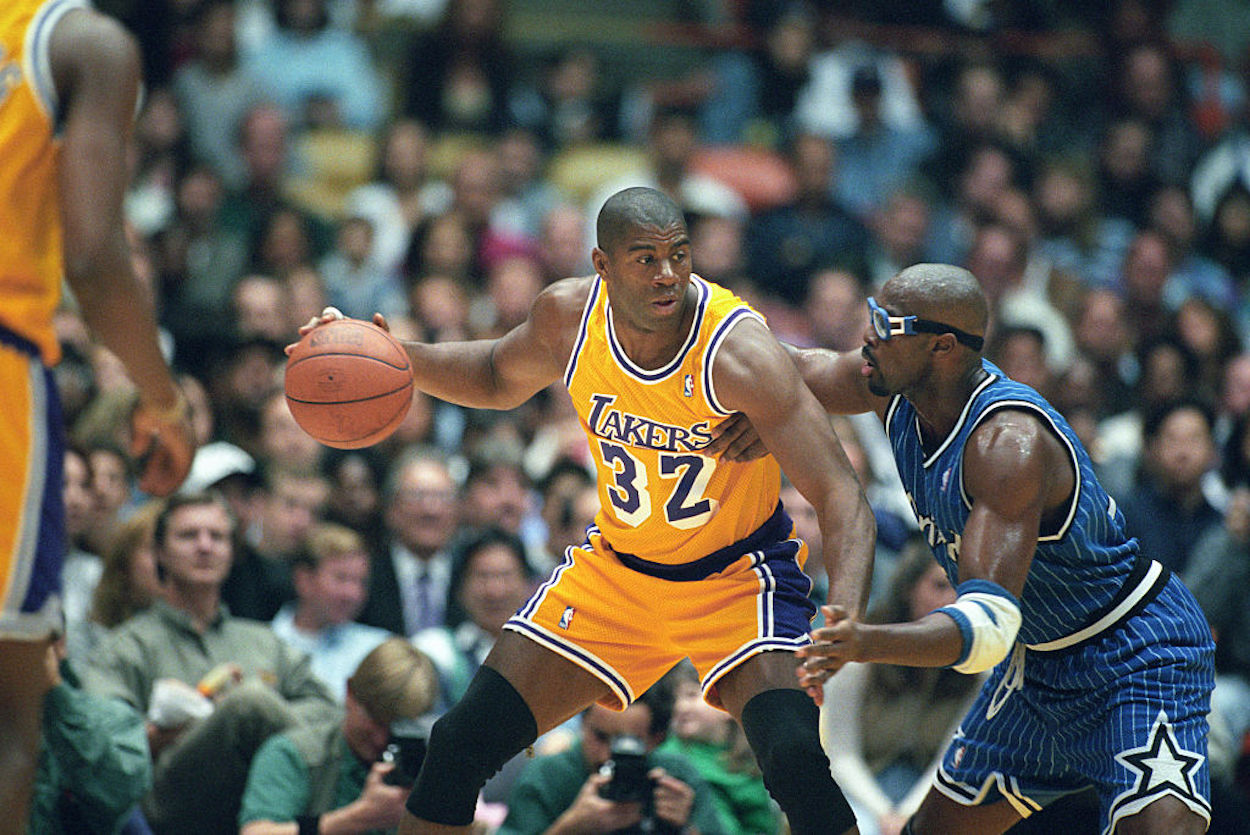 Magic Johnson Has No Doubt That He Could Shine in Today's NBA
Magic Johnson may be almost 20 years removed from his NBA career, but he still believes he'd shine in the modern game.
Certain names loom large in NBA history. One of those belongs to Magic Johnson. Even if you never saw the Los Angeles Lakers legend hit the hardwood, you've surely heard all about his contributions to the sports world. Without Magic, the modern NBA would look quite a bit different.
Speaking of the modern NBA, have you ever wondered how the guard would hold up in today's Association? Would his talent still shine? Would he be overmatched by the likes of LeBron James and Giannis Antetokounmpo?
While we won't see him hit the floor anytime soon, Johnson did answer that question. In his mind, he knows that he'd still have more than enough to be a star, regardless of the era.
Magic Johnson knows that he'd still strut his stuff in today's NBA
At the risk of painting with a broad brush, professional athletes have to be supremely confident in their own abilities. While it's been quite a while since Magic Johnson played professional basketball, that confidence hasn't faded.
Recently, the Lakers legend sat down for an interview with TSN's Kayla Gray. The conversation focused on They Call Me Magic, but, at one point, they broached the topic of today's Association. Would Johnson be able to shine as brightly in the 2020s as he did in the 1980s?
"Oh, I don't wonder, but I know that I could do what I did back then in today's game, " he explained. "You know, listen. You think Larry Bird couldn't still shoot in today's game? He did it then. Michael Jordan couldn't do what he did back then? He knew he could do it today. When you're great at something, and when you delivered, right, and when you won…"
While it's tough to argue with the likes of Jordan and Bird, Magic wasn't done there.
"See, I won at every level," he continued. "So winning was not going to change whether I played back then or I play today. My no-look passes then, it was great. And it woulda happened today. You know, when you're good at something and you're great at something, it doesn't matter the era, you could still pull it off."
Beyond raw talent, Magic would probably be right at home in the modern Association
As Johnson somewhat said, you simply can't teach talent. While there might be some stylistic differences, most NBA legends would probably be able to hang in more or less any era. With that being said, though, Magic's game would be at home in 2022.
When he hit the hardwood, Johnson's blend of size and skill was jarring. Despite standing at 6-foot-9 and being able to deputize at center, Magic usually played point guard. And he didn't simply bring the ball up the floor before passing it into the post, either. He ran the floor, dished out incredible assists, and scored plenty of points in his own right.
If that sounds familiar, it's probably because you've been watching today's NBA. Modern basketball is built around positionless players who can drift from the paint to the three-point line and settle anywhere in between. That versatility also plays into contemporary pick-and-roll offense. Everything is about creating mismatches, and, to truly shine, you have to be able to deal with those situations on both ends of the floor.
While there might have to be some adaptation — you could argue that he'd be better as a point-forward or shooting guard than a traditional point guard — it's easy to see how Magic would transition into the modern NBA. Thanks to his size, court vision, and solid scoring touch, he'd be a walking mismatch. If you tried to defend him with a smaller guard, Johnson would bully his way to the rim. If you countered with a power forward or big man, he'd simply pull things out to the perimeter and work off the dribble. If you resorted to double-teams, Magic has the size and vision to pass his way out of trouble.
With that being said, though, you could argue that Magic would need to hone his long-range shooting to survive in 2022. While that's a fair point — he averaged less than one three-point attempt per game for most of his career — it is worth noting that his numbers did improve at the tail end of his career. Shooting a little over 30% from downtown isn't something to write home about, but it does demonstrate that Johnson could develop that side of his game.
At this point, there's no way to know what would happen if Magic Johnson hit the NBA hardwood in 2022. One thing, however, is pretty safe to assume: It'd be well worth the price of admission.
Stats courtesy of Basketball-Reference