Magic Johnson Has Survived More Than 30 Years With HIV Thanks to a Once-Experimental Drug Cocktail
Magic Johnson is considered one of the greatest basketball players of all time. In the pre-Michael Jordan era of the '80s, it was hard to escape Johnson's name whenever basketball came up. As one of the most dominant players to ever play in the NBA, his rivalry with Larry Bird is the stuff of legends. Then, in 1991, Johnson shocked the sports world to its core with his HIV diagnosis.
Magic Johnson's NBA career was remarkable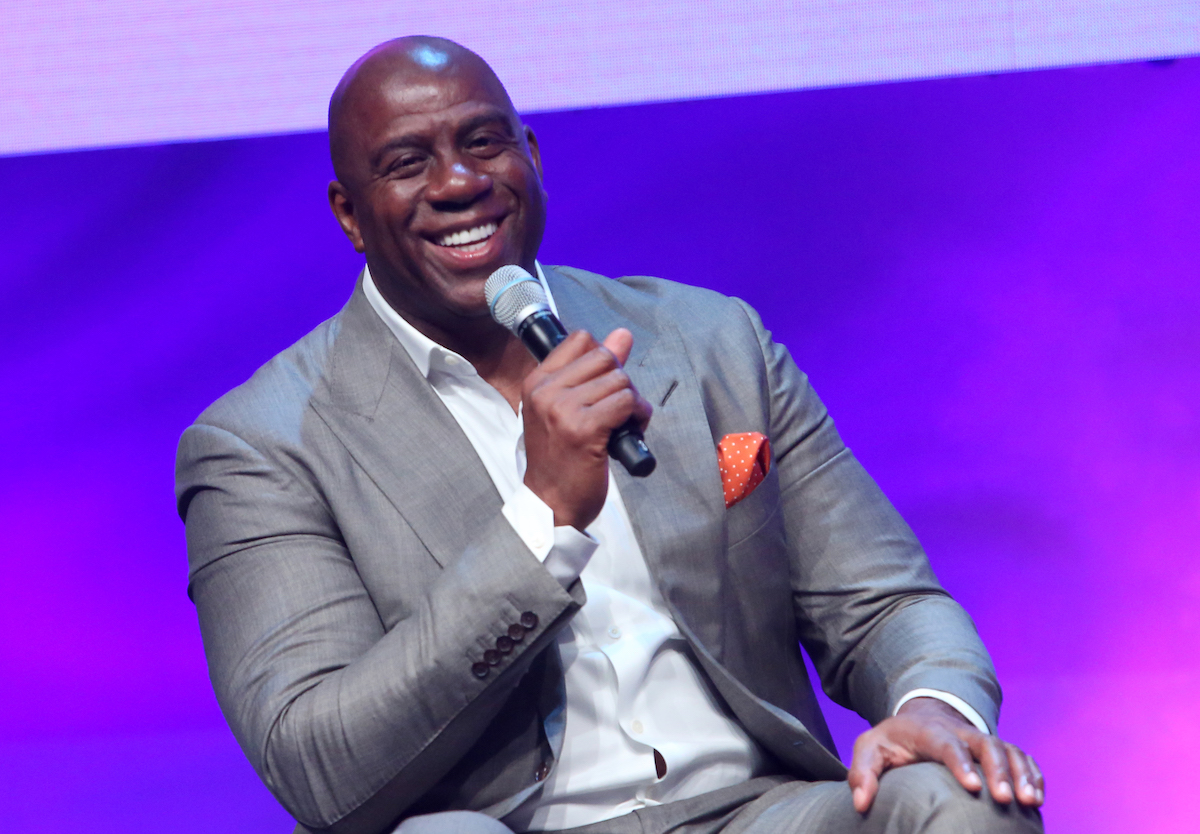 Earvin "Magic" Johnson came from a close-knit, hard-working family in Michigan. Coming out of high school, Johnson showed immense talent and was highly-recruited by top tier schools such as UCLA, but he instead chose Michigan State because it had a high level of talented players already on the team. It was during college that he learned how to successfully play point guard under coach Jud Heathcote. 
After a prolific college career, Johnson cemented himself as the top college player in the country in 1979 when he faced and defeated Bird and Indiana State. As a result, he was the No. 1 draft pick that year. Beginning in 1979, Johnson played a total of 13 seasons, all with the Lakers. He became the most dominant name in the NBA, averaging an incredible 19.5 points and seven rebounds per game.
Johnson won the NBA championship four times, established LA as a dynasty, played in 12 All-Star games, and participated in the 1992 Olympics as part of the fabled Dream Team. His pro career also spawned one of the greatest, ongoing rivalries in sports between the Lakers and the Celtics.
Magic Johnson revealed his HIV diagnosis in 1991
In 1991, Magic Johnson dropped a bombshell on the NBA by announcing his HIV diagnosis. At the time, a lot of misinformation surrounded the AIDS epidemic. The perception was that the disease was a walking death sentence. Because of it, Johnson announced his immediate retirement at the same press conference.
"You just sit there and say, what does this mean? Am I gonna die?'" Johnson said of his HIV diagnosis, during a November 2021 interview with Gayle King on CBS Mornings. "I'm asking him 100 times, 'Are you sure?'" J. "And they say, 'Hey, we ran the tests a couple of times, and yes, you do have HIV.' And so I just lost it right there, you know?"
At the time, he said he didn't want to hurt the sport or put other players at risk. Johnson didn't stay away, however. After a four-year hiatus, Magic returned to the Lakers for a final season in 1996, armed with more knowledge and resolve about his disease.
Many people at the time didn't understand the nature of HIV and expected Johnson to not only be highly contagious but to also whither away quickly. HIV, the virus that causes AIDS, works more slowly, however. AIDS, which stands for "Auto-Immune Deficiency Syndrome," destroys a person's immune system over time, causing them to eventually die from other conditions that their body isn't equipped to fight off. 
How does Johnson stay so healthy?
In the years since his diagnosis, Johnson has defied the stereotypes surrounding HIV and AIDS. He's been surprisingly candid about how he got the disease, admitting to hundreds of random, unprotected sexual encounters while on the road during the '80s.
Although other players have spread the rumor that Johnson was gay or even bisexual, Johnson has dedicated himself to educating people about HIV and AIDS. He did a series of promotional videos in the '90s and even wrote a book on the subject. It's been almost 30 years since his initial diagnosis. The question often comes up: How does he stay so healthy?"
The truth is, there isn't really a secret, according to Live Science. Johnson is not alone in having survived with the disease for so long. The key is preventing HIV from progressing into AIDS through a cocktail of medications and enzymes that arrest its development. If anything, the only secret is that Johnson was on the pioneering edge of that cocktail, and had early access to what has become a standard treatment in the modern era. 
Does Magic still have HIV?
The short answer to the question is yes, Magic Johnson does still have HIV. Although he's thriving today, Johnson hasn't been cured of the disease — because currently, there is no cure. With continued medication, however, the retired NBA star can look forward to a long and productive life.