Magic Johnson Once Made Comments That Ticked off a Former Lakers Star He Had Just Traded
Magic Johnson had one massive accomplishment while working for the LA Lakers' front office — he brought LeBron James to LA. However, not everything went well for Johnson while he was in the job, and his abrupt exit from his position was ultimately somewhat of an embarrassing moment for the organization. Additionally, while in the front office, Johnson also traded a star away and then ticked him off on his way out. That star was D'Angelo Russell.
D'Angelo Russell went to the LA Lakers in the 2015 NBA draft
D'Angelo Russell played at Ohio State for one season in college and was an absolute star, averaging 19.3 points per game, five assists, and 5.7 rebounds. His play ultimately led to the Lakers selecting him with the second overall pick in the 2015 NBA draft.
During his rookie season in 2015-16, Russell played well at times. He averaged 13.2 points per game that season to go with 3.4 rebounds and 3.3 assists. Russell, however, played better in 2016-17, averaging 15.6 points per game, 4.8 assists, and 3.5 rebounds.
The Lakers were awful in each of those seasons, though, going 17-65 in 2015-16 and 26-56 in 2016-17.
Magic Johnson traded him in 2017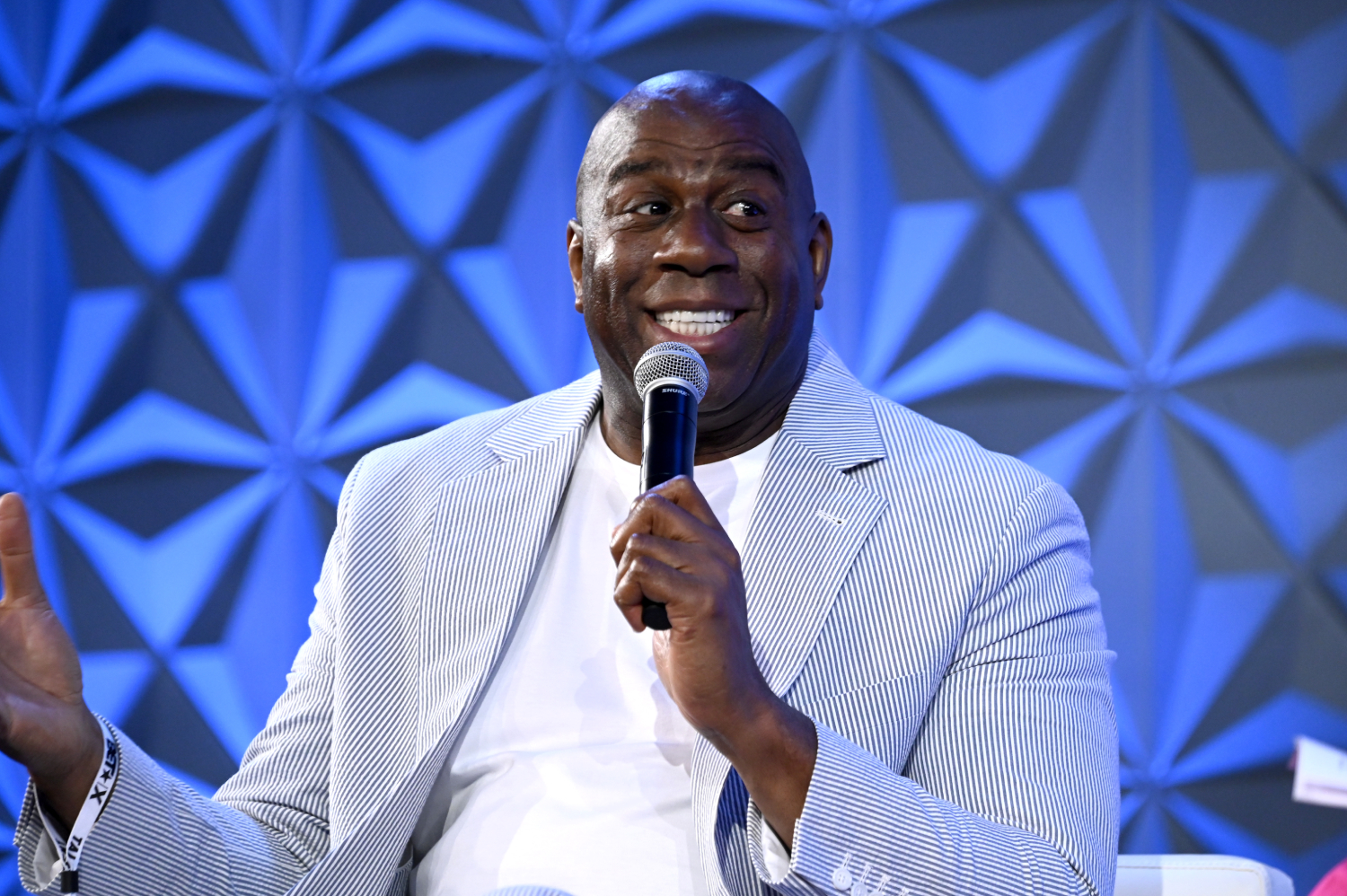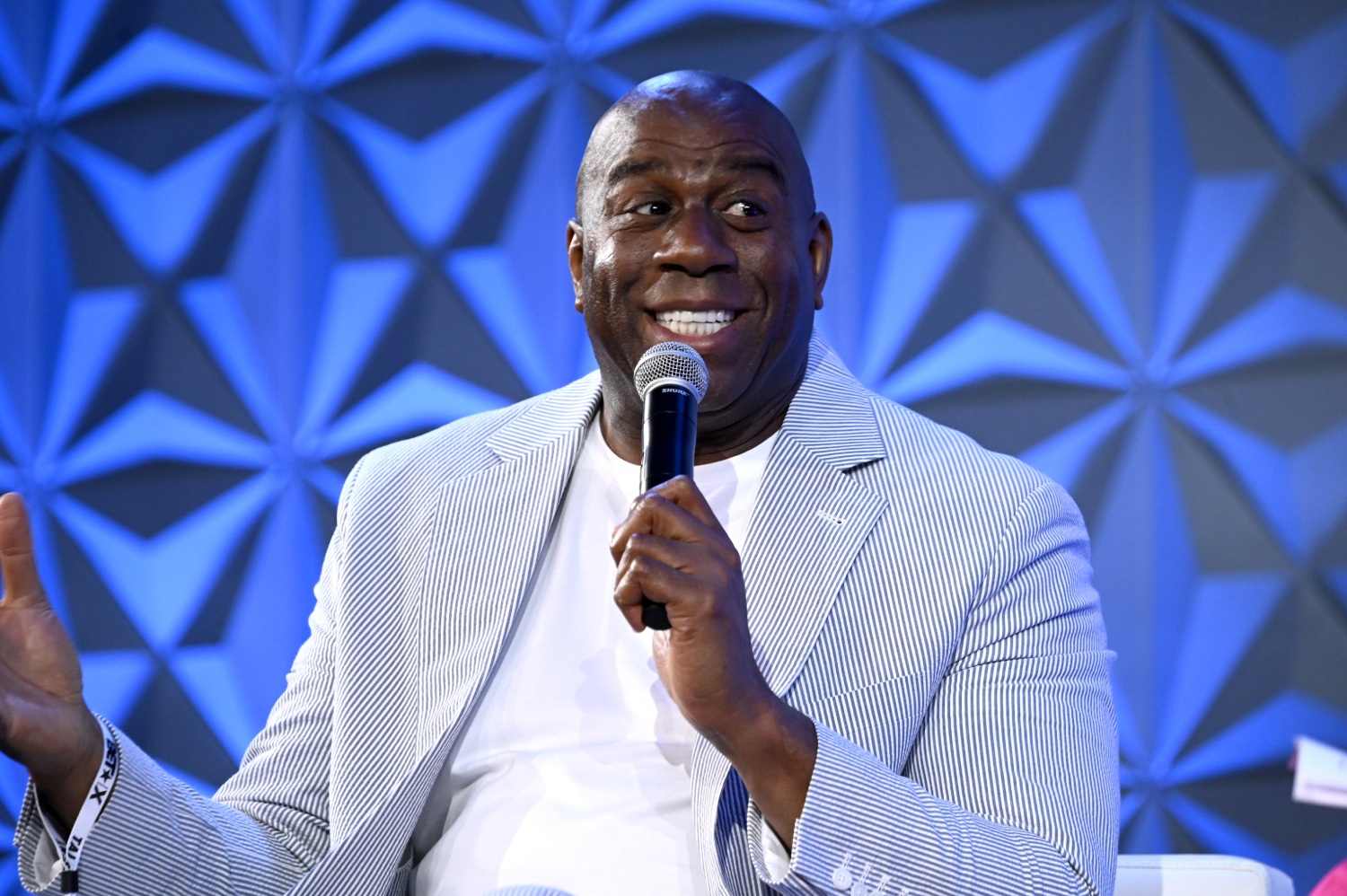 The Lakers hired Johnson as the President of Basketball Operations in February 2017. In June 2017, Johnson and the Lakers traded Russell and Timofey Mozgov to the Brooklyn Nets for Brook Lopez and the No. 27 overall pick in the 2017 NBA draft.
Johnson then had some words about why the team dealt Russell after the trade.
"D'Angelo is an excellent player," Johnson said, according to ESPN. "He has the talent to be an All-Star. We want to thank him for what he did for us. But what I needed was a leader. I needed somebody also that can make the other players better and also [somebody] that players want to play with."
However, the move did work out for the Lakers as it freed up space, which helped with the signing of LeBron James and building the championship contender that they have now. Their draft pick also ultimately turned into Kyle Kuzma.
D'Angelo Russell became an All-Star after leaving the Lakers
Russell played for the Nets in 2017-18 and 2018-19. After averaging 15.5 points per game and 5.2 assists in 2017-18, he became an All-Star in 2018-19, scoring 21.1 points per game to go with seven assists. He helped lead the Nets to the playoffs that year too.
However, in the summer of 2019, Russell did a sign-a-trade deal with the Nets as they traded him, Shabazz Napier, and Treveon Graham to the Golden State Warriors for Kevin Durant and a 2020 first-round pick.
In 33 games for the Warriors in 2019-20, Russell averaged 23.6 points per game and 6.2 assists. The Warriors, however, traded him to Minnesota Timberwolves in February 2020. In 12 games with the Timberwolves, Russell averaged 21.7 points per game, 6.6 assists, and 4.6 rebounds.
Magic Johnson's comments rubbed him the wrong way
Russell recently went on JJ Redick's The Old Man and the Three podcast, and when discussing all of the times Russell has been traded, Redick asked him if he took "any of those trades personal". 
Russell had one simple answer.
"Hell yeah," Russell said. "Only LA because Magic kicked me in my a** on the way out. I didn't understand that. I was kind of young and naive to why and what was the point … Once you have that title on you, there's no getting it off. You just got to create a new headline for them to forget what that headline was in the past. It was what it was. That was the only one I can say (he took personally)."
Sure, being traded is probably not fun, but Johnson's quote about the Lakers needing leaders was ultimately what irked Russell on his way out of LA.
"I took that personal," Russell said. "I didn't know what being a leader meant; I didn't know what it looked like — I had no idea what that was. All I knew was what I've seen, and all I seen was Kobe's farewell tour. So, I didn't know what it was, and going to Brooklyn honestly I just had better guidance."
It seems that Russell is potentially becoming the leader that Johnson was looking for when he traded him. It'll be fun to see where his career goes from here.
Stats courtesy of Basketball Reference