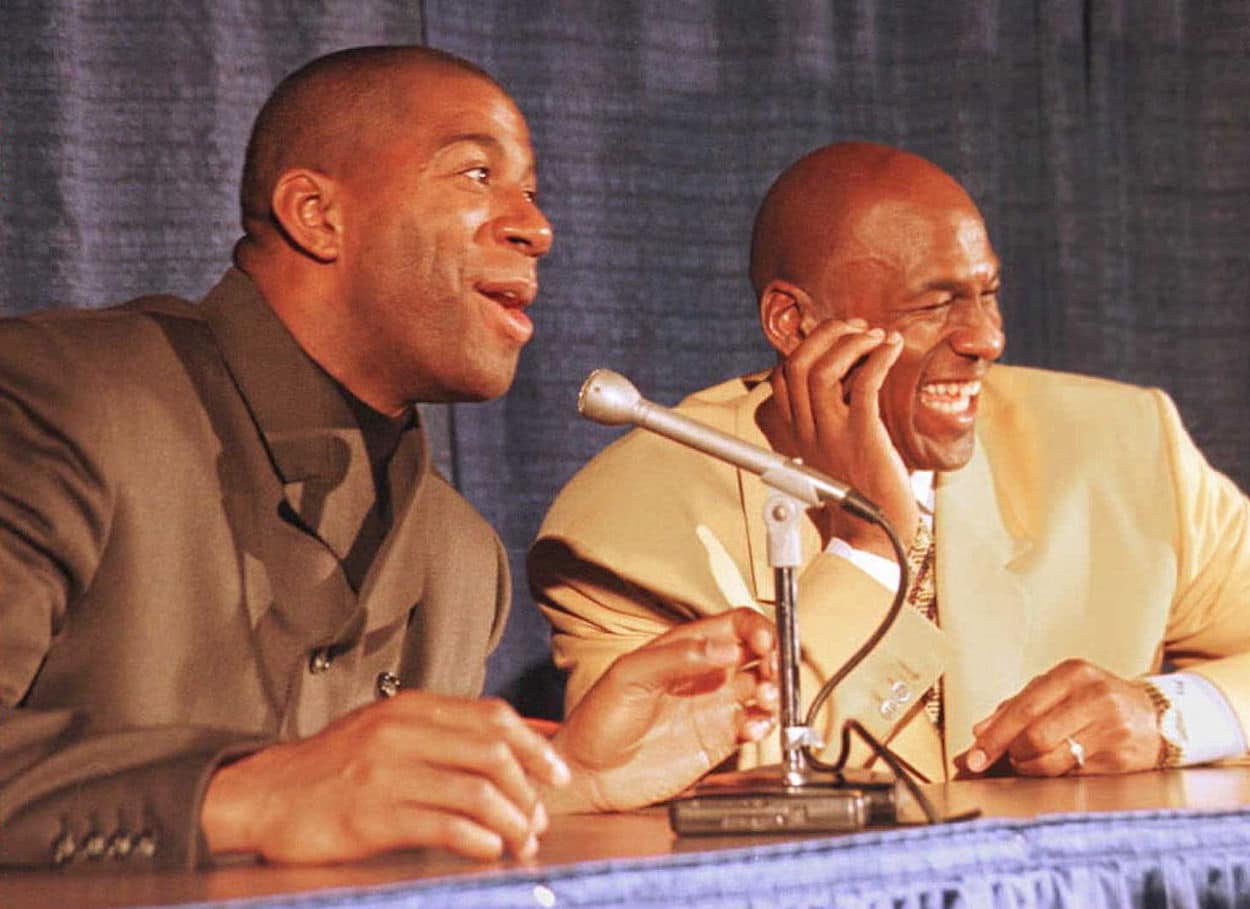 Magic Johnson's Super Team Comment Ignores Some Important Context: 'I Never Wanted to Play With Nobody but My Dudes'
While Magic Johnson says that he was happy to play with his guys and not join a super team, simply latching onto that assertion misses the point.
At this point in time, you can't discuss NBA players or the league at large without the topic of super teams raising its head. Whether you think it flies in the face of being a competitor or accept that it's simply part of the modern game, everyone seems to have an opinion. Magic Johnson is no exception, even if he's speaking somewhat indirectly.
During an appearance on the All the Smoke podcast, the legendary Laker was asked about the hypothetical prospect of teaming up with Michael Jordan during their playing days. While Magic said that he never had any desire to do that, that sentiment ignores some valuable historical context.
Let's break it down.
Magic Johnson says that he only wanted to play with his 'dudes'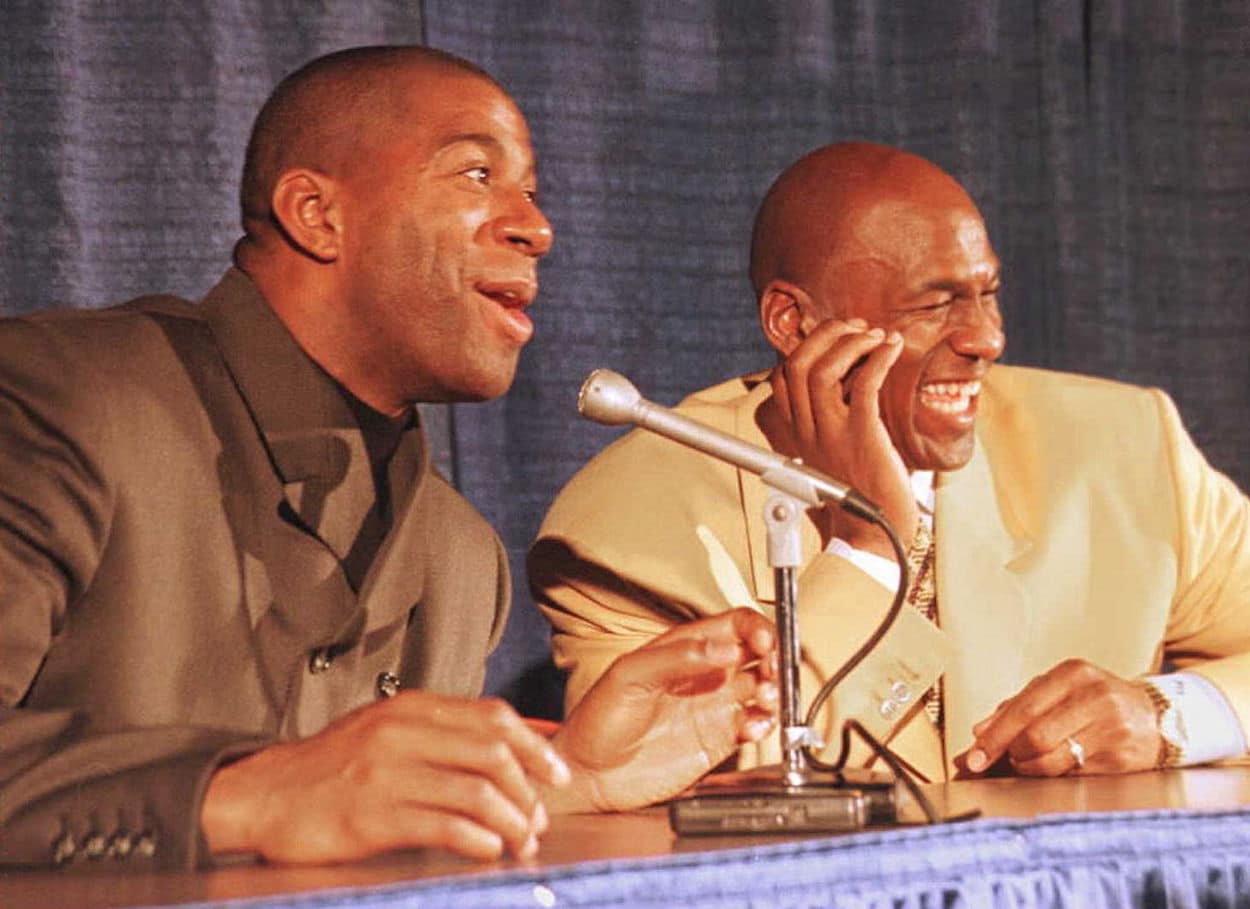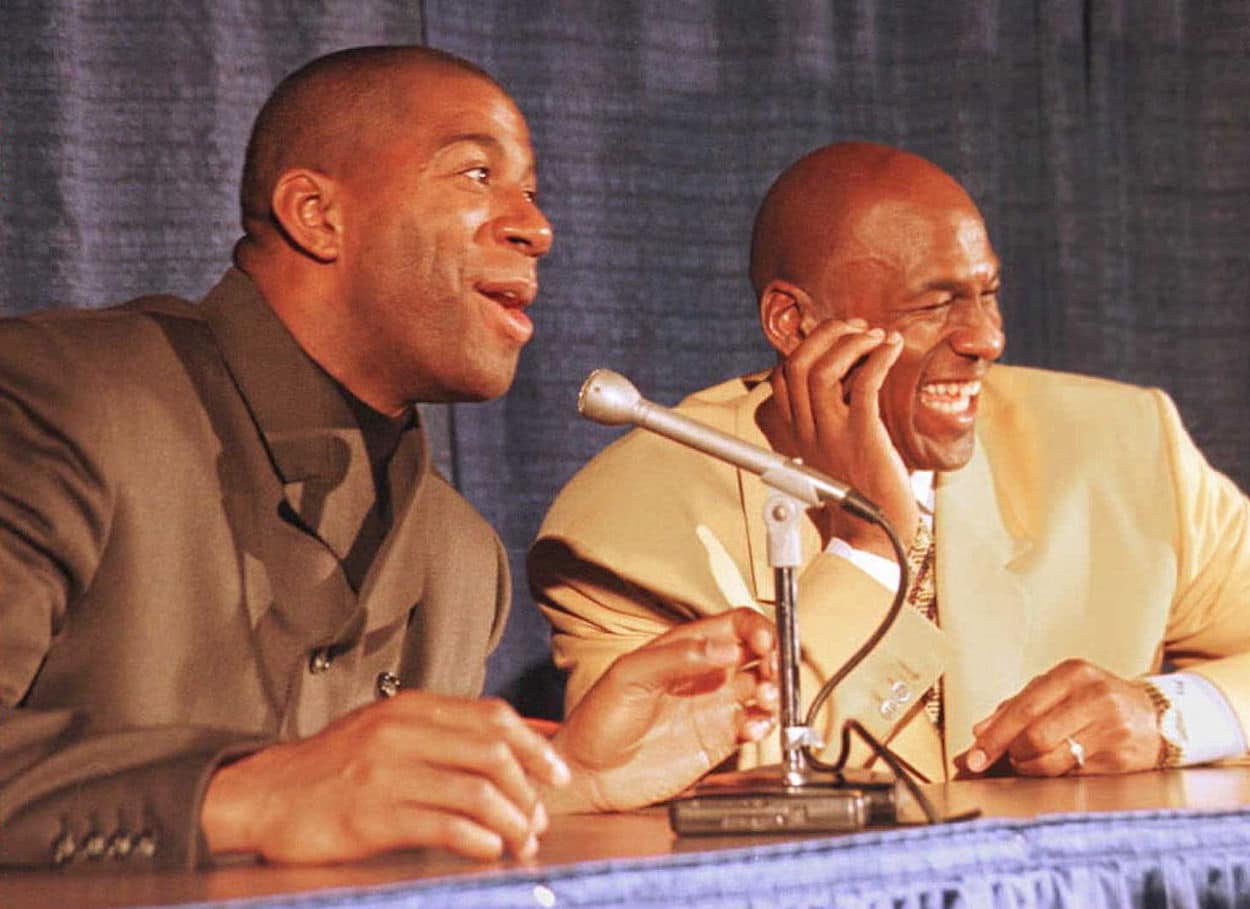 When you spend a good chunk of time working alongside the same people, you naturally develop some camaraderie. Magic Johnson certainly experienced that during his time in the Association.
During an appearance on All the Smoke, a conversation about the Dream Team inspired Stephen Jackson to ask the legendary guard if he ever thought about joining forces with Michael Jordan. While that dynamic duo might sound like a dream come true for basketball fans, Johnson insisted the idea never crossed his mind.
"No," Magic explained. "I wasn't a guy like that. I never wanted to play with nobody but my dudes. I was good, and I've always been a dude, where I end up, that's who I'm rolling with. Even pick-up games, I never tried to get all the name dudes. I tried to just get dudes who want to play. 'Let's go. Let's go.' I like that underdog thing, anyway. 'Come on, let's go beat these dudes over here.' And, so, that was always my mindset, and I'm, I'm glad."
That wasn't the end, though. The former Laker kept waxing poetic about the purity of competition.
"But, I would say this," he continued. "That's what makes sports special, right? [Competitiveness.] Yeah, yeah, not everybody joining each other. Go make it happen. If you're the best, you gotta go up against them guys anyway."
It's easy for Magic to say that when he played for some legendary Lakers teams
Even though he was only speaking about himself and his experiences, it's easy to apply Magic Johnson's comments about playing with his dudes and valuing competition to today's NBA. Super teams, for better or worse, are a reality of modern basketball. It is, however, worth remembering some historical context from the guard's playing days.
Despite being the first-overall pick of the 1979 NBA draft, Johnson joined a capable Lakers team, which had just finished the previous season 12 games over .500. Kareem Abdul-Jabbar was no longer a young man, but he was still present and capable of making an impact. The 1979 Lakers also boasted Norm Nixon, Jamaal Wilkes, and a young Michael Cooper. As time progressed, James Worthy would also arrive in Hollywood.
While Johnson probably genuinely enjoyed playing with his "dudes" and formed a bond on and off the court, it's easy to be loyal when you're playing alongside some elite talent. It's not like Magic was playing alongside amateurs and getting thumped every time they took the court.
Beyond that, Magic won a title during his first professional season and became the only rookie to claim NBA Finals MVP. If we're trying to draw a parallel between him and the likes of LeBron James or Kevin Durant, that clutch performance and championship ring loom large.
At the risk of trying to get inside of an NBA star's head, the way we discuss championships probably plays a role in the desire to join super teams. It's not enough to win a ring; as Charles Barkley says, you have to be the one driving the bus to get full credit. Since Magic won a championship and delivered a clutch performance on the biggest stage, he never faced that burden. Winning another title shortly after only made things even easier.
Again, I'm not trying to say that Magic Johnson didn't love his dudes or dispute his assertion that he wouldn't have teamed up with Michael Jordan. As you see his quotes make the rounds on social media and turn into criticisms of the modern NBA, though, remember the context.
It's easy to stay at home, after all, when you're already in the penthouse.