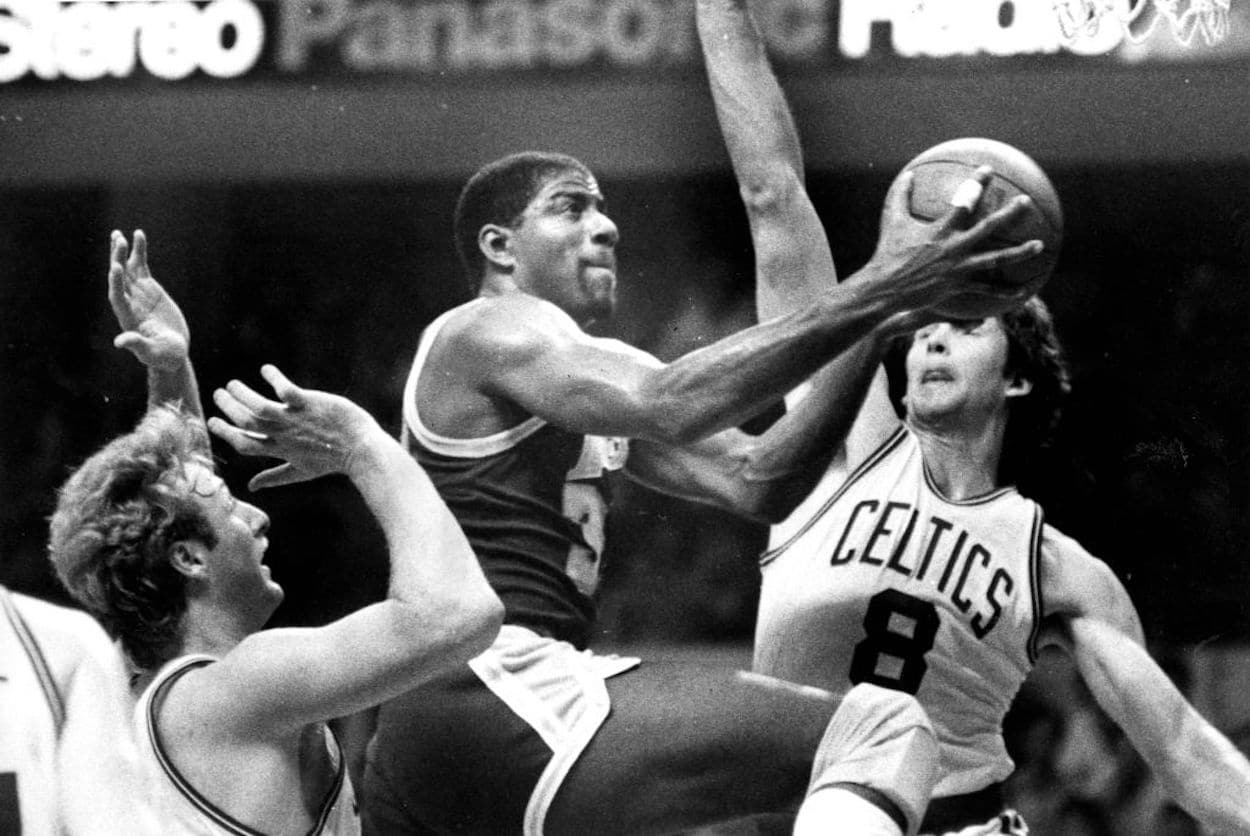 Magic Johnson Was So Impressive That He Forced an Awe-Struck Opponent Out of the Game to Regain His Composure
When Tim Hardaway faced Magic Johnson and his Lakers, he couldn't believe what he was seeing. Thankfully, Don Nelson intervened.
As sports fans, we have a different perspective on sports than the athletes in the trenches. It's easy, for example, to see a high-flying slam dunk or some silky ball-handling and be blown away. NBA players, however, witness superhuman feats every time they take the court. At this point, nothing is going to impress them, right?
Wrong.
Just let Tim Hardaway tell you about his first encounter with Magic Johnson. He found the LA Lakers' guard to be so mind-blowing that he needed a brief spell on the bench to regain his composure.
Magic Johnson forced Don Nelson to call a time-out and give Tim Hardaway a break
There's nothing too unusual about an NBA coach calling a time-out to allow their players to catch their breath and get a foothold in the game. During a clash with the Lakers, however, the Golden State Warriors brought the game to a halt for another reason: One of their guards was star-struck.
"When I went to the Great Western Forum, then watching Magic come down and do his thing, you know, and orchestrate his team, and make them understand, 'This is the way we're gonna run this,' I was in awe," Tim Hardaway remembered in an NBA 75 video honoring the Lakers legend. "You know, Don Nelson, he had to call a time-out and had to take me out the game because … He was like, 'I hope you're not in awe, watching him and not really playing.'"
While the guard knew better than admitting the truth, he was impressed by the opposition.
"I wanted to tell him, 'Yeah, I need to sit down for a minute because, "wow."' It took me a half just to realize that I'm playing against Magic."
While Hardaway's response may seem unbelievable, Magic Johnson was really a game-changing talent
From afar, Tim Hardaway's awe-struck response may seem a bit silly. How could a professional basketball player be so impressed by one of their peers? When you consider how Magic Johnson changed the game of basketball, though, things are a bit more understandable.
Today, there's nothing unusual about seeing someone like LeBron James or Giannis Antetokounmpo handle the ball. In the 1980s, though, having a 6-foot-9 athlete running the show was unprecedented. And Magic did more than just calling a play and passing the ball to Kareem Abdul-Jabbar. He led the team forward, pushed the pace, and was at the center of Showtime.
Johnson's counting numbers are also impressive in their own right. The guard averaged 19.5 points, 11.2 assists, and 7.2 rebounds across 13 NBA seasons; he also won five championships, took home three NBA Finals MVP titles, and claimed three regular-season MVP crowns.
In that context, Tim Hardaway's reaction to facing Magic becomes a bit more understandable. Not only was the guard an incredible talent, but he was doing things that were largely unprecedented on the basketball court.
Stats courtesy of Basketball-Reference