Magic Johnson's Criticism Motivated Kevin Garnett to Change His Game Forever
Every professional basketball player grows up idolizing certain players of the previous generation. For the late Kobe Bryant, Michael Jordan was the perfect example of everything he hoped to become. Kevin Durant has openly discussed how he looked up to Vince Carter as a young man — so much so that he even wanted to play for the Toronto Raptors.
For soon-to-be Hall of Famer Kevin Garnett, the player he most looked up to was Los Angeles Lakers superstar Magic Johnson. Johnson was also a vocal supporter of Garnett's talents. Yet on at least one occasion, Johnson also doled out some tough love to a young Garnett.
Kevin Garnett's NBA career in a nutshell
The Minnesota Timberwolves drafted Garnett with the fifth pick of the 1995 NBA draft. He was the first player to get selected directly from high school in exactly 20 years. It didn't take long for Garnett to prove why that was such a good decision. After coming off the bench for the first half of his rookie season, he took over starting duties and put up solid — if not quite spectacular — numbers.
He continued to improve in each of the following seasons, soon morphing into a solid 20 point, 10 rebound player. For a big man, he was also especially talented at distributing the ball.
On top of that, Garnett was an absolute beast on the defensive end. After 12 seasons with the Timberwolves, however, Garnett still hadn't won a ring, and in July 2007 Minnesota traded him to the Boston Celtics.
In Boston, playing alongside Paul Pierce, Ray Allen, Rajon Rondo, and others, Garnett's numbers took a dip. But in 2008 he finally achieved his goal of winning a championship.
After six years in Boston, the 15-time All-Star spent a year and a half with the Brooklyn Nets before returning to Minnesota to wrap up his career. Garnett's career stat line is 17.8 points, 10.0 rebounds, 3.7 assists, 1.3 steals and 1.4 blocks per game.
 Postseason struggles in Minnesota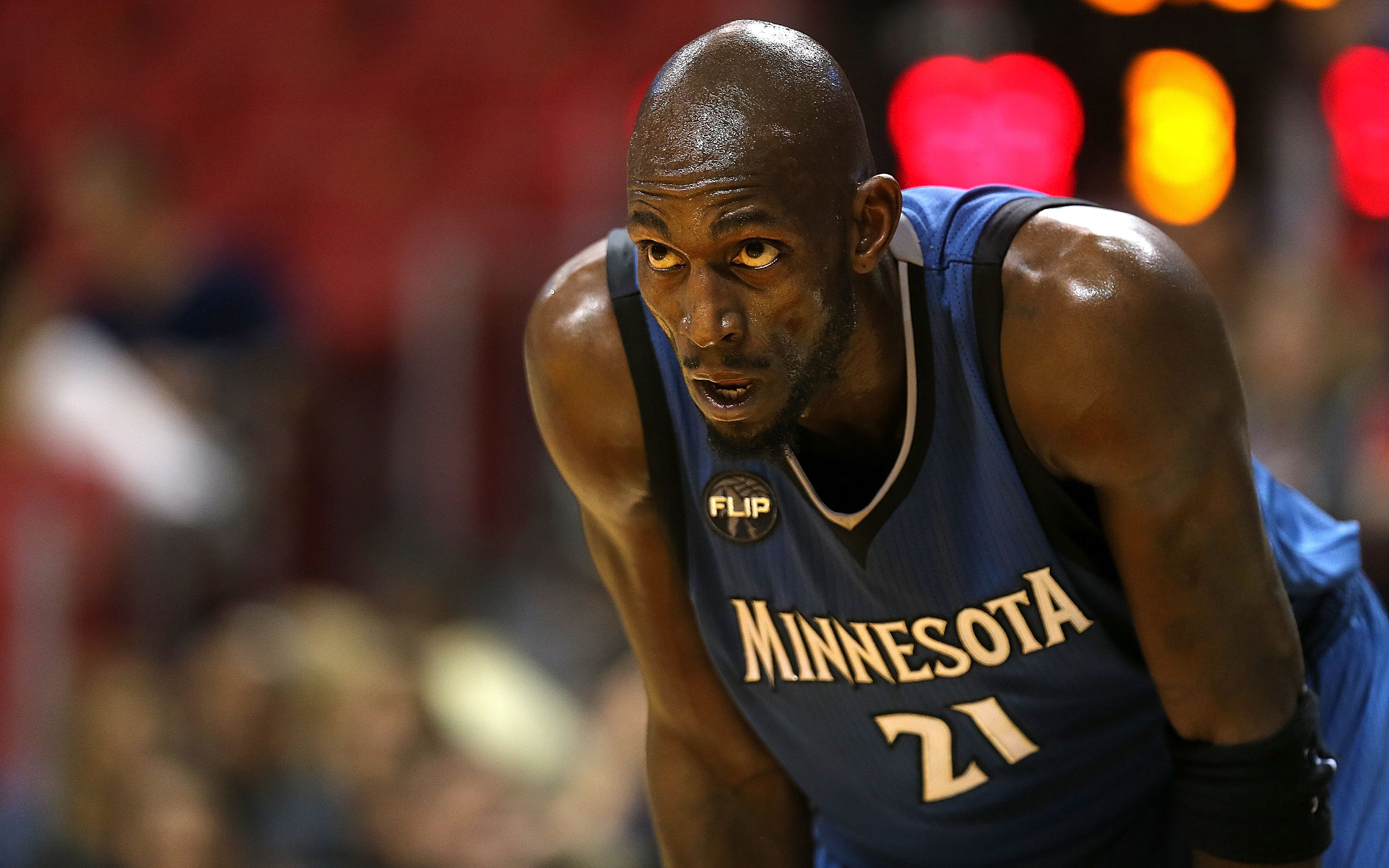 Looking back, it is abundantly clear that Kevin Garnett was one of the most dominant players of his era — and of all time. Yet some analysts expressed concern about whether Garnett had what it took to lead his teams in the postseason.
Those struggles came to a head during the 2001-02 season. At that point, Garnett's Minnesota teams had made the playoffs five times, getting bumping in the first round each time.
The 2001-02 postseason was expected to be Garnett's coming out party. That season saw him put up averages of 21.2 points and 12.1 rebounds per game. In the playoffs, those numbers ballooned to 24.0 points and 18.7 rebounds per game. Yet once again the Timberwolves lost in the first round, getting swept by the Dirk Nowitzki-led Dallas Mavericks.
Kevin Garnett responds to Johnson's criticism
In the wake of that stinging loss, criticism of Garnett only increased. Even Magic Johnson got involved, openly questioning Garnett's ability to lead a team during crunch time.
According to JockBios, Johnson pointed out that Garnett had a disappointing way of always disappearing in the final minutes, exactly when his team most needed him to take charge.
For Garnett, who worshipped Johnson growing up, that criticism cut to the bone. But instead of withering, Garnett responded by taking his game to the next level.
During the offseason, he implemented a new and improved training regimen designed to further chisel his already intimidating physique. That regimen included everything from nutrition planning, to personal training work, to yoga.
The results showed in the following season. Garnett posted then-career best numbers of 23.0 points and 13.4 rebounds per game. He also displayed a new ferocity on the defensive end.
As a result, Garnett won MVP honors in the All-Star game and finished second behind Tim Duncan in MVP voting. Although the Timberwolves lost again in the first round to the Los Angeles Lakers, Garnett had proven that he was truly a force to be taken seriously.
All stats courtesy of Basketball Reference