1 Major Reason Doris Burke is the Best NBA Analyst on TV
At first, the sound of a woman sharing her generally brilliant insights on the finer points of professional basketball might be a bit jarring. Once the chauvinism fades and love for the game takes its place, most all agree that Doris Burke is the best NBA analyst on broadcast TV — male, female or otherwise.
Even though many NBA analysts bring years — if not decades — of playing experience to the mic, Burke's observation skills and ability to analyze and explain what's happening on the court is nonpareil. The New Jersey native's talent goes beyond her 30 years of broadcasting experience; her mindset, approach, and ability to seamlessly mesh with her play-by-play partner is what sets her apart.
Doris Burke's got game…and cred
Like many NBA greats, Doris Burke played basketball at Providence College, where, as a point guard, she held career assist records and was named the school's co-female athlete of the year. In 2005, for her accomplishments, her alma mater gave her an honorary doctorate.
Basketball, Burke told Deadspin, was her saving grace growing up:
"Growing up as a kid with bad hair, bad clothes, bad skin, bad teeth — you name it, I had it going on," she said. "But whenever I stepped between the lines, I was pretty good at the game. That felt good."
"She is so sure, so steady, and so knowledgeable during a broadcast that it's hard to imagine a major basketball broadcast without her. As Jeff Van Gundy recounted to Deadspin, she's 'the LeBron James of sportscasters.'"
Up the ladder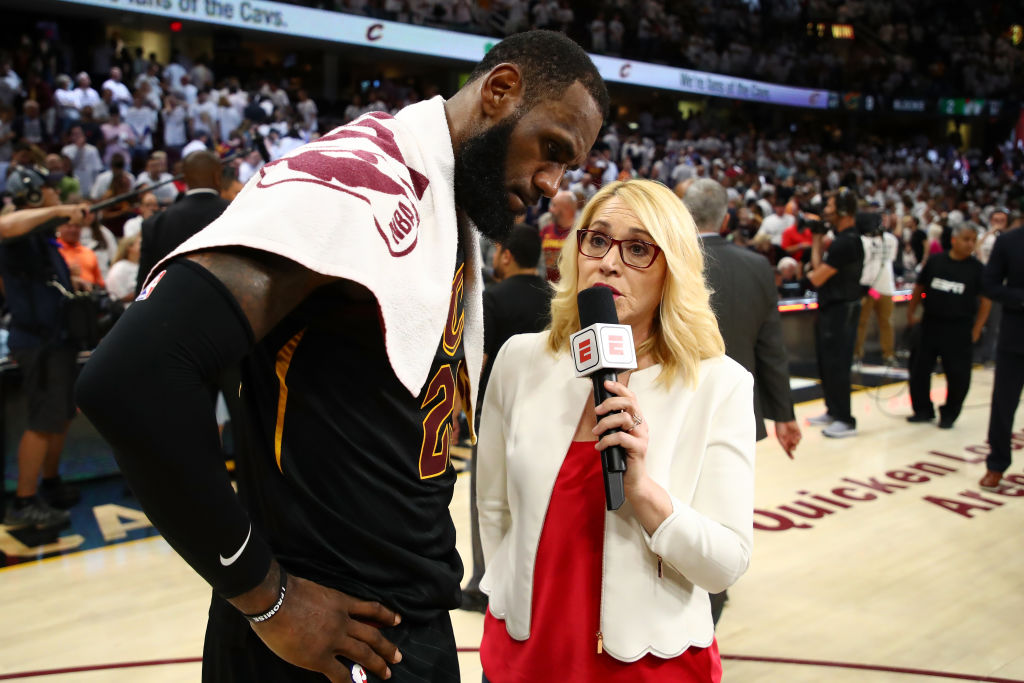 In return, Burke says she relies on Van Gundy — a friend since his days as an assistant college coach — to let her know when she misses the mark in her broadcasting. "Jeff's a truth-teller," Burke said in the same Deadspin piece. "If I'm ever acting like a jackass, he'll look me in the eye and tell me to stop it. Those are the types of people you want in your world."
Burke's ascent to greatness as an NBA TV analyst saw her earn her way up the ladder, starting as a radio commentator for Providence basketball games as well as Big East games on TV. Using her own experience as a springboard, Burke's rise through the ranks came about via diligent preparation and lots and lots of on-air experience. After gaining rave reviews from peers and players, Burke signed a multiyear contract with ESPN in 2013.
Courtside, the big screen, and NBA2K
Doris Burke's role at ESPN includes a stint on the NBA Pregame Show, where she shares her insights on upcoming games. In 2017, she became the courtside analyst for the network's game broadcasts. In 2018, she was honored with the Curt Gowdy Media Award given to top broadcasters for their sterling body of work.
"Thankfully, Doris knows how to deal with all of that," Washington Post sportswriter Sally Jenkins said in a New Yorker piece. "She's sure-footed. She's confident. She's not trying to appeal to anybody on any other basis other than knowledge. She's a basketball junkie, and she's an athlete. She comes from that pure place. She's not trying to be an entertainer. She's just trying to be observant and tell the truth." 
And if that weren't enough, enduring a long-lasting legacy to millennials, Doris Burke has been featured as a sideline reporter in the NBA2k video game.