Malik Willis Flying Up NFL Draft Boards as Josh Allen Comparisons Come to Light
The 2022 NFL Combine is underway in Indianapolis. The best college football prospects are out to make a name for themselves with the NFL Draft less than two months away. One of the biggest names to watch is Liberty quarterback Malik Willis, who has a world of potential but has also been knocked for his raw ability.
Willis transferred from Auburn and enjoyed a ton of success with the Flames and is one of the biggest wild cards in this draft class. He can easily be the top QB taken in April, or he could fall to the second round and be the fifth or sixth signal-caller selected.
Nonetheless, Willis has surprised everybody early on at the Combine, and he has even drawn some Josh Allen comparisons for several reasons.
Malik Willis could be the second coming of Josh Allen in a number of ways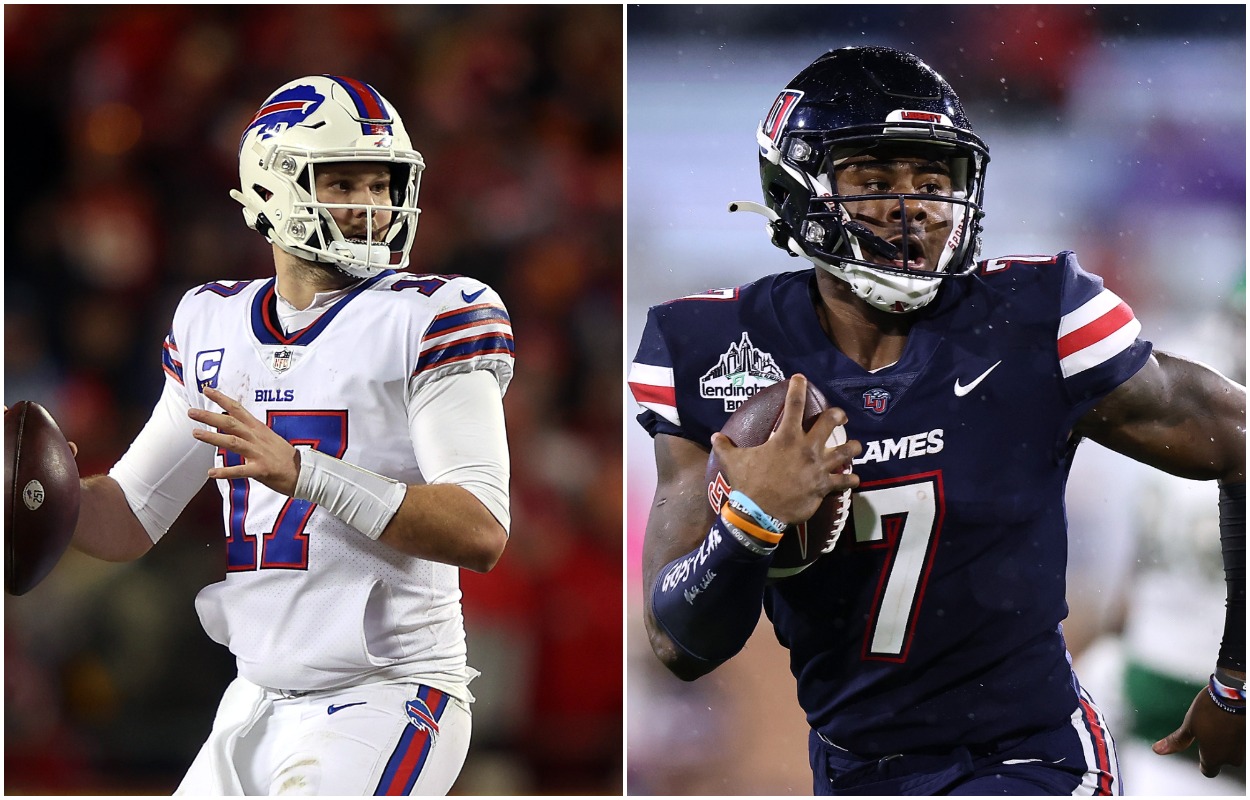 There are many reasons to believe that Willis is this year's version of Allen. For starters, the big-time throw stat is pretty shocking.
Allen was electric at Wyoming and ended up being drafted by the Buffalo Bills No. 7 overall, and the Bills are more than pleased with how Allen has turned out thus far.
Now, Willis is four inches shorter than Allen and 20 pounds lighter. But Willis has the mobility that Allen has flashed in his NFL career. Moreover, Willis is one of the more mobile QBs we have seen in quite some time — and his Senior Bowl performance was a perfect example of that.
That is Michael Vick-Esque from Willis, and the new prototype of NFL QBs has quickly become that of a mobile-type, so that helps Willis in a big way.
Another similarity between Allen and Willis is the small school factor. Allen played in the Mountain West Conference and had that going against him heading into the NFL Draft. "He hasn't played against a top defense" and "Allen padded his stats against schools like Air Force" were essentially the arguments for fading the talented QB.
Willis is the same. He transferred from SEC powerhouse Auburn and moved to Liberty, one of just seven Independent programs in college football. However, Willis and the Flames did play against Ole Miss and Matt Corral, but besides that, not many notable teams this past year.
Despite that, the talent is evident, and people were passing and doubting Allen for the same reasons as Willis. But the Liberty QB isn't worried about the doubters, not one bit.
Willis gets brutally honest on the doubters heading into the 2022 NFL Draft
During the NFL Combine, Willis was as honest as could be when asked about doubters.
There is no denying his talent, but the biggest issue is that he is very raw and might need a year or two to develop. That's fine.
His numbers from Liberty as out of this world, regardless of the competition he faced.
The 2022 QB class, in general, isn't what the 2021 class was, thanks to outliers such as Trevor Lawrence, Justin Fields, and Trey Lance. However, there is an argument to be made that Willis could very well be the second coming of Allen in many ways.
If he finds the right coaching, the right team to surround him, and works hard in the offseason, he might be a superstar at the NFL level and be on the same trajectory that Allen took to get to his meteoric rise.
Analysts are raving about the Liberty QB, both at the Senior Bowl and the NFL Combine
As soon as the college football season ended, talks began about this 2022 NFL Draft class. Unlike other years, there is no consensus No. 1 choice. There is no clear-cut No. 1 QB, and some mock drafts even have the first 10 picks going by without seeing a QB being selected.
But, Willis has done nothing but catch the eyes and attention of NFL analysts during the Senior Bowl and the NFL Combine.
Matt Miller kicked things off during the Senior Bowl week by expressing the arm talent of Willis. That would become a common trend, and even with his accuracy issues, the strength of his arm is one of the most intriguing things.
As it stands, Willis is in conversations with Kenny Pickett and Matt Corral for QB1 in the draft, and Daniel Jeremiah of NFL.com said Willis has the most upside.
He's outstanding on QB draws, powers and zone reads. He has a burst and pulls through tackles. Overall, Willis is still a work in progress, but he has the most upside on any QB in this class.

Daniel Jeremiah on Malik Willis
There is a reason analysts and scouts are buzzing with excitement over Willis. He might not jump out of the gate and start from Day One, but the talent and potential are flying through the roofs at the NFL Combine.
Stats Courtesy of Sports Reference