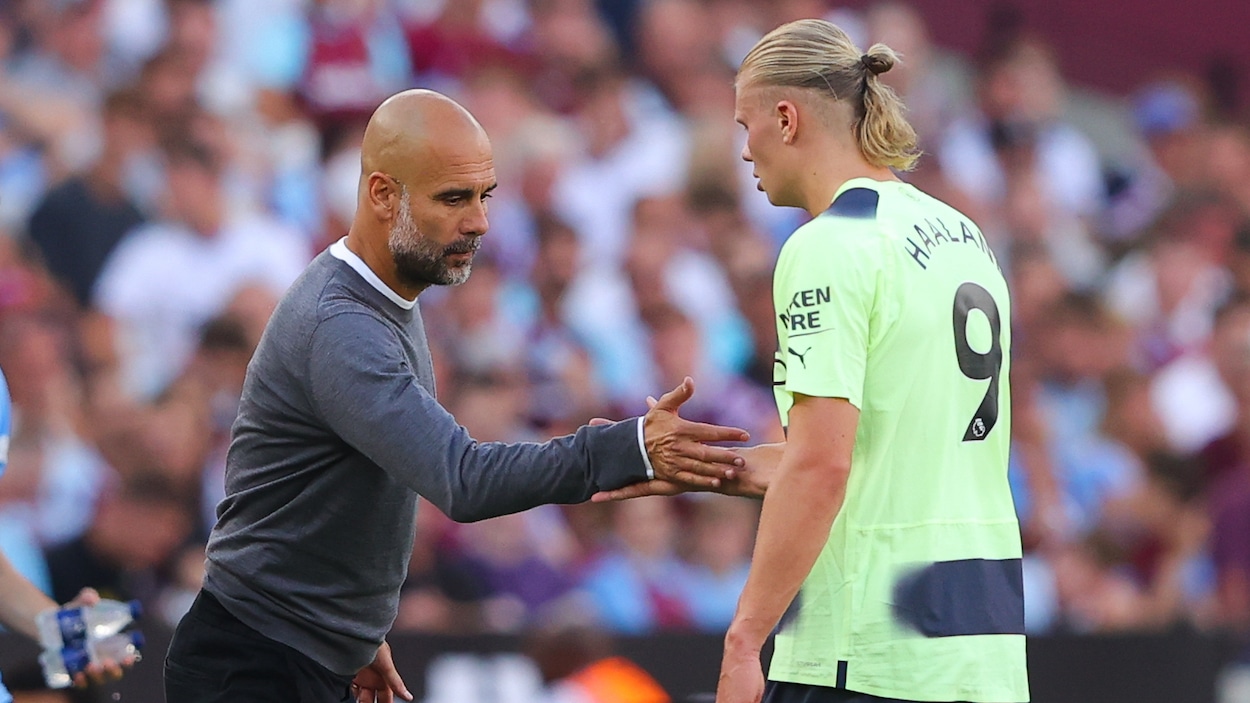 Manchester City Manager Pep Guardiola Pumps the Breaks on Erling Haaland Hype
It's hard not to get excited about Erling Haaland's Manchester City debut but Pep Guardiola is right, he won't solve City's biggest issue.
As Manchester City's £51 million man, Erling Haaland, rolled in his second goal of the 2022-23 Premier League season just 65 minutes into the campaign, it was hard for City fans not to be giddy. For the last few seasons, City manager Pep Guardiola assembled one of the greatest collection of passers in the football world. However, he's never found the perfect finisher to go with them.  
It looks like Guardiola has finally found the right striker. But after one (albeit excellent) game, the Man City manager is already cautioning against outsized expectations saying that as good as Haaland was, he will "not solve all out problems."
And Guardiola is right.
Erling Haaland and Pep Guardiola are a tantalizing combination
Pep Guardiola has managed some of the greatest football players in the world. However, you have to go back to 2008 when the manager first hooked up with a then-21-year-old Lionel Messi to find something comparable to Guardiola and 22-year-old Erling Haaland coming together. 
Erling, the son of former Manchester City (and Nottingham Forest and Leeds United) defender Alfie Haaland, is a generational talent like Messi. 
Standing 6-foot-4 and weighing nearly 200 pounds, Erling is bigger than most Premier League defenders. He also has the footspeed and skill on the ball that you only see in much smaller forwards. Most importantly, though, Erling Haaland has an uncanny ability to find the back of the net no matter the situation. 
During his time at Manchester City, Guardiola has assembled the best collection of passers in the world. Kevin DeBruyne, İlkay Gündoğan, Phil Foden, Bernardo Silva, Jack Grealish, Rodri, and João Cancelo would likely all be their teams' best passer if they played anywhere else in the world. 
The problem Guardiola has had at City was finding the right tip of the spear. 
Sergio Agüero is one of the EPL's all-time great goal-scorers. But he was a unique player who scored goals his way, never the perfect fit for Guardiola's system. Raheem Sterling and Gabriel Jesus were brilliant at times but also inconsistent. Leroy Sané and Riyad Mahrez were/are too one-dimensional. 
Erling Haaland could be the ultimate Guardiola forward, especially since he's hooking up with the master tactician so early in his career. 
Guardiola says the new forward still has ways to go
Manchester City notched an impressive 2-0 victory over West Ham, where Erling Haaland scored both goals. After, Pep Guardiola cautioned against too much excitement over the summer signing. 
"All the team were amazing, but for Erling to score the first two goals is good for him and for us," Guardiola told reporters, per ESPN. "He is a threat for us now, but he is not going to solve all our problems."
"One week ago, he could not adapt in the Premier League," Guardiola also said, referring to his struggles in the Community Shield against Liverpool that drew criticism from City legend Sergio Agüero. "And now he is alongside Thierry Henry, Alan Shearer, and Cristiano Ronaldo."
Guardiola also compared Haaland and Lionel Messi. He said, "They are never satisfied, always hungry, starving for goals, and want more." He also alluded to his challenge coaching a player like this, stating, "At same time, I have to use other players."
The all-time-great manager is correct. Having a generational goal-scorer is fantastic. But it is easy for a team to become too reliant on one scorer in a situation like this. 
And it will be up to Guardiola to solve City's biggest problems, not Haaland. That's because Man City's biggest problem is Pep Guardiola. 
The biggest problem for Manchester City is its manager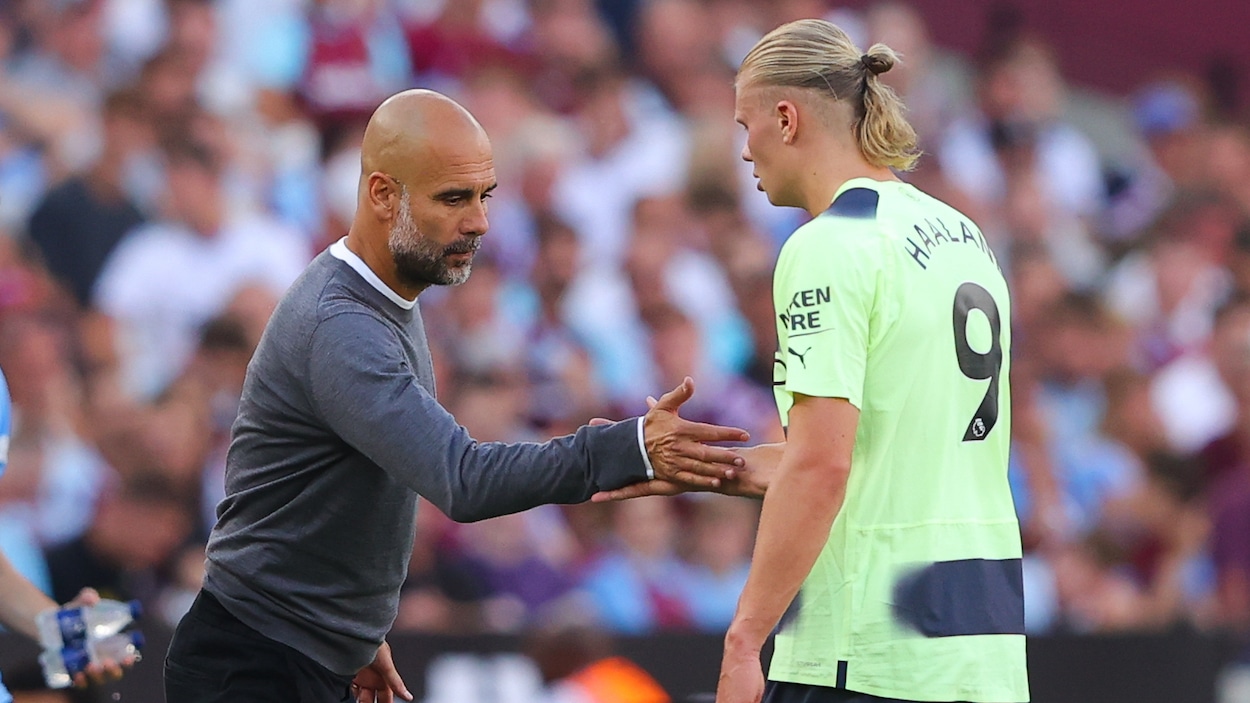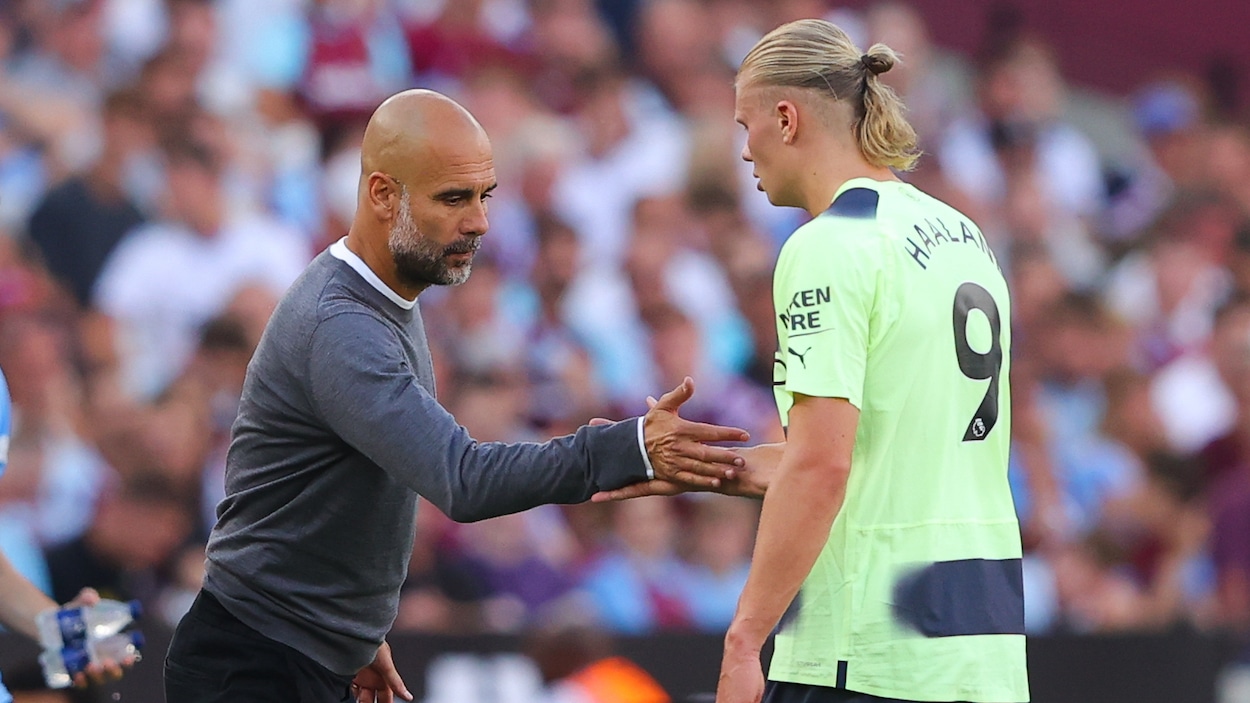 Over the past few seasons, Manchester City has been one of the best clubs in the world. The team is not without its problems, though.
City has struggled at times to create offensive chances, preferring to make the extra pass rather than shoot when the opportunity came. The side is also prone to defensive lapses with the defensive personnel and Guardiola's system almost solely focused on offense. 
Haaland should solve the first problem. And the second problem is likely unsolvable with the way the club play under Guardiola. But that's just the cost of doing business for Man City.
Even with these issues, City has won four of the last five Premier League titles, four Carabao Cups, and an FA Cup under Guardiola. In 2017-18 the team won the Premier League with 100 points in the standings, and in 2018-19 the team won the domestic treble. 
The problem for Guardiola and company has been the Champions League. And City's exits from that competition have been squarely on the shoulders of the manager. 
In 2018, Liverpool ran roughshod over City in the Quarterfinals. That's because Guardiola chose to start an extra midfielder in İlkay Gündoğan over Raheem Sterling. Then, in 2019, he again reacted to his opponent instead of dictating style. In the first leg of the Quarters City lost to Tottenham 1-0 before losing a barn-burner in the second leg.  
In 2020 Guardiola, yet again, went with a double-pivot in the Quarters against Lyon and lost 3-1. And in the 2021 UCL Finals against Chelsea, he left Sergio Agüero and Gabriel Jesus on the bench in favor of a false 9. City then promptly lost 1-0. 
Finally, in 2022, City was up 5-4 on aggregate in stoppage time against Real Madrid in the Semifinals. Guardiola got conservative near the end, and the team lost to the Spanish giants 6-5 on aggregate in extra time. 
Guardiola is right to say Erling Haaland won't solve all the team's problems, especially in Champions League, where the most significant problem has been the manager going away from what's worked all season in the biggest spots. 
Haaland may make Guardiola stay true to himself in big games, and if that happens, the elusive quadruple could be in City's sights. 
Like Sportscasting on Facebook. Follow us on Twitter @sportscasting19 and subscribe to our YouTube channel.