Manny Pacquiao Just Challenged Asian Haters to 'Fight Me Instead'
Manny Pacquiao may be an elder statesman of boxing, but few fighters have the draw that he does. The boxer, politician, and pop culture icon is no stranger to letting his feelings be heard. Recently, Pacquiao used his voice to better society. As one of the most prominent Asian athletes in the world, he challenged a wave of anti-Asian hate in a way only a boxer could.
Manny Pacquiao vs. Ryan Garcia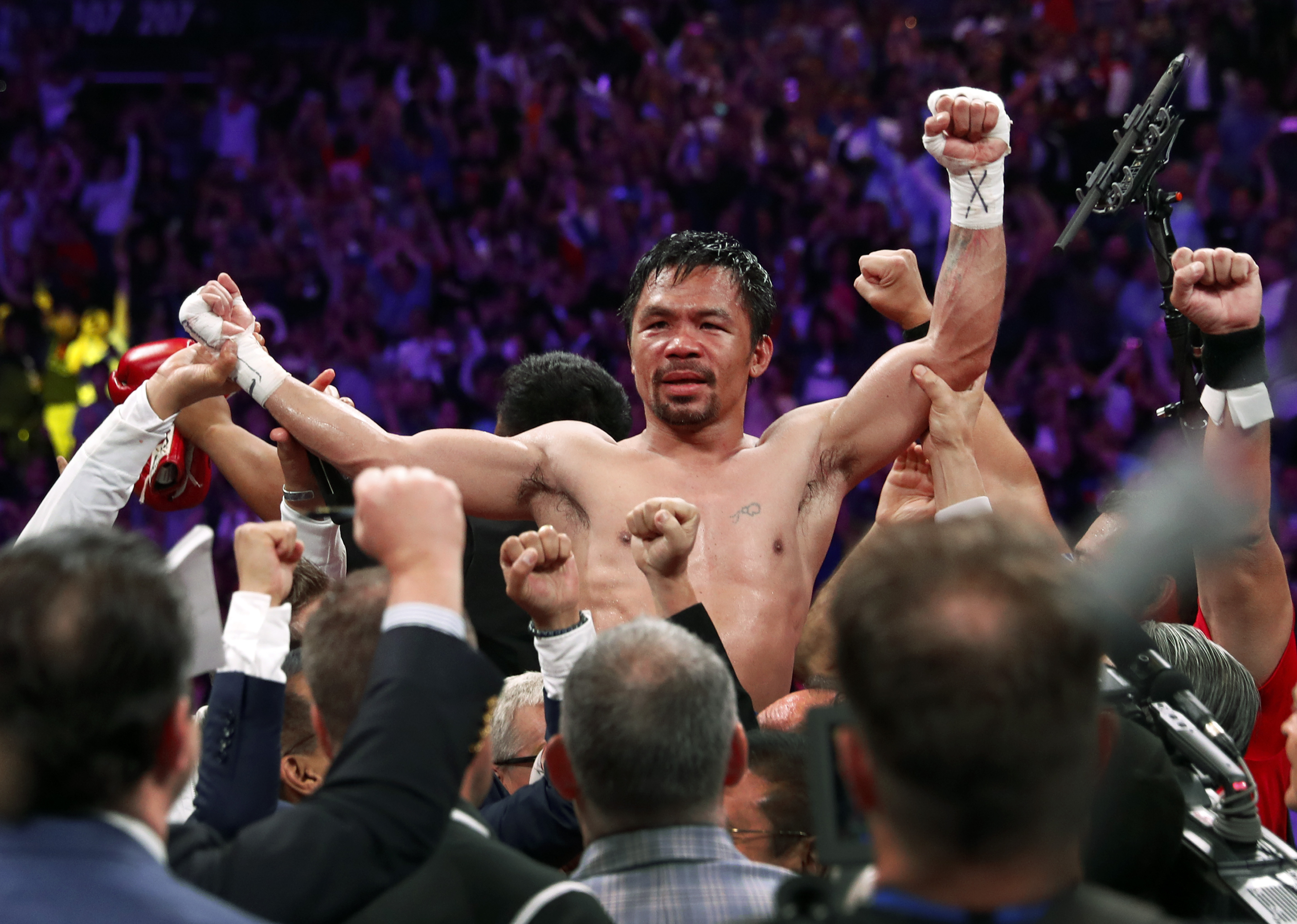 RELATED: Boxing Legend Manny Pacquiao's Real Estate Portfolio Is Worth Millions
Pacquiao was supposed to take on a fighter half his age. Ryan Garcia, the American up-and-comer out of California had planted seeds of desire when it came to facing the Filipino superstar. Garcia looked up at Pacquiao for much of his young life and used his boxing to get better himself.
However, the fight fell through when Garcia took issue with promoter Oscar de la Hoya's management. Garcia told TMZ: "Well, Oscar, he just likes to contradict himself. It's all good, it's all love man, it's not my fault ever. I always say yes to everything. If a fight ever falls through, it's because of the opposite side."
Now, the world is waiting to see who Pacquiao will fight next. However, after a wave of anti-Asian murders across Atlanta, the boxer's sights were set on something far greater than anything that could happen in the ring.
Reality sets in
RELATED: Manny Pacquiao Started Boxing at Age 12 Because Even Losers Got Paid
As NBC News reports, everything came to a halt when, in March, a man drove around the streets of Atlanta and shot eight people around the city. Despite claims from the shooter and police that the crimes were not racially motivated, the writing on the wall claimed otherwise.
The shooter, a 21 year old Georgia native, reportedly grew sexually frustrated and took it out on people across the city. However, when most of the victims were Pacific Islanders, the writing is on the wall.
Of course, with a high-profile crime and national spotlight on a growing sense of anti-Asian sentiments these last few years, Pacquiao's voice was powerful. The fighter took a break from figuring out his next fight and exchanging verbal jabs with potential shooters to focus on a villain that goes beyond the realm of sports.
In fact, he did so in four languages in order to get his point across as clear as possible.
Manny Pacquiao responds
On March 31, Pacquiao had a message for the world that both had nothing to do with boxing and everything to do with his status as a fighter. Tweeting in English, "We have one color in our Blood! Stop discriminating. LOVE AND PEACE TO EVERYONE!! #StopAsianHate."
According to Asian Journal, the four images Pacquiao included used English, Tagalog, Chinese, and Korean respectively. The message that connected all of them was short and simple: "Stop attacking Asians who can't defend themselves! Fight me instead."
Pacquiao's standings on several key issues has drawn controversy. But for one of the most famous Pacific Islanders to speak out amidst this hatred against people just like him was big. Pacquiao's voice is louder than most could ever dream of. While it's easy to focus on the other things, his words may hold more weight than almost anyone else.
So far, nobody has taken him up on the offer. However, the saga from the failed Garcia bout to this shows just how quickly things can change, and all the ways that sports can feel not-so-important in the end.