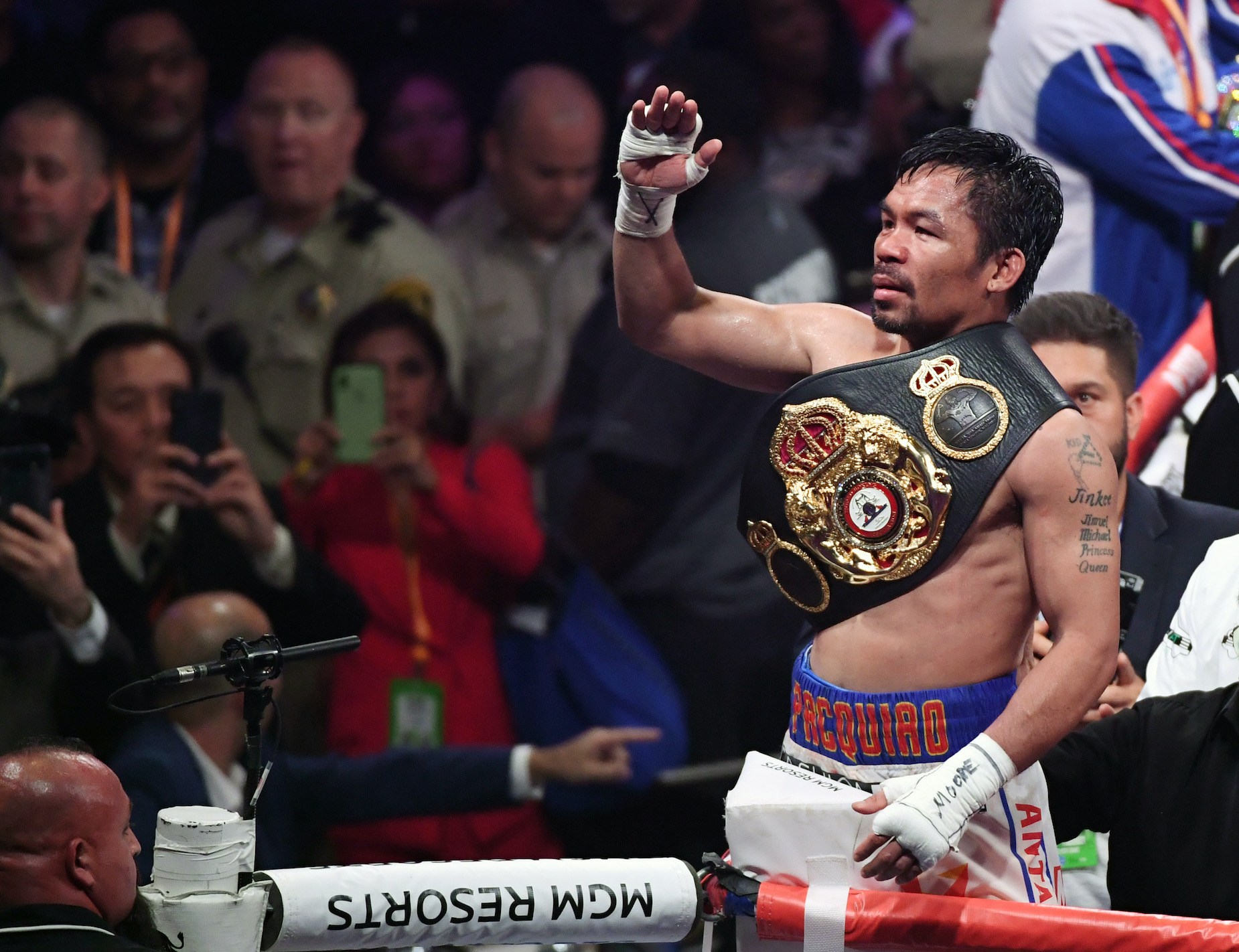 Manny Pacquiao Has a Plan to Add an Extra $40 Million to his Already-Massive Net Worth
While Manny Pacquiao has a massive net worth, he could add an extra $40 million to his bottom line if things go according to plan.
At the tail end of 2020, Mike Tyson returned to the boxing ring, taking home a massive payday in the process. While Manny Pacquiao isn't stepping into the ring against Iron Mike, it seems that the Filipino legend wants to get in on the action.
Thanks to his career as a boxer, senator, and seemingly everything else in between, Manny Pacquiao has built up a massive net worth over the years. At age 42, though, the boxer is plotting a return to the ring; he'll also be aiming to earn a sizable payday in the process.
Manny Pacquiao is one of boxing's biggest names
These days, boxing has lost a bit of its prestige; a heavyweight title fight is no longer the must-see spectacle it once was. That reality, though, couldn't stop Manny Pacquiao from becoming a household name.
At this point, the Filipino boxer's resume speaks for itself. He stepped into the ring in 1995 and, despite his unintimidating stature, proved the be quite the talent. He quickly worked his way up the ladder, claiming his first WBC title in 1998; that victory, however, was only the beginning.
While things have slowed down a bit in recent years, Pacquiao still holds one of the greatest records that boxing has ever seen. He's 62 of his 71 fights, losing seven bouts and drawing two; PacMan also claimed world championships in eight different weight classes, including four of the sport's original eight divisions. If you look up just about any boxing record, there's a good chance that you'll see Manny Pacquiao near the top of the list.
Manny Pacquiao's net worth is just as impressive as his boxing resume
Manny Pacquiao does more than just winning boxing matches, though. The serial winner is also pretty good at making money; just look at his massive net worth.
While he grew up in poverty, Pacquiao's net worth is currently pegged at $220 million. As you might assume, a good chunk of that money comes from his time in the ring. In 2016, Forbes reported that the boxer had earned $500 million in boxing purses, including more than $100 million from his fight with Floyd Mayweather.
The PacMan's success, however, isn't limited to a sizable net worth. He's broken into politics, serving as a senator in his native Philippines, has played professional basketball, and dabbled in music and acting. Pacquiao also has quite the real estate portfolio, which certainly helps his bottom line.
A comeback fight worth $40 million?
Both from a boxing and a financial perspective, Manny Pacquiao doesn't need to return to the ring. PacMan, however, isn't going to rest on his laurels.
Despite being 43-years-old, Pacquiao has been preparing for a potential comeback; as explained by Nick Giongco of the Daily Tribune, he's hoping to meet Terence Crawford or Errol Spence but is willing to fight "anybody." If things go according to plan, though, the Filipino star could get both a sizable payday and a shot at another title.
"We told [Top Rank chief Bob Arum] I get $40 million and Crawford gets $10 million," Pacquiao explained.
In 2020, Mike Tyson earned $10 million for a glorified exhibition bout against Roy Jones Jr. In that context, Manny Pacquiao potentially earning $40 million for a welterweight title fight doesn't seem that excessive.