Manny Pacquiao Lost the Most Iconic Matchup of His Career
Manny Pacquiao's biggest fight might've been his battle against Floyd Mayweather, but this wasn't his most iconic matchup. Pacquiao's most iconic opponent is Juan Manuel Marquez, a champion in multiple divisions just like Pacquiao. The two men ultimately had a four-fight saga that ended with Pacquiao getting knocked unconscious. So how did Pac Man let this happen?
The start of Manny Pacquiao's rivalry with Juan Manuel Marquez
In the early 2000s, multiple boxers from around the world cleaned house in their divisions. Mayweather and Marquez dominated in the Americas and Pacquiao dominated in Asia. It wouldn't be long, however, until those men fought each other.
In 2004, with a record of 38-2, Pacquiao challenged Marquez for his belts in the featherweight division. Marquez had a record of 42-2 at the time of the fight. Bleacher Report explains how Pacquiao was very aggressive. He knocked Marquez down three times in the first round. But Marquez was tough, and he always got back up.
Ultimately, this clash of titans was a close fight. In fact, the judges said it was too close to call. With a split vote, they declared it as a draw. Four years later, in 2008, the two men met again. This time, it was in the super featherweight division, which means the two men were at least four pounds heavier entering this fight. 
Pacquiao's rivalry with Marquez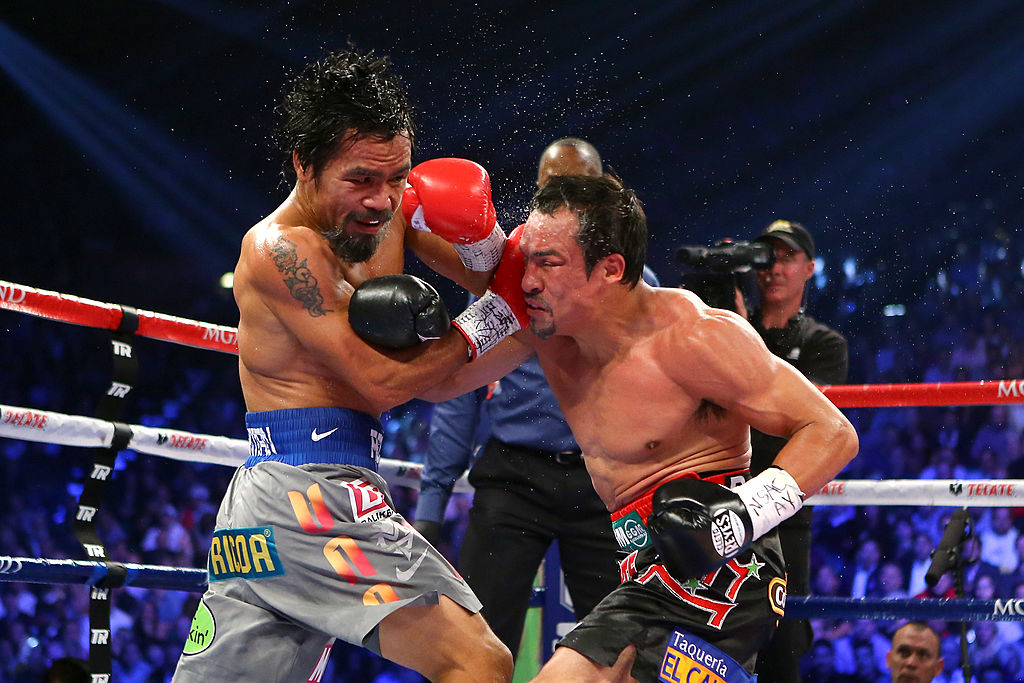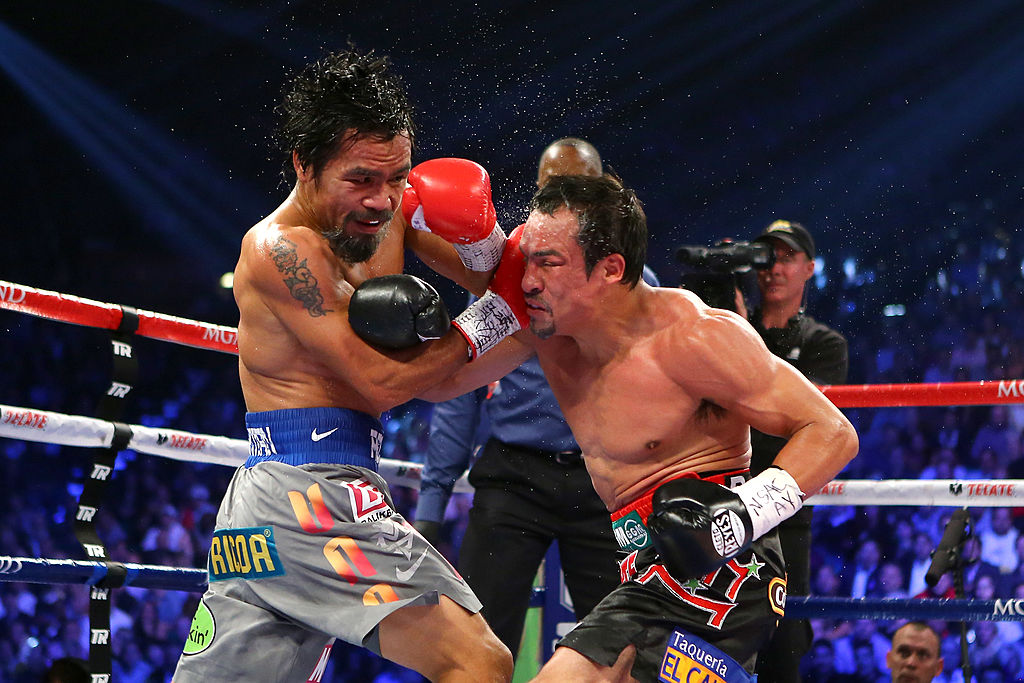 Pacquiao used the same aggressive strategy in the rematch. He knocked down Marquez once more but never knocked him out. Marquez stuck to his strategy of fighting defensively, but the judges decided Pacquiao had done enough. Pac Man won this second fight with another split decision. 
Not deterred, three years later, in 2011, the two men met again — this time at welterweight. In boxing, this division is limited to men who weight, at most, 147 pounds. This means Pacquiao and Marquez have fought each other all the way from 126 pounds to 147 pounds. 
In any case, this third fight was almost exactly the same as the second, according to Bleacher Report. The two men were evenly matched; Pacquiao tried to be more aggressive while Marquez tried to be more defensive. And, just like in the second fight, the judges gave Pacquiao the win with another split decision.
Pacquiao and Marquez's final and most iconic fight
A year later, Pacquiao agreed to fight Marquez for the fourth time. Even though he'd won two of their three fights, all of them ended in a split decision. The judges simply couldn't agree who won any of the three matchups. Indeed, as CBS Sports said, Marquez felt like the judges robbed him of three wins. 
This fourth fight began the same way as the last three fights had. Pacquiao tried to be aggressive; Marquez tried to be defensive. Pac Man landed hard shots on Marquez, but Marquez, who'd never been knocked out before, recovered and kept fighting. Then, in the sixth round, Marquez finally caught Pacquiao with a counter, sending him down for good. 
The fighter hadn't been knocked out in over a decade, but Pacquiao was out cold. Marquez had finally done it and decisively declared himself the winner of their rivalry. As CBS Sports reports, this win was the last in their rivalry. Soon, Marquez retired from boxing. Pacquiao, who is in his forties, is still boxing. But it's unlikely he'll ever get a fifth fight against Marquez.