Manute Bol Could Be the Oldest NBA Player in History But 'There's No Way of Ever Really Knowing'
The late Manute Bol is a bit of a folk hero in NBA circles. Yes, he had a promising NBA career as a journeyman center, but this only tells part of the story. The 7-foot-7 Sudanese center has a wide range of memorable stories and successes to his name, from claims that he invented the phrase "my bad" to his decision to lead a middle-class lifestyle as an NBA millionaire. However, one of the most intriguing stories has less to do with basketball and more to do with his questionable age. 
Manute Bol takes to the court
Bol grew up in an era before social media when, as a young child in Sudan, he was able to impact his homeland on a global scale. Fortunately, Face 2 Face Africa reported, Bol happened to grow up at the same time Nigerian superstar Hakeem Olajuwon forever changed the relationship between the NBA and Africa. Bol was a natural for attention thanks to his massive size, even in professional basketball circles. 
His journey to the NBA, though, was not easy. While Bol had the size of an NBA big man, soccer was his game of choice. However, a massive frame like his can be detrimental in a sport that requires agility and grace. Basketball was a different story. The future NBA star attended basketball camps across the country. There, he caught the eyes of American college basketball scouts. 
Bol suffered from severe culture shock upon his move to America. He barely spoke English, lacked a birth certificate, and was still relatively new to basketball itself. After a recruitment scandal derailed plans to play at Cleveland State, Bol transferred to the Division II University of Bridgeport. There, he caught the attention of the NBA. 
The Los Angeles Clippers drafted him before an error that caused him to declare too late rendered it void. Rather than fight it, Bol played semi-professionally in Rhode Island before declaring in time for the 1985 NBA Draft. 
Bol enters the NBA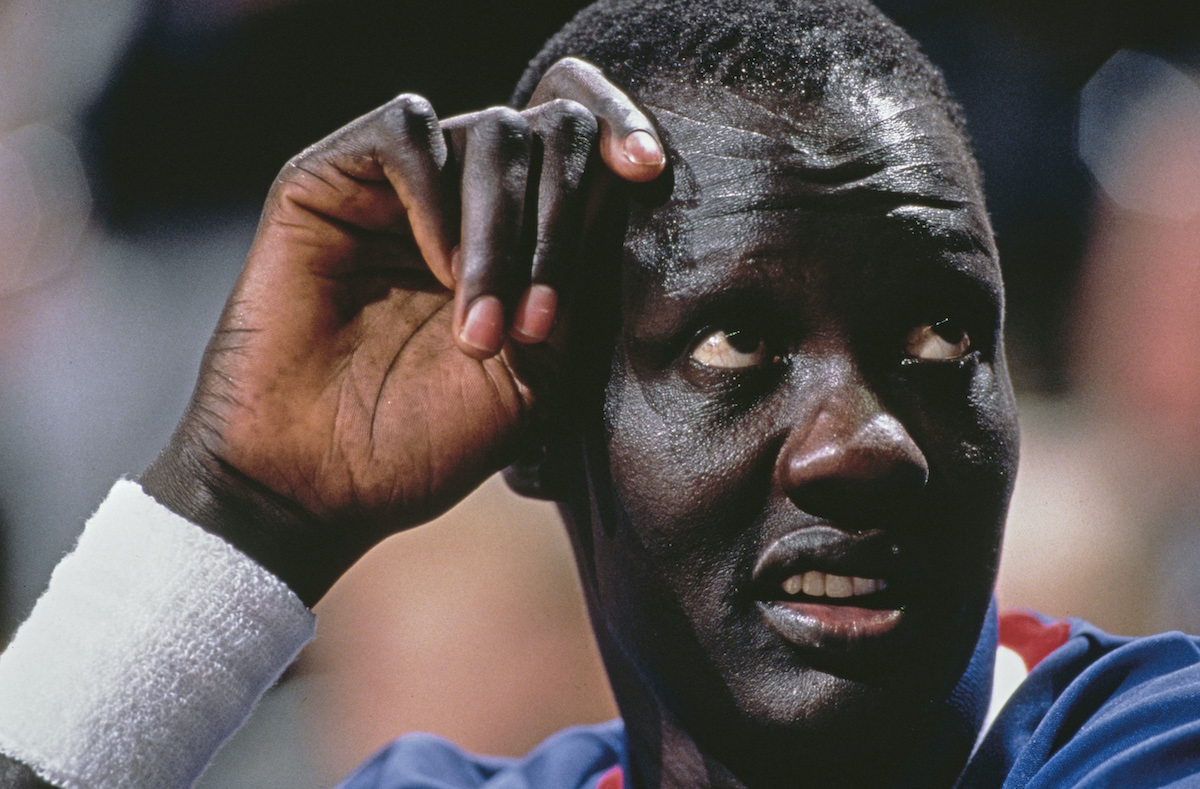 Bol was never an NBA superstar. However, for a child out of Sudan to even make it was a big deal. Despite his height making ball-handling and other skills a chore, Bol knew how to use it when it counted. He wasn't a great shooter, although his three-point shot occasionally hit. Furthermore, he wasn't even that outstanding a rebounder. Where he thrived, however, was on the defensive end. 
According to Basketball Reference, Bol averaged 3.3 blocks against just 2.6 points. That's a rare feat in an offensive league like the NBA. His humanitarian work always made more headlines than his basketball skills, but Bol proved that he belonged. Sadly, Bol died from kidney failure in 2010, but his legacy continues through his son, Bol Bol, who became a pro basketball player, too.
However, his career continues to be a gift that keeps on giving. His Cleveland State coach dropped a bomb about the NBA center's age. If it's true, Bol was one of the oldest NBA players ever to compete. 
How old was Manute Bol?
According to online sources, Bol was born on October 12, 1968. However, growing up in a country that didn't keep many birth records, his birthday was an outright lie, according to former Cleveland State coach Kevin Mackey.
"I gave him his birthday because they didn't know how old he was," Mackey told Zags Blog. "It was in October. I wanted to make it after Sept. 1. I wanted to make sure he was young enough because he didn't have an age. I think he was [in his 40s], I really do. But there's no way of ever really knowing."
The question still resonates today. If Bol was as old as his former coach thinks he was, the New York Daily News notes that he'd potentially be the oldest player to put on a jersey. However, without any proper confirmation, it's still just idle speculation. Few NBA players have as many strange, believable stories as Bol, and the age saga helps show why this is. Whether 20, 30, 40, or 50, however, Bol made an impact that still resonates long after his death.