How Many Current Bengals Were Alive When Cincinnati Last Won an NFL Playoff Game?
When the Cincinnati Bengals last won a playoff game, the iPhone was still over 16 years away from hitting shelves. Football fans lived in a world where Joe Montana still threw touchdowns for the San Francisco 49ers — a reality Bengals fans knew all too well — and Deion Sanders was about to usher in a new generation of swagger.
Over in the smartphone-free AFC, Boomer Esiason threw two touchdowns and ran for another in a 41-14 Bengals victory on Jan. 6, 1991. Over 30 years later, that remained Cincinnati's most recent playoff victory as of publication.
As you might expect, there aren't any players from that game who are still active in the NFL. However, how many current Bengals were alive when the team last won in the playoffs? 
The 2021 Cincinnati Bengals featured six players who were alive on Jan. 6, 1991
The idea that 1991 was over 30 years ago is terrifying. Tampa Bay Buccaneers quarterback Tom Brady may have been 44 years old at publication, but he was a teenager when the Bengals last won a playoff game.
The 2021 Bengals team featured six players who were alive on Jan. 6, 1991, and one barely qualified. Guard Xavier Su'a-Filo arrived on Jan. 1, 1991, five days before his future team's victory.
Safety and special teams ace Michael Thomas was born on March 17, 1990, less than a year before the Bengals routed the Oilers. Kevin Huber, the veteran punter, and the Bengals' longest-tenured player, was born on July 16, 1985 and grew up in Cincinnati. If anyone on the current team remembers watching that game, it'll likely be the 2014 Pro Bowl selection.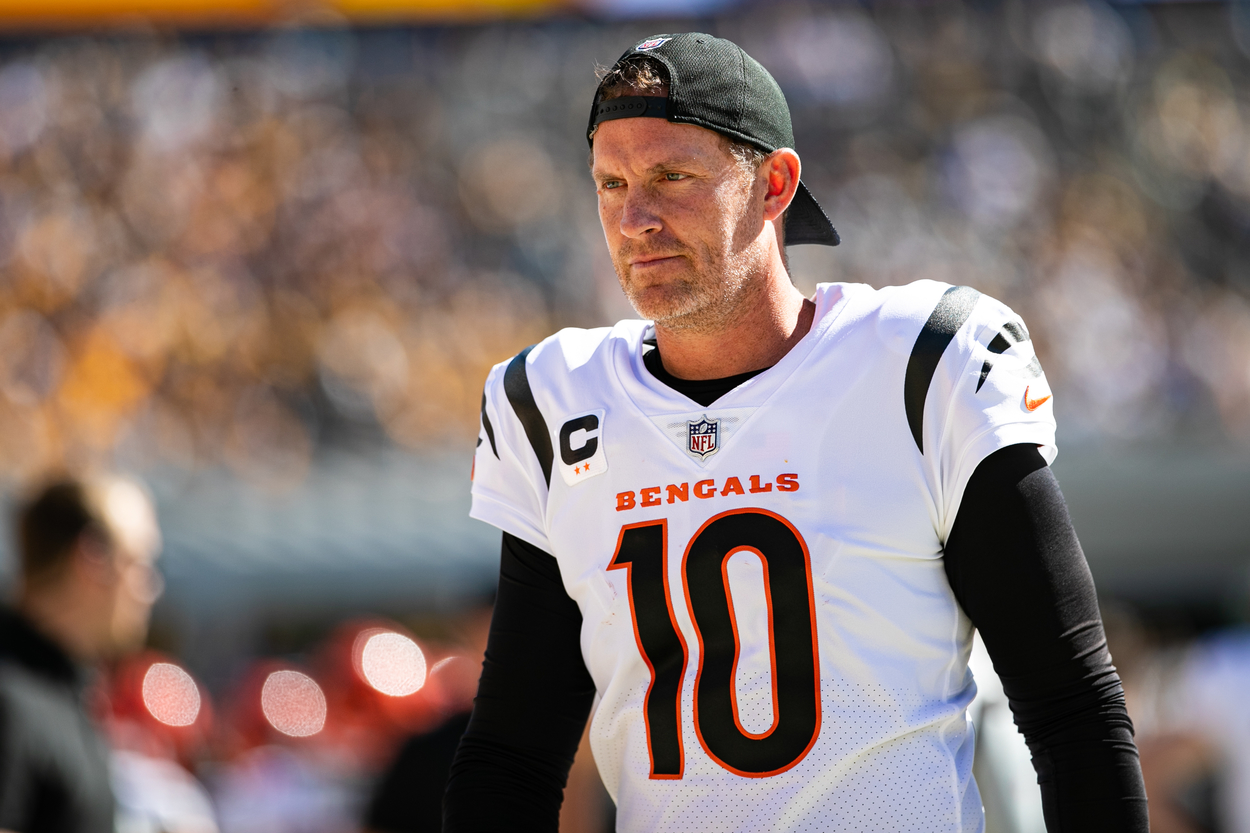 However, Huber is not the Bengals' oldest player. That honor narrowly goes to long snapper Clark Harris, who was born on July 10, 1984.
Defensive tackle Mike Daniels, a 2017 Pro Bowl selection, was a few months shy of celebrating his second birthday in January 1991. Veteran offensive tackle Riley Reiff had just turned 2 years old roughly a month earlier.
Two players, left guard Quinton Spain and backup safety Ricardo Allen, narrowly missed the cut. Spain entered the world on Aug. 7, 1991, and Allen joined him on Dec. 18 of that year.
Star quarterback Joe Burrow and dynamic receiver Ja'Marr Chase were each several years away from being born
The 2021 Bengals entered the postseason with only six players who were 30 or older. Everyone else, including quarterback Joe Burrow and receiver Ja'Marr Chase, are in their 20s.
Chase was born on March 1, 2000, a month before the New England Patriots used a sixth-round pick on Brady. Burrow, his LSU teammate, arrived on Dec. 10, 1996. Pass-rusher Trey Hendrickson was born on Dec. 5, 1994.
The age factor extends to the Bengals' coaching staff, too. Zac Taylor was seven years old and in second grade when Esiason took down the Oilers. Offensive coordinator Brian Callahan is 11 months younger than Taylor, so we'll let you do the math there.
Are you feeling old yet?
The Bengals entered the 2021 NFL Playoffs still holding the NFL's longest playoff win drought
If you were born in 1997, you went through your first 24 years without ever seeing the Bengals and Detroit Lions win a playoff game. The Buffalo Bills at least broke the streak at some point in the year you turned 24.
History is still working against the Lions, who last won a playoff game on Jan. 5, 1992, when Barry Sanders and company defeated Troy Aikman, Emmitt Smith, and the Dallas Cowboys at the Pontiac Silverdome. That is a strange sentence to read.
Well, if the Bills can do it, maybe the Bengals and Lions aren't too far off. If fans of either team have made it thus far, perhaps it's not worth quitting just yet.
Like Sportscasting on Facebook. Follow us on Twitter @sportscasting19.