How Many Players Have Won Back-to-Back NFL MVP Awards?
Many of the greatest quarterbacks in NFL history, from Bart Starr and Johnny Unitas to modern legends Aaron Rodgers and Peyton Manning, have won the MVP Award at some point in their career. There's a reason why the NFL MVP is often cited as the Best Quarterback Award.
Although the NFL MVP Award has existed in some form since 1938, the league has officially recognized the Associated Press' version since its inception in 1957. Only a select group of players have won consecutive MVP Awards in that span, and all four are among the most significant to ever take the gridiron.
Jim Brown, RB, Cleveland Browns (1957-58)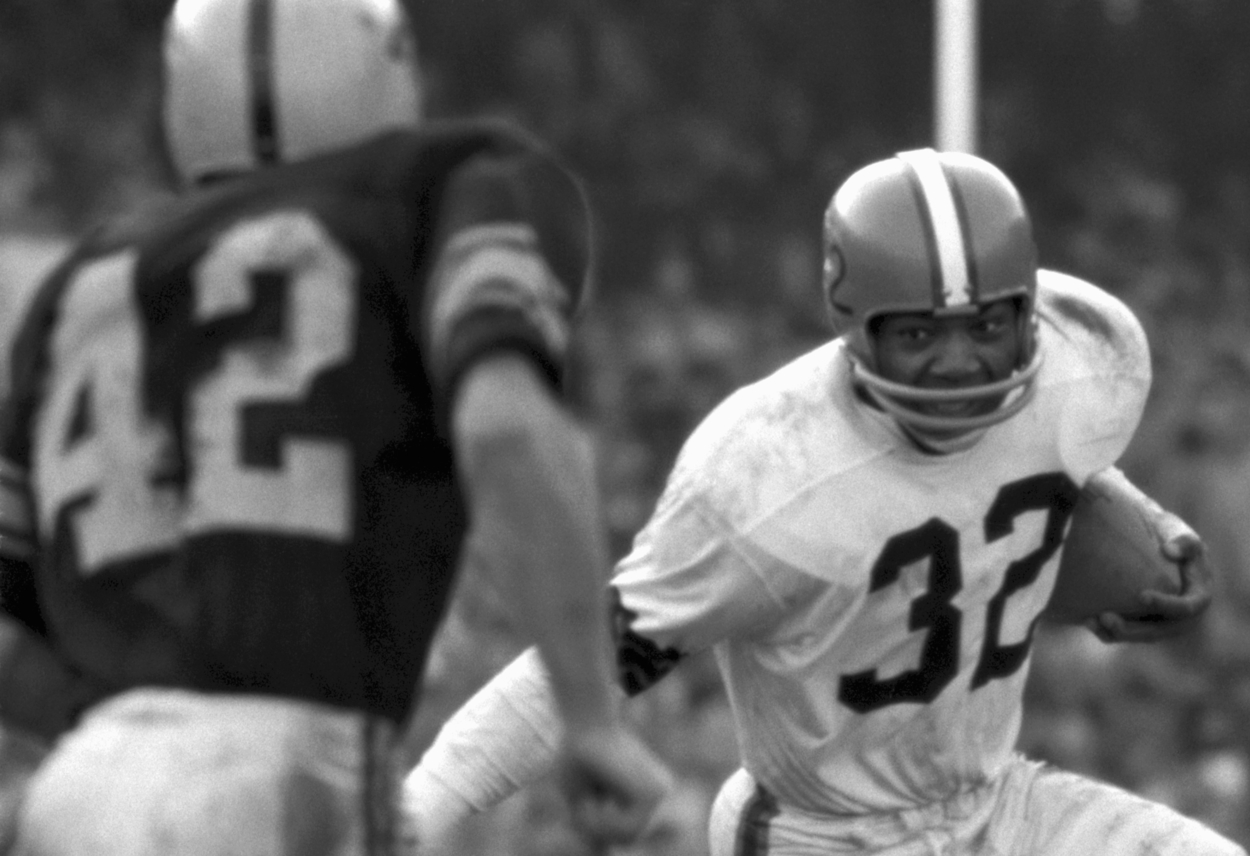 As of January 2022, Brown is the only player in NFL history to win the MVP Award as a rookie. By extension, he is also the lone player to win NFL MVP honors in his first two seasons.
The Syracuse legend ran for 942 yards and nine touchdowns in 1957 before upping those totals to 1,527 yards and 17 scores a year later. Brown won another MVP in 1965, when he rushed for 1,544 yards and 17 touchdowns in his final season.
Joe Montana, QB, San Francisco 49ers (1989-90)
It is easy to forget Montana didn't win his first NFL MVP Award until 1989, his age-33 season. The Notre Dame alum completed 70.2% of his passes that year for 3,521 yards, 26 touchdowns, and eight interceptions in 13 games. Montana's 1989 season marked the only time in the 16-game era (1978-2020) that a player missed three games in a non-strike season and won MVP honors.
Later that season, Montana threw five touchdowns and earned Super Bowl MVP in a 55-10 rout over the Denver Broncos in Super Bowl 24.
Despite missing one game in the 1990 season, Montana turned a 61.7 completion percentage, 3,944 yards, 26 touchdowns, and 16 interceptions into another MVP Award. Voters clearly cared far more about his 14-1 record, which is why Houston Oilers quarterback Warren Moon, who threw for an NFL-high 4,689 yards and 33 touchdowns on a 9-7 team, missed out.
Brett Favre, QB, Green Bay Packers (1995-97)
As of publication, Favre remains the only player in modern league history with three consecutive AP NFL MVP Awards. From 1995-97, he completed 60.8% of his passes for 12,179 yards, 112 touchdowns, and 42 interceptions while going 37-11 as a starter.
The 1997 MVP Award is an intriguing part of Favre's legacy. He and Detroit Lions running back Barry Sanders split the AP MVP, but Sanders, who ran for 2,053 yards on 6.1 yards per carry in his penultimate season, also won the PFWA and the Sporting News' MVP Awards.
Favre finished the 1997 season with a 59.3 completion percentage, 3,867 yards, 35 touchdowns, and 16 interceptions, albeit as a reigning Super Bowl champion on a 13-3 team. Those 13 victories, compared to the Lions' nine, likely helped his case.
Peyton Manning (2003-04; 2008-09)
Manning is the only five-time NFL MVP in league history, and he might stand alone for years to come. The Colts legend won his first MVP in 2003, splitting it with Tennessee Titans star and AFC South rival Steve McNair.
Manning, the No. 1 pick in 1998, posted a 67% completion percentage, 4,267 yards, 29 touchdowns, and 10 interceptions. McNair completed 62.5% of his passes for 3,215 yards, 24 touchdowns, and seven interceptions in 14 starts. He also rushed for four touchdowns.
That marked the last time Manning shared the AP MVP Award. He torched defenses for 4,557 yards, an NFL-record 49 touchdowns, and only 10 interceptions in 2004.
Four years later, Manning returned to the MVP stage after completing 66.8% of his passes for 4,002 yards, 27 touchdowns, and 12 picks. The Colts' season-ending nine-game winning streak almost certainly helped his candidacy.
A year later, Manning posted a career-high 68.8 completion percentage, 4,500 yards, 33 touchdowns, and 16 interceptions on a 14-2 Colts team. New Orleans Saints star Drew Brees, who threw for 4,388 yards, 34 touchdowns, and 11 interceptions, got the last laugh when he defeated Manning's Colts in Super Bowl 44.
Like Sportscasting on Facebook. Follow us on Twitter @sportscasting19.