How Many Quarterbacks Selected No. 1 in the NFL Draft Have Faced off in the Super Bowl?
When a team invests a first-round NFL draft pick on a quarterback, they're doing so hoping the man in question eventually wins a Super Bowl ring or three. The pressure is even higher when the quarterback in question, whether it was Peyton Manning or JaMarcus Russell, was selected first overall.
Some quarterbacks, such as Manning and Terry Bradshaw, lived up to the billing and won Super Bowls as a No. 1 pick. Others, including Russell and Tim Couch, fell well short. The jury is still out on the likes of Jared Goff, Kyler Murray, and Trevor Lawrence.
Although numerous quarterbacks selected No. 1 overall have played in a Super Bowl, there haven't been many matchups where both starters went atop their respective drafts.
Cam Newton and Peyton Manning became the first pair of quarterbacks selected No. 1 overall to square off in a Super Bowl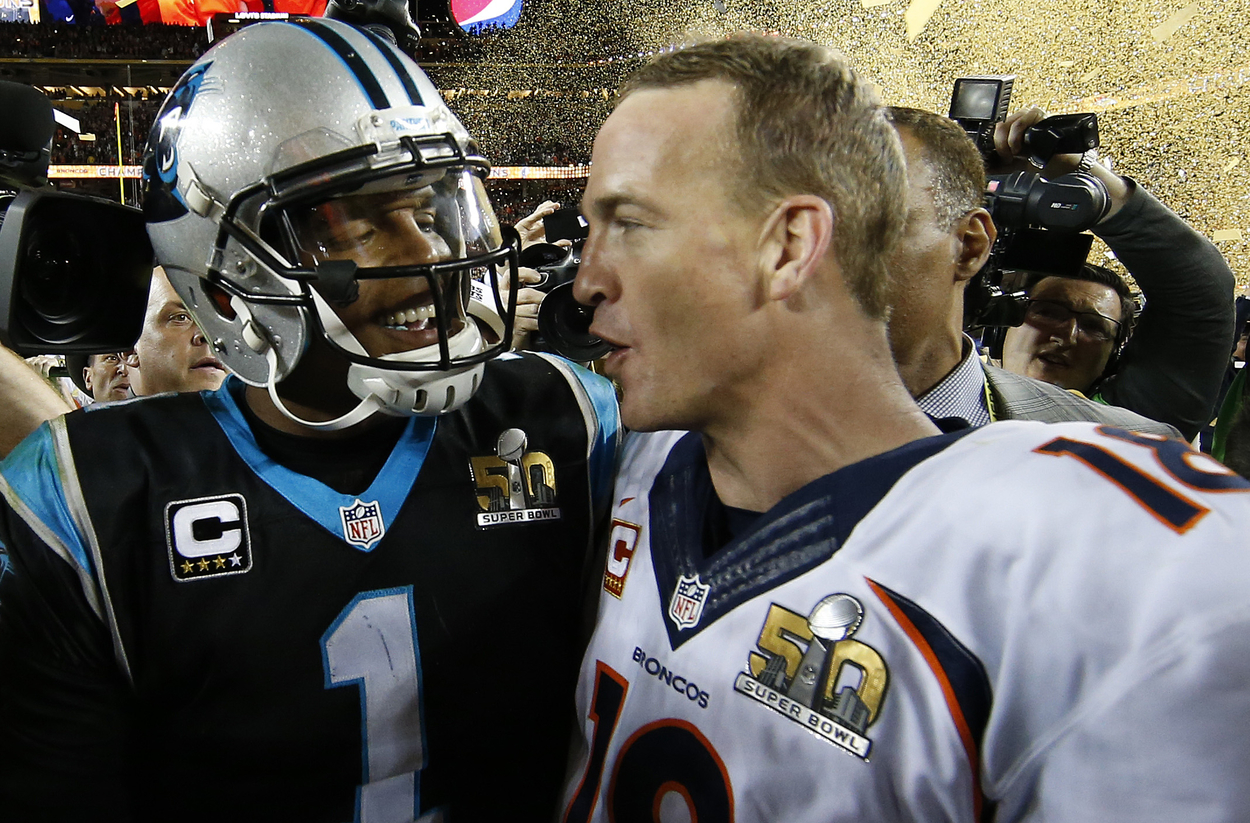 Fittingly, it took 50 years for a Super Bowl to feature two starting quarterbacks who had been No. 1 overall picks earlier in their careers. Manning, the top pick in 1998, led his Denver Broncos against Cam Newton — the first pick in the 2011 draft — and the Carolina Panthers in Super Bowl 50.
It'd be wrong to say Manning, playing in his final game, beat Newton that night. The five-time NFL MVP completed 13 of his 23 passes for 141 yards, no touchdowns, and an interception. However, the Broncos' defense forced four turnovers and picked off Newton once in a 24-10 victory. Denver linebacker Von Miller totaled two sacks and forced two fumbles against that season's NFL MVP.
Although the game's most memorable images depict Manning celebrating with the Lombardi Trophy, it was Miller who earned Super Bowl MVP honors.
Joe Burrow and Matthew Stafford joined the club ahead of Super Bowl 56
Before the 2021 season, Cincinnati Bengals quarterback Joe Burrow and Los Angeles Rams gunslinger Matthew Stafford were each winless in the playoffs. The difference is that Burrow, the No. 1 overall pick in 2020, was only entering his second NFL season. Stafford, the top pick in 2009, lost all three of his postseason starts with the Detroit Lions from 2009-20.
Five months later, both celebrated winning their respective conferences. Only two years after going 2-14, the Bengals won the AFC North and pulled off two remarkable road upsets in the AFC playoffs. Rookie kicker Evan McPherson drilled game-winning field goals to defeat the top-seeded Tennessee Titans and the dangerous Kansas City Chiefs.
After entering the 2021 campaign as trendy Super Bowl picks, Stafford and the Rams lived up to expectations. The veteran quarterback threw for 4,886 yards and 41 touchdowns during the regular season, guiding the Rams to a 12-5 record and the NFC West title.
Stafford completed 72% of his passes in the Rams' first three playoff games for 905 yards, six touchdowns, and one interception en route to a Super Bowl date with Burrow and the Bengals.
Several other quarterbacks taken first overall have won the Big Game as a starter
When the 2020 season ended, eight quarterbacks who had been taken No. 1 overall had earned Super Bowl rings during their playing career. That list includes Drew Bledsoe (No. 1 overall in 1994) and David Carr (2002), each of whom won championships as backups with the New England Patriots and New York Giants, respectively.
Bradshaw, the top pick in 1970, still leads all No. 1 quarterbacks with four Super Bowl rings. Dallas Cowboys great Troy Aikman (1989) won three titles during the 1990s. Peyton and Eli Manning (2004) each won two titles during their respective careers. Las Vegas Raiders great Jim Plunkett (1971) and Denver Broncos legend John Elway (1983) also won two rings in their careers.
Either Burrow or Stafford will join the club on Sunday, Feb. 13. Don't be surprised if the loser later expands the group's membership to 10 before they hang up their cleats.
Like Sportscasting on Facebook. Follow us on Twitter @sportscasting19.
RELATED: NFL Draft: How Many No. 1 Overall Picks Have Won a Super Bowl?