How Many Starting QBs Have the Buffalo Bills Had since Tom Brady Entered the NFL in 2000?
Buffalo Bills fans endured two decades of pain, misery, and heartbreaking losses as Tom Brady led the New England Patriots to six Super Bowl rings in 20 seasons. But, hey, at least they had chicken wings.
When they weren't enjoying the wings, the Bills spent most of that time working on finding a long-term starting quarterback, whether it be Trent Edwards or E.J. Manuel. It wasn't until 2018, when Wyoming's Josh Allen fell into their lap with the seventh overall pick, that the four-time AFC champions got their wish.
How many quarterbacks have the Bills started since Brady, now with the Tampa Bay Buccaneers, arrived on the scene in 2000? We're glad you asked.
The Buffalo Bills have started 18 different quarterbacks, including Josh Allen, in the 21st century
As of Dec. 5, 2021, the Buffalo Bills have started 18 different quarterbacks in the last 22 seasons. Considering how long it took for them to find a franchise quarterback, that number might be smaller than you'd first think.
As of publication, Allen has started 55 games since entering the league. Earlier this season, he joined Ryan Fitzpatrick (53 starts from 2009-12), Drew Bledsoe (48 starts from 2002-04), and Tyrod Taylor (43 starts from 2015-17) as the only quarterbacks who have started at least 35 games for the Bills in the 21st century.
J.P. Losman, who went 22nd overall in the loaded 2004 draft, started 33 games in five seasons. His 10-23 record in that time is why Bills fans don't talk about him.
There's plenty of notable faces among those 18 starting quarterbacks
Amid the Bills' 17-year postseason drought, the franchise understandably tried everything possible at quarterback. USC product Rob Johnson opened the new millennia as Buffalo's starting quarterback before turning things over to CFL legend Doug Flutie midway through the 2000 season. Johnson, who often battled injuries in Buffalo, started 19 games this century and 26 total games in four seasons with the Bills.
Flutie, who started five games that year, isn't the only notable name on this list. Fans born in the 1990s will certainly remember Trent Edwards, a third-round pick in 2007 who went 14-18 as the Bills' starting quarterback.
Months after hiring Syracuse head coach Doug Marrone, Buffalo used the 16th overall pick in the 2013 NFL Draft on Florida State's EJ Manuel, an All-ACC standout and a former high school All-American. The 6-foot-4 gunslinger went 6-11 and threw 19 touchdowns against 15 interceptions in four seasons.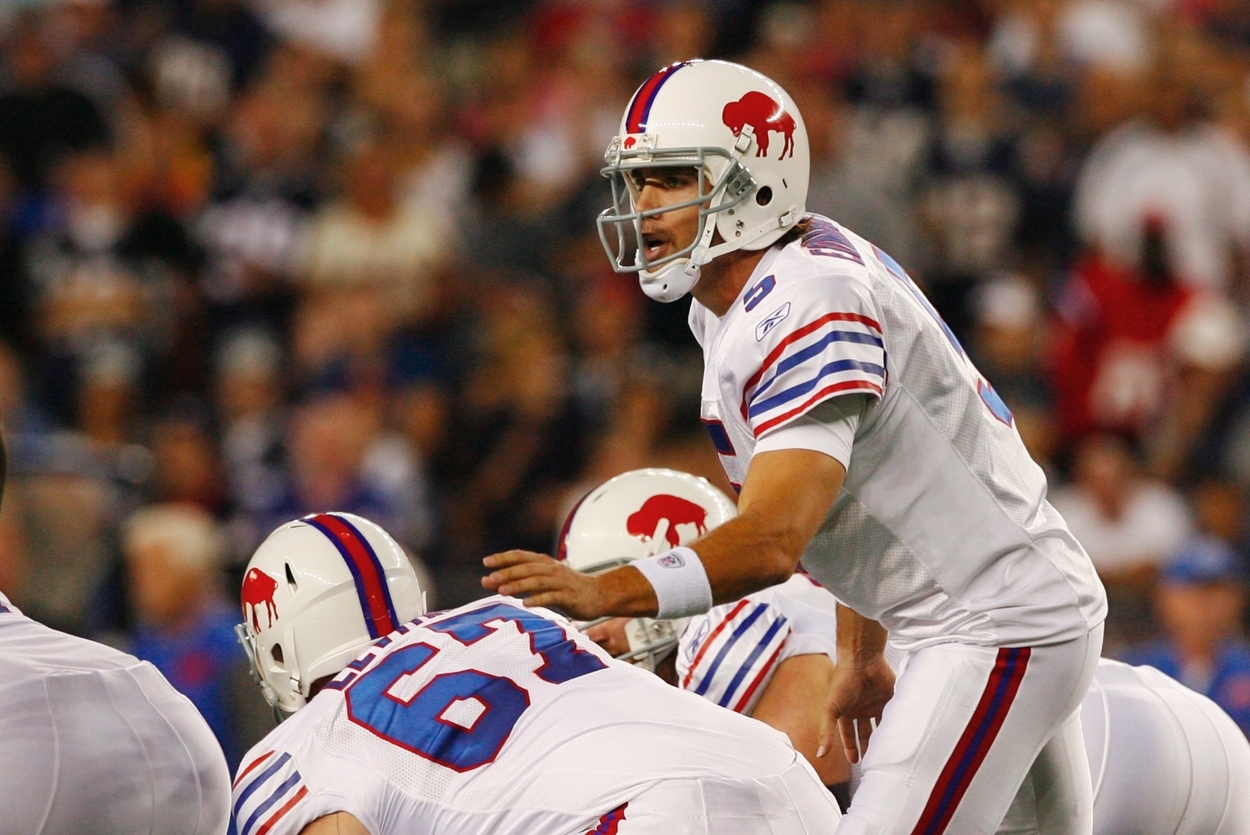 After only throwing 61 passes between the 2012-13 seasons, Kyle Orton went 7-5 and threw 18 touchdowns against 10 interceptions in 2014. However, he retired after the season, a move that allowed Taylor — a former Baltimore Ravens draft pick — to slide in and become the team's starting quarterback.
Who are the other quarterbacks who have started a game for the Jets since 2000? Let's see how many of these names you recognize.
Jeff Tuel (2013) and Matt Barkley (2018) each started one game with the Bills
Brian Brohm (2009-10) and Derek Anderson (2018) started two games
Nathan Peterman started four games from 2017-18
Thad Lewis started five games in 2013
Alex Van Pelt (2001) and Kelly Holcomb (2005) each started eight games
If Van Pelt sounds familiar, it probably isn't because he's currently the Cleveland Browns' offensive coordinator. Green Bay Packers quarterback Aaron Rodgers complained when the Packers let Van Pelt go following the 2017 season.
Luckily for the Bills, Allen and his MVP-caliber play is here to stay
If the Bills are in an opportunity where they can rest Allen later this season, fans might see Mitchell Trubisky increase this list's total to 19. As of now, however, Allen is content keeping things at 18.
Bills fans also likely don't want to see Trubisky unless he's handing the ball off late in a 40-point win. Why would they want anything different when Allen has been so good in recent years?
Allen completed 63% of his passes for 12,778 yards, 92 touchdowns, and 41 interceptions in his first 55 games. The dynamic dual-threat quarterback also rushed for 1,945 yards and 28 touchdowns on 5.3 yards per carry.
Depending on how long Brady plays in the NFC, the idea of a Bills-Buccaneers Super Bowl doesn't sound too outlandish. We apologize to Patriots fans for putting that idea in their heads. 
Like Sportscasting on Facebook. Follow us on Twitter @sportscasting19.