How Many Starting QBs Have the Cleveland Browns Had since the Steelers Drafted Ben Roethlisberger in 2004?
Article Highlights:
The Cleveland Browns have played musical chairs at quarterback since the franchise resumed play in 1999
The Pittsburgh Steelers drafted Ben Roethlisberger in 2004. Cleveland has started an extremely large number of quarterbacks in that time
The Browns have had some notable faces at quarterback during that time
Life tends to be tough for Cleveland Browns fans. No matter what skill players, whether it's bruising running back Peyton Hillis or All-Pro pass-rusher Myles Garrett, are on either side of the ball, the long-suffering franchise has struggled to find a quarterback.
Compare that to the rival Pittsburgh Steelers, who have enjoyed two Super Bowl rings and nearly 20 seasons of winning with Ben Roethlisberger at the helm. You know, that actually sounds like a fun challenge.
The Cleveland Browns have played quarterback musical chairs since the Steelers drafted Ben Roethlisberger in 2004
Roethlisberger, the 11th overall pick in 2004, took over the Steelers' starting quarterback role early that season. He completed 76.1% of his passes for 231 yards, a touchdown, and an interception against Jeff Garcia and the Browns on Oct. 10 that year.
Garcia, who is perhaps best known for his feud with former San Francisco 49ers teammate Terrell Owens, is only one of the many quarterbacks the Browns have started in that span. As of September 2022, Cleveland had started 29 quarterbacks since the beginning of the 2004 season.
Although Garcia started in the Browns' 24-10 loss to Pittsburgh a month later, Kelly Holcomb eventually took over in relief. They became the first two starters in a list which, even with how sharp Baker Mayfield has looked at times, is quickly approaching 30 men. Case Keenum, his backup, became the 27th starter in October 2021. Since then, Nick Mullens and Jacoby Brissett have joined the club, and the latter will remain the starter until Deshaun Watson takes over following his league-mandated suspension.
Conversely, the Steelers have started 1- total quarterbacks, including Roethlisberger, since the start of the 2004 season. The six-time Pro Bowler started all 16 games in a season four times from 2004-20. Mayfield, who accomplished the feat in 2019 and 2020, is the only Browns quarterback since 2001 who can put that on his resume.
Mitchell Trubisky began the 2022 season as the starter, though he may just be a placeholder while Kenny Pickett prepares to take over under center.
The Browns have had some extremely notable faces amid that group
Even if you don't watch too much football, you've seen enough of Mayfield from his Progressive commercials alone. Garcia, a four-time Pro Bowl selection, had a notable career in his own right. McCown, who at least earned over $17 million in the NFL, is arguably best known as being Josh's younger brother.
You'll probably recognize many of the other 24 quarterbacks, especially considering the Browns spent four first-round picks on quarterbacks, including Mayfield, the No. 1 overall pick in 2018. The other three? Notre Dame's Brady Quinn in 2007 (12 starts from 2008-09), Oklahoma State's Brandon Weeden in 2012 (20 starts from 2012-13, although why the Browns used a first-round pick on a 28-year-old former minor-league baseball player is beyond us), and Texas A&M's Johnny Manziel in 2014.
The less said about Manziel, who started eight games from 2014-15, the better.
Another former first-round pick, Robert Griffin III, started five games in 2015. DeShone Kizer, a second-round pick in 2017, went winless in 15 starts as a rookie. Kevin Hogan, a fifth-round pick of the Kansas City Chiefs a year earlier, also lost his only start that year, ensuring the Browns became the second, and likely final, 0-16 team in NFL history.
Even Jake Delhomme, once a Pro Bowl quarterback with the Carolina Panthers, had his opportunity in 2010. The Louisiana product started four games and at least won two of them. Progress!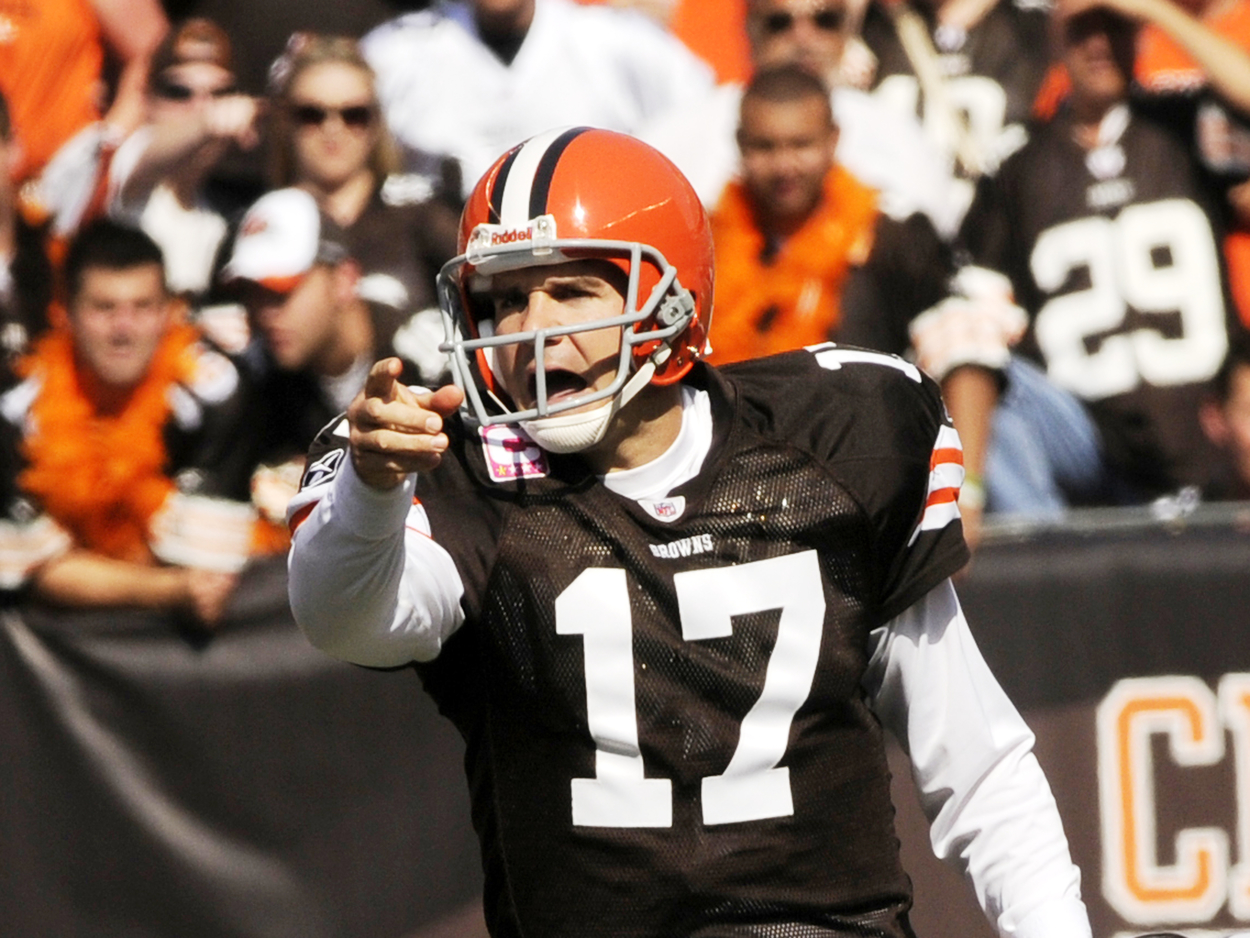 Counting the aforementioned Holcomb and Keenum, those various names put us at 12 total quarterbacks. Who are the other 17, you ask?
Bruce Gradkowski (2008), Thad Lewis (2013), and Connor Shaw (2014) each started one game with the Browns. Keenum will fall into this group if he doesn't start another game in Cleveland
Austin Davis started two games in 2015
Ken Dorsey (2008) and Tyrod Taylor (2018) each started three games. Taylor turned the starting role over to Mayfield
Longtime Seattle Seahawks backup Seneca Wallace started seven games for the Browns from 2010-11
Jason Campbell (2013) and Cody Kessler (2015) held the fort down for eight games
We mentioned Josh McCown earlier, so let's not forget he started 11 games from 2015-16
The other quarterbacks who started double-digit for the Browns are as follows: Trent Dilfer (11 in 2005); Charlie Frye (19 from 2005-07); Derek Anderson (34 from 2006-09); Colt McCoy (21 from 2010-12); and Brian Hoyer (16 from 2013-14).
Nick Mullens (2021) and Jacoby Brissett (2022) are the two most recent entrants.
The next time you're bored watching a primetime game, quiz your friend on how many names they get. If they score higher than 10, they have a problem.
Like Sportscasting on Facebook. Follow us on Twitter @sportscasting19.
RELATED: The High School Football Team Trent Dilfer and Phil Dawson Coach Already Has More Wins Than Their 2005 Browns Team