Marc Leishman Saw His Wife Just Barely Dodge Death Before Later Contending at the 2021 Masters
Marc Leishman is in a position that he thought he would never be in six years ago. He is among the golfers heading into Sunday at the 2021 Masters still in contention for a green jacket. So, why did Leishman not think this was possible? He actually doubted his golfing future in 2015 after having to leave his preparation for the Masters due to his wife's near-death experience.
Marc Leishman saw his wife nearly die just a few years ago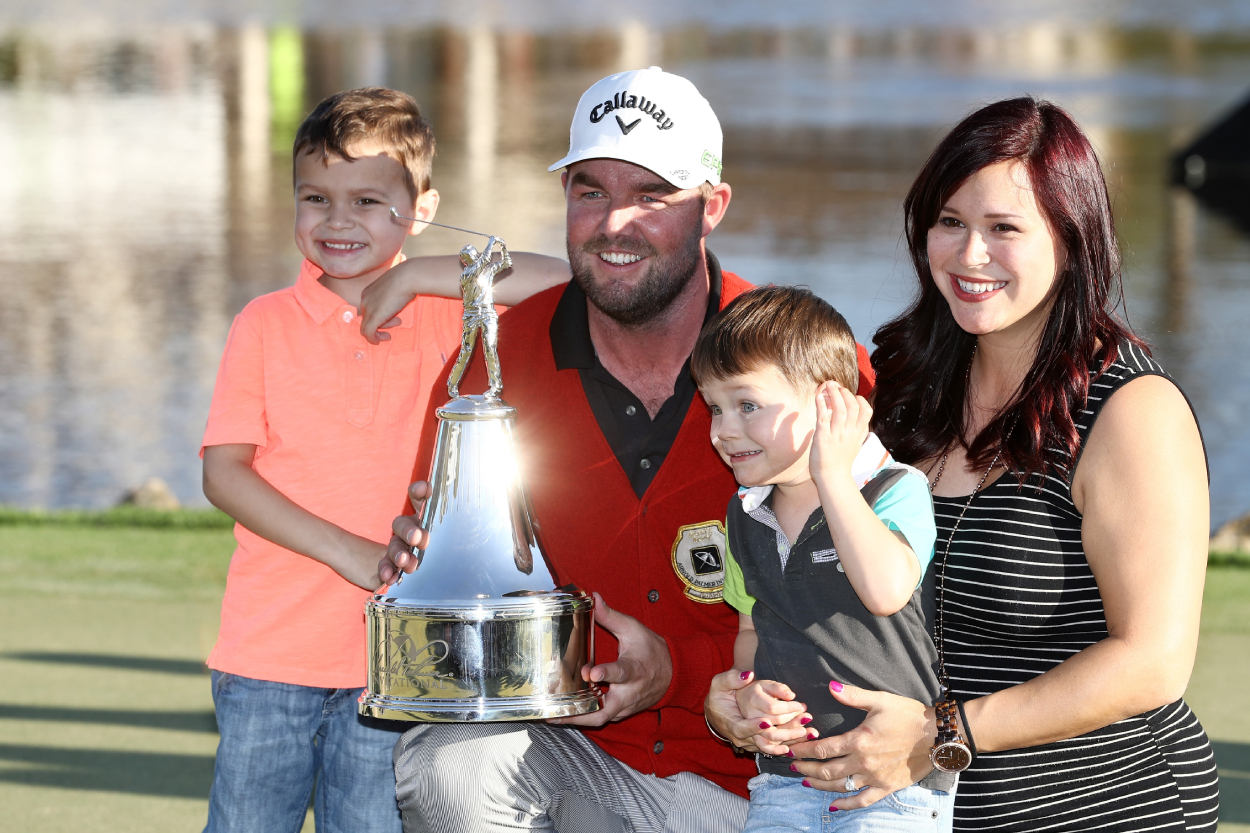 In April 2015, Marc Leishman was preparing for the Masters in Augusta. However, Leishman had to leave abruptly due to his wife's frightening condition.
According to the PGA Tour's site, Audrey Leishman went to the doctor when her fever of 102 didn't go away after a couple of days. She then had a blood pressure that dropped to 90/30, and a heart rate that was in the 140s. According to USA Today, Audrey had acute respiratory distress syndrome, toxic shock syndrome, and sepsis.
Doctors put her in a coma. They didn't think she would make it.
"All I remember was a number of hanging antibiotic bags, with fluids being injected into her," Leishman said, per the PGA Tour's site. "Eventually, we were told it was too late. They told us she was going to die. But, somehow, she survived. It happens very quickly. We were lucky with the doctors we had, because they did know about sepsis and could respond accordingly."
Golf Digest says that doctors gave Audrey a 5% chance to make it. If she had died, Leishman didn't know if he would ever golf again.
"If Audrey had have passed away, I was going to be a dad and that was it," he said, according to Golf Digest. "It didn't cross my mind to keep playing golf."
Audrey ended up beating those 5% odds as she, in fact, lived. This led to the two of them later launching the Begin Again Foundation in 2016 so that families finding themselves in medical and life emergencies can receive anything pressing that they might need.
"We were lucky we were in a situation where the medical bills didn't break us," Leishman said, according to USA Today. "It can break you as a family."
Now, six years later, Leishman is back at the place he left so abruptly. He has a chance to win there, too.
Marc Leishman has a chance to win golf's Super Bowl at the 2021 Masters
Winning the Masters is the dream for every professional golfer. Marc Leishman now heads into Sunday with a chance of winning golf's ultimate prize.
Heading into the final day, Leishman is in a four-way tie for second place at 7-under par with Xander Schauffele, Justin Rose, and Will Zalatoris. The four of them trail Hideki Matsuyama, who heads into Sunday at 11-under par.
What has potentially kept Leishman from having an even better score so far are his putting struggles. He barely missed multiple birdie putts on Saturday and another attempt at an eagle. 
"I've just got to make the putts," Leishman said, according to FOX Sports. "Give myself chances and then it's important to make the putts. I gave myself a lot of chances after the rain delay and just wasn't making them. Those putts have to drop. You've seen that whoever wins makes their putts and it's as simple as that. Obviously you've got to give yourself chances — it's no good if you're making putts for par every hole."
If Marc Leishman can make his putts, he has an excellent chance to come home with the 2021 green jacket. This is because he has seen what it takes to win at the historic event.
He has seen what it takes to win at the Masters
In 2013, Marc Leishman's chances of winning the Masters had gone out the window on the final day. He, however, was playing with Adam Scott, who ended up winning that year. Leishman became one of Scott's biggest fans during his run, too, as he epically pumped his fist when Scott forced a playoff with a birdie on the 18th.
"Obviously playing with Scotty the year he won and I played with Patrick Read (2018) when he won in the third round, I've seen what you have to do," Leishman said at the 2021 Masters, according to FOX Sports. "I know what you have to do, it's a matter of executing and doing it and hopefully tomorrow I can do that."
Whether Marc Leishman wins the 2021 Masters or not, the fact that he is in this position to begin with — after seeing his wife barely dodge death — is pretty miraculous. He has already won.