March Madness: 7 Best NBA Prospects Remaining in the NCAA Tournament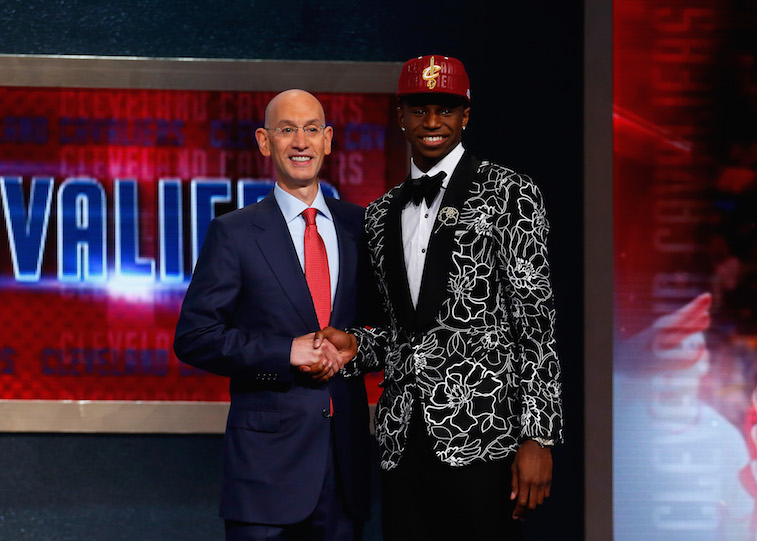 Some of the best players in the NBA today have greatly improved their draft stock with strong performances in the NCAA Tournament. A lot of what goes into a player's draft position revolves around his long-term potential. Having said that, carrying a team deep into the Big Dance can mean the difference in being a lottery pick and earning a guaranteed contract, or being drafted outside of the lottery and receiving no contractual guarantees.
This year's crop of college players is loaded with NBA talent. With the Sweet Sixteen set to tip off on Thursday, here is a look at the top seven NBA prospects remaining in the 2015 NCAA Tournament.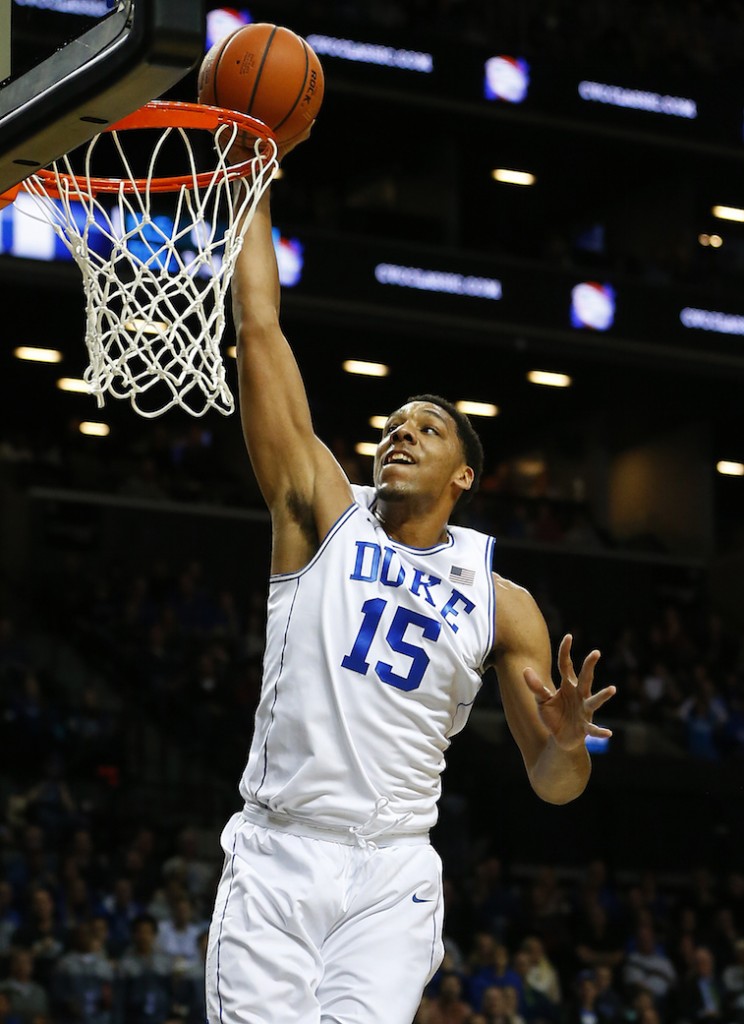 1.  Jahlil Okafor, center, Duke
Height:  6-foot-11
Weight:  270 pounds
Age:  19
Class:  Freshman
2015 Stats (per game):
18.1 points
8.7 rebounds
1.4 blocks
1.4 assists
Okafor was the most physically dominating player in college basketball this year. The freshman from Chicago is a true center with an elite offensive skill set. To nitpick, the only noticeable weakness in Okafor's game is his inconsistent post defense. He's not really a game-changing shot blocker, and can get into foul trouble due to his (at times) subpar defensive footwork. With that being said, his footwork on the offensive end is already better than most NBA big men, and when you combine that with his massive potential, Okafor is in line to be one of the top two picks in the 2015 NBA Draft.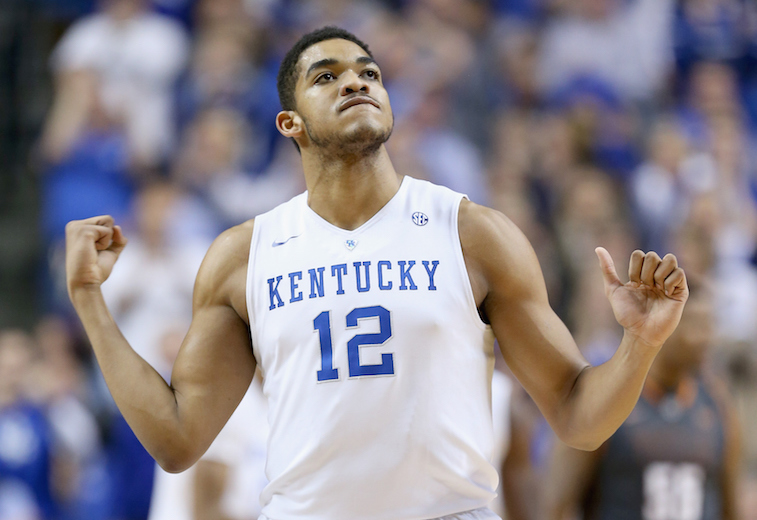 2.  Karl-Anthony Towns, forward/center, Kentucky
Height:  6-foot-11
Weight:  250 pounds
Age:  19
Class:  Freshman
2015 Stats (per game):
10.0 points
6.8 rebounds
2.4 blocks
1.1 assists
Towns is firmly in the mix to be the top overall pick in the 2015 NBA Draft. His 2014-15 stats don't really do him justice, as Towns plays on a team loaded with future NBA draft picks. The 6-foot-11 freshman possesses rare athleticism for a post player, and has proven to have game-changing potential on both ends of the floor. With Kentucky expected to make a deep tournament run, fans and NBA scouts alike are going to get a good look at Towns against some of the top talent in the country. With strong performances going forward, Towns could jump Okafor as the top NBA prospect still playing in the Big Dance.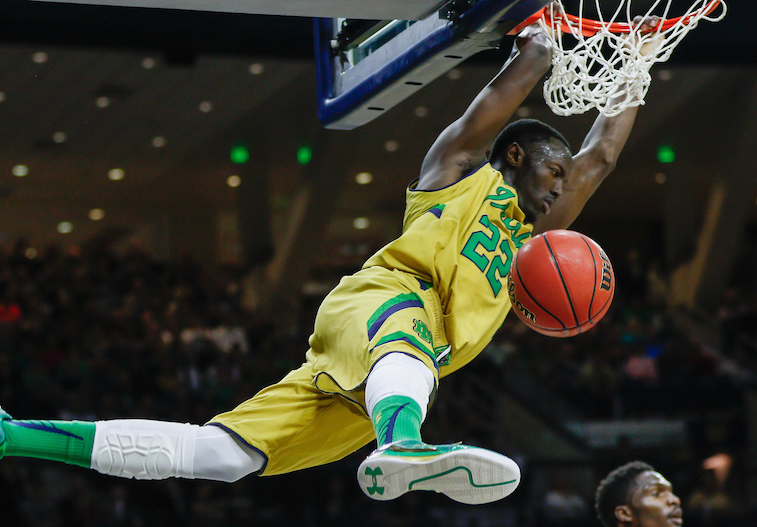 3.  Jerian Grant, guard, Notre Dame
Height:  6-foot-5
Weight:  203 pounds
Age:  22
Class:  Senior
2015 Stats (per game):
16.8 points
6.6 assists
3.1 rebounds
1.6 steals
Grant is a true point guard with excellent size and athleticism. His play is one of the main reasons Notre Dame has returned to national prominence and will be making a trip to this year's Sweet Sixteen. The redshirt senior has NBA bloodlines, and is a matchup nightmare for smaller guards. The one glaring hole in his game is his inconsistent jump shot, but he makes up for that with his ability to get to the rim off of the dribble. Additionally, some scouts view his age as a concern going forward, but it's important to remember that Dwyane Wade faced the same age-related concerns coming out of Marquette in 2003.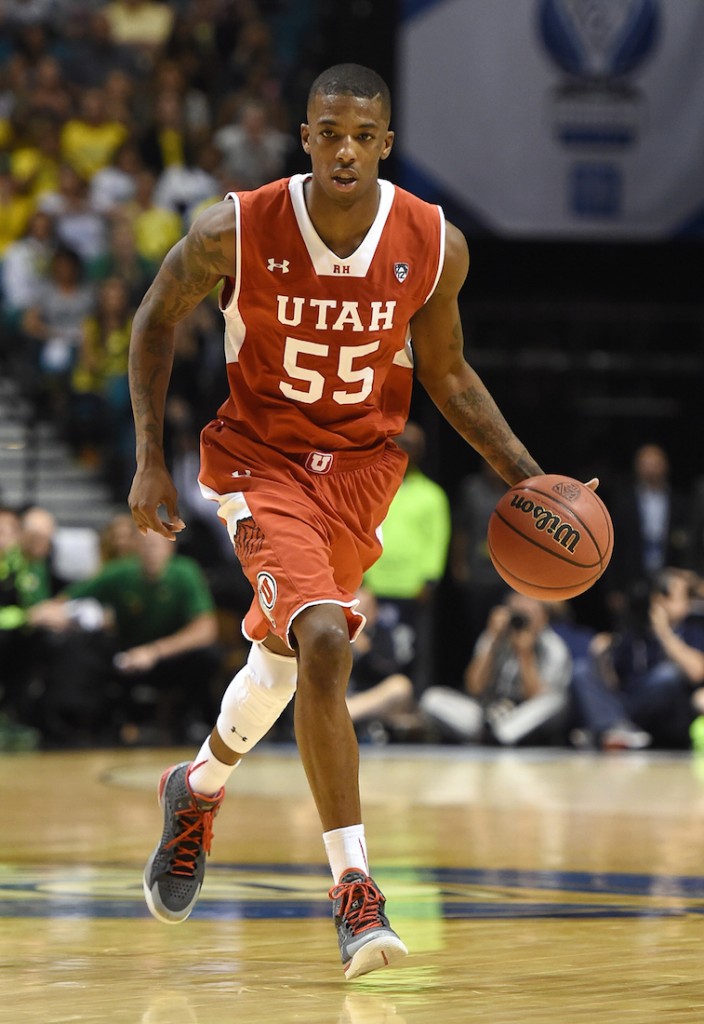 4.  Delon Wright, guard, Utah
Height:  6-foot-5
Weight:  190
Age:  22
Class:  Senior
2015 Stats (per game):
14.7 points
5.2 assists
4.9 rebounds
2.1 steals
1.0 blocks
Wright is a very similar player to Grant, and one who looks like he could be a 10-year player in the NBA. He is a playmaker on the offensive end with excellent size, and elite quickness. He is actually a better defender than Grant, and could step into a role as a defensive stopper in the NBA. Like Grant, the one major knock on Wright is that he will be 23 years old as a rookie, but that won't matter as long as Wright keeps making plays.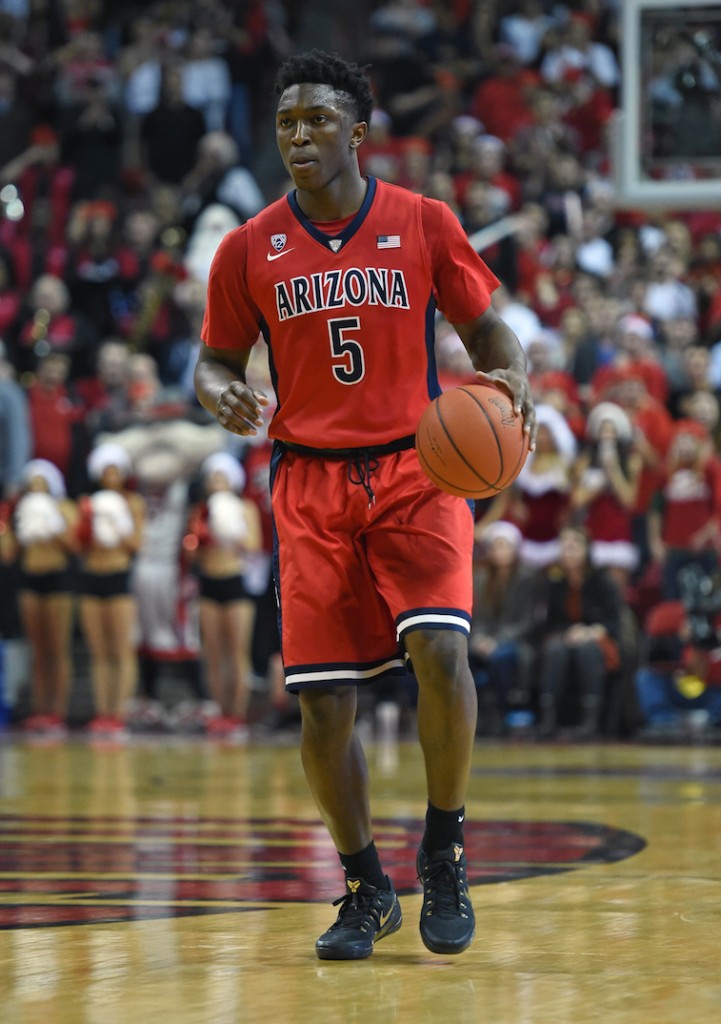 5.  Stanley Johnson, forward, Arizona
Height:  6-foot-7
Weight:  245 pounds
Age:  18
Class:  Freshman
2015 Stats (per game):
14.0 points
6.6 rebounds
1.7 assists
1.5 steals
Johnson has an NBA-ready body, and a competitive fire that NBA scouts love. Offensively, he has the ability to score from anywhere on the floor, and has an exceptional basketball IQ. While he is strong on the offensive end of the court, the best facet of his game may be his defensive ability. Johnson will likely be able to step in as a shutdown defender from day one, with his imposing physical strength and massive wingspan causing headaches for most wing players around the league.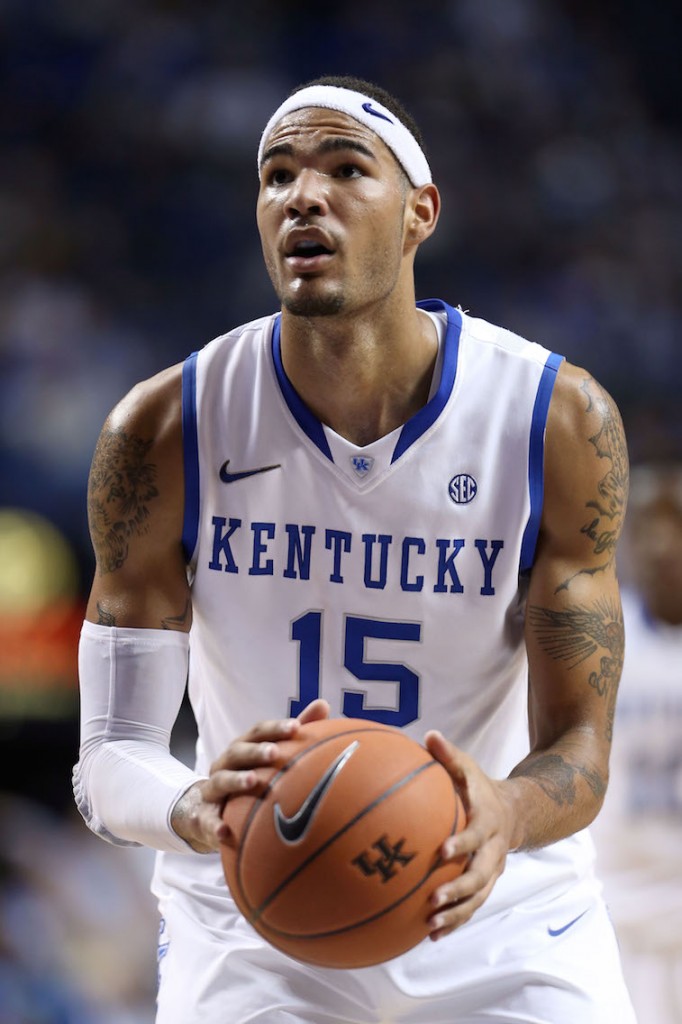 6.  Willie Cauley-Stein, forward/center, Kentucky
Height:  7-foot
Weight:  240 pounds
Age:  21
Class:  Junior
2015 Stats (per game):
9.3 points
6.4 rebounds
1.7 blocks
1.3 steals
1.0 assists
Cauley-Stein is incredibly athletic for a 7-footer. He is an above-average shot blocker and rebounder and seems to have a least one highlight reel type of dunk in every game. His offensive game is still raw and will need to be refined before Cauley-Stein can be considered to be anything more than a Chris Andersen-type of player at the NBA level.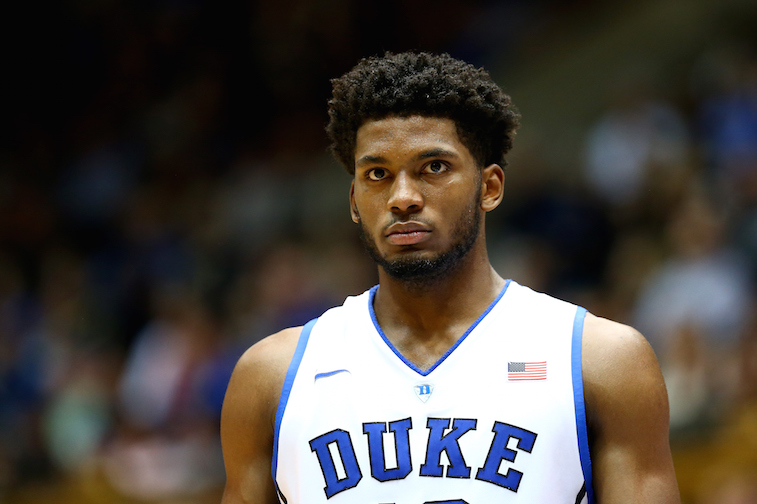 7.  Justise Winslow, forward, Duke
Height:  6-foot-6
Weight:  225 pounds
Age:  18
Class:  Freshman
2015 Stats (per game):
12.1 points
6.3 rebounds
2.2 assists
1.3 steals
Winslow has gotten lost in the shuffle for Duke at times this season, playing second fiddle to Jahlil Okafor and Tyus Jones. He is in the mix to be the first wing player taken in the 2015 NBA Draft, but will need to have a strong finish to the NCAA Tournament for that to happen. As of now, he is an inconsistent shooter both off the dribble and when he is set. For him to reach his full potential in the NBA, he will need to develop a mid-range game at the very minimum. What you can count on from Winslow is effort, scrappiness, and strong defense. If he can develop his offensive game, Winslow has the potential to be a perennial All-Star in the NBA.
All statistics courtesy of Sports-Reference.