March Madness: 10 Biggest First-Round Upsets Ever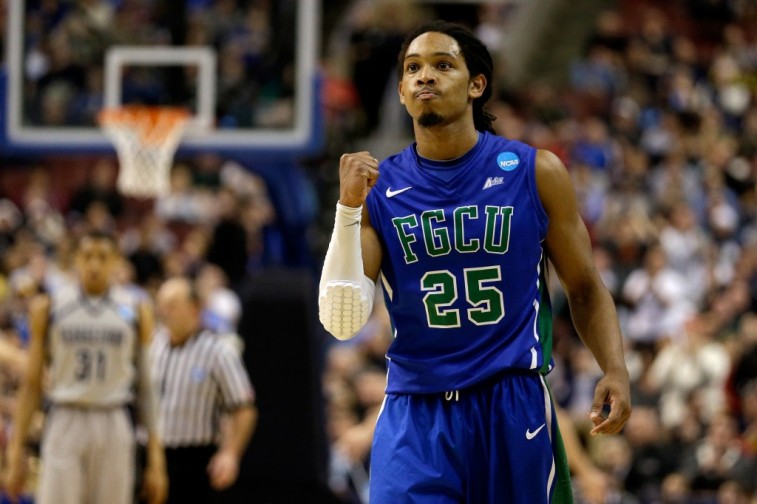 The beauty of the NCAA tournament is that you never know what's going to happen — half-court game-winning buzzer-beaters anyone? From the moment the Big Dance begins, all bets are off and all slates are wiped clean. Regular-season records no longer matter and you can't take any game for granted.
In the one-and-one format, where it's all about surviving and advancing, it's often the dark horse who finds itself with the advantage. This is their moment to see if the slipper fits, and they play like they have nothing to lose. Because the truth is, they don't. And that's why they call it "March Madness."
With the 2017 NCAA Tournament set to kick off, we have no idea who may end up playing the spoiler, but we do know that history says there will be at least one. In the past, this tournament has been filled with some unbelievable upsets and many of those have even stood the test of time. Even if some of those teams only advanced to the round of 32, their opening-game victory was enough to remind everyone that, when it comes to this event, anything is possible.
With that, here's a look at the 10 biggest first-round March Madness upsets ever.
10. No. 13 Princeton 43, No. 4 UCLA 41

The UCLA Bruins may have entered the 1996 NCAA Tournament as the defending National Champions, but that didn't seem to scare the Princeton Tigers. When the two sides met on March 16, 1996, in the first round of the Southeast Region, the Ivy League champions controlled the tempo of the game, and ultimately slowed the pace down.
By doing this, the Tigers ate up the clock and fully utilized coach Pete Carril's patented motion offense. With seconds left in the game, and the score tied, Princeton ran a perfectly executed back-door cut and Gabe Lewullis scored on a layup that would be forever enshrined in history. In the shocked words of Lewullis, "Oh, my God."
9. No. 14 Georgia State 57, No. 3 Baylor 56
No. 3 seeded-Baylor, along with star forward Taurean Prince, came into their March 19, 2015 matchup against No. 14-seeded Georgia State as major favorites. Prince played well through a close game, putting up 18 points and 15 rebounds off the bench.
Baylor held a two-point lead with just seconds left in the game, and Georgia State looked discombobulated while trying to put together a final shot to tie or take the lead. But guard R.J. Hunter threw up a 30-foot prayer with time winding down and hit nothing but net, giving Georgia State the lead and the big-time upset.
8. No. 15 Richmond 73, No. 2 Syracuse 69
In the history of the NCAA tournament, never had a No. 15 seed toppled a No. 2 seed. That streak ultimately came to an end in the 1991 NCAA Tournament, when the Richmond Spiders took on the Syracuse Orange in the first round of the East Region.
Led by Curtis Blair, who scored 18 points on 5-for-9 shooting and 7-for-8 from the free-throw line, the Spiders shocked the world by knocking off the powerhouse program from the Big East. No longer did it feel impossible for a 15-seed to take down a No. 2. The dark horses have Richmond to thank for paving the way.
7. No. 14 Bucknell 64, No. 3 Kansas 63
The Kansas Jayhawks are one of the most storied programs in the history of college basketball. But in the 2005 NCAA Tournament, on March 18, 2005, the day belonged to the Bucknell Bison. Despite 24 points from forward Wayne Simien, the Jayhawks would fall behind when Chris McNaughton banked in a contested hook shot with 10.5 seconds left. Kansas had one final shot to avoid the upset, but Simien missed a 15-footer as time expired. This game would not only shock the Jayhawks, but the rest of the field as well.
6. No. 14 Weber State 76, No. 3 North Carolina 74
When underdog Weber State faced off against the heavily favored Tar Heels of North Carolina on March 11, 1999, the world was introduced to Harold Arceneaux. Weber State's 6-foot-6 forward would put the Wildcats on his back in a performance for the ages. Arceneaux dropped 36 points, including going 5-for-7 from three-point range, and Weber State pulled off the unlikely upset. It's safe to say that the UNC players will never forget the day they met "The Show."
5. No. 15 Florida Gulf Coast 78, No. 2 Georgetown 68
Senior guard Sherwood Brown was wrapping up his college career with an appearance in the NCAA Tournament on March 22, 2013. Coming from small Florida Gulf Coast, he wasn't really an NBA prospect and would have this one last opportunity to grab the spotlight. Facing off against Otto Porter and Georgetown, the No. 15-seeded FGCU played like their lives were on the line.
Brown scored 24 points on 6-for-13 shooting while Porter struggled, going just 5-for-17. This one wasn't even really close in the end, with FGCU taking the game by 10 points. They even beat No. 7 San Diego State before losing to No. 3 Florida and ending their season.
4. No. 15 Norfolk State 86, No. 2 Missouri 84
Missouri had an excellent season in 2011–12, going 30-4 and finishing with a No. 2 seed in the NCAA Tournament. They faced off against No. 15 seed afterthought Norfolk State on March 16, 2012, looking to start a run at the championship. But that wasn't meant to be, with little Norfolk State being the ones to advance.
Center Kyle O'Quinn had an outstanding game with 26 points and 14 rebounds, and the Spartans as a team shot 54.2% from the field. A last second three-pointer from Missouri guard Phil Pressey hit the back iron and Norfolk State danced on to the next round.
3. No. 15 Hampton 58, No 2. Iowa State 57
Iowa State was a heavy favorite against small-time school Hampton in the first round of the NCAA Tournament on March 15, 2001, with future NBA players Jamaal Tinsley and Paul Shirley on their roster versus the relative unknowns of Tarvis Williams and Tommy Adams. Despite Hampton shooting just 38.9% from the field for the game, they kept it close in the final minutes.
They had several chances to tie or take the lead, and Iowa State had just as many shots at putting the game away. But with under 10 seconds left, Williams dropped in a little hook shot in the lane to put Hampton on top. A last second layup attempt from Tinsley just missed, giving basketball fans one of the biggest March Madness upsets in history.
2. No. 15 Lehigh 75, No. 2 Duke 70
In the ultimate David versus Goliath, the Lehigh Mountain Hawks were pitted against the Duke Blue Devils in the first round of the 2012 NCAA Tournament. It was during this contest, on March 16,2012, that the Blue Devils proved no match for Lehigh's C.J. McCullom. He erupted for 30 points and led the Mountain Hawks to an improbable 75-70 upset victory against one of the nation's true blue bloods. This goes to show that it doesn't matter who you are or what you've done prior to the tourney. Anything can happen in March.
1. No. 15 Middle Tennessee State 90, No. 2 Michigan State 81
Michigan State wasn't a No. 1 seed in the tournament in 2016, but they were still one of the top picks to win the National Championship. So when they matched up against Middle Tennessee State in the first round on March 18, 2016, many assumed that it would be a rout. Nothing but a speed bump for Tom Izzo and company, right? Wrong.
MTS got out to a 15-2 lead thanks to some hot shooting on their end and sloppy play from the Spartans, and they never relinquished that lead. They took down Michigan State behind 21 points from junior forward Reggie Upshaw.
Statistics courtesy of SR/College Basketball and ESPN.com.
Jason Alsher also contributed to this story.