March Madness History: LSU's Shaquille O'Neal Sets All-Time NCAA Record
Most sports fans know Shaquille O'Neal as an NBA star, but the legend truly got his start in college. As a member of LSU, O'Neal displayed the full breadth of his talents while leading the Tigers to a first-round victory. This specific game showed why he was such an exciting player. O'Neal went on to become one of the most iconic big men in NBA history.
How did Shaquille O'Neal end up at LSU?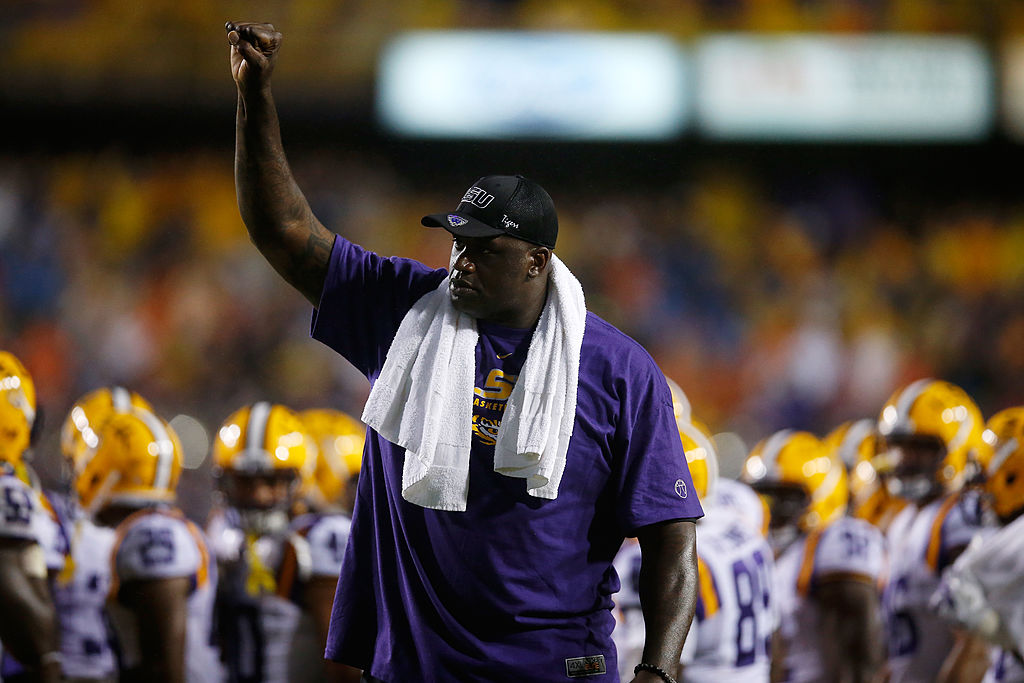 The best players tend to go to the same group of colleges year after year. But Shaq wouldn't be such an icon if he didn't follow his own path. Born in Newark, New Jersey, he has credited basketball with keeping him off of the streets and out of trouble. His stepfather's military work meant the O'Neal family moved around Germany and Texas during his childhood. 
The latter spot is where Shaq played his final two years of high school ball, at Robert G. Cole in San Antonio. O'Neal led the team to a 68–1 record during that time. His senior year, he helped the team win the state championship.
O'Neal's talent earned him a lot of attention from big-name colleges. He nearly went to North Carolina, reports The New & Observer, but he decided against it because they had another seven-footer, Matt Wenstrom, coming to the college. If you don't know Wenstrom, don't feel bad; he didn't have a memorable career, averaging four minutes in only 11 NBA games played.
O'Neal ended up attending LSU, in part because he'd known the Tigers' coach, Dale Brown, since he was 13 when they met at a basketball clinic in Germany.  (Brown went on to have a legendary career at LSU.)
What was O'Neal's best game in college?
O'Neal became an unstoppable force for the Tigers. He had a number of great games in college, but his most memorable display took place during 1992 March Madness. In a first-round game against BYU, O'Neal carried the team to a 94-83 victory.
Shaq put up an unbelievable statline: 26 points, 13 rebounds, and an NCAA tournament record 11 blocks. This was one of the six triple-doubles he posted for LSU. In his freshman year, he had 20 points, 24 rebounds and 12 blocks in an overtime win against Loyola Marymount.
O'Neal left the school as the school's fourth all-time leading scorer and second in rebounds. He was a two-time All-American and SEC Player of the Year in 1991. 
LSU only won two tournament games during his career, but that didn't dim his excellence. O'Neal was honored with a 900-pound statue in front of the practice facility in 2011. He was inducted into the LSU Hall of Fame in 2013.
Shaq was a game-changer as soon as he entered the NBA
O'Neal was the first pick in the 1992 NBA Draft. His mix of athleticism and skill remained dominant even in the pros. As the star of the Orlando Magic, he was the first rookie to be named as an All-Star since Michael Jordan in 1985. Shaq's play and personality made him an instant superstar.
His career truly took off when he joined the Lakers. The one-two punch O'Neal formed with Kobe Bryant defined the NBA for nearly a decade, winning three championships in a row. Shaq was also the Finals MVP in each of those series as well as NBA MVP in 2000.
But the size of their duo's egos meant their partnership could only end one way. Shaq and Kobe had a public fallout. O'Neal was traded to the Miami Heat as a result. Dwyane Wade eventually became the Lakers' star, but O'Neal was vital to the LA's Finals win in 2004. 
Shaq left Miami under similarly contentious circumstances. He ended his career with stints with the Suns, Cavaliers, and Celtics. Those final years did not diminish his stature in the NBA. O'Neal was a one-of-a-kind player. His March Madness performances showed he was a historically special talent.
Follow more updates from Sportscasting on our Facebook page.