March Madness: How Recent Title Winners Are Fairing in the NBA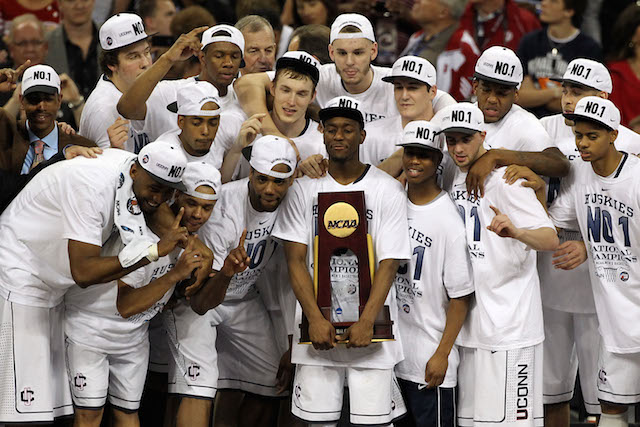 The Villanova Wildcats' victory over the University of North Carolina Tar Heels in the NCAA Men's Basketball Championship was an instant classic. Replays of not only the final 30 seconds of game play, but the entire contest, will be viewed over and over again for years to come.
Now that the college basketball season is over, though, guys like Ryan Arcidiacono (who passed on the title-winning shot) and Mr. Buzzer-Beater himself, Kris Jenkins of 'Nova, as well as stud seniors Marcus Paige and Brice Johnson from UNC, will look to continue their basketball journey by way of the 2016 NBA Draft in June.
Villanova is far from the only championship team in recent memory to boast potential future NBA stars in their lineup. On that note, let's review the last five years of Division 1 Men's College Basketball champions and see how many future pros suited up on those rosters (so far). *This list includes only players who have been on an NBA roster this season.
2010-2011 UConn Huskies
Current NBA players: Jeremy Lamb, Shabazz Napier, Kemba Walker
As just a freshman, Jeremy Lamb averaged over 11 points, four rebounds, and one assist per game for the 2011 champion University of Connecticut Huskies. He played in all 41 games that season and ranked second on the team in scoring. Lamb improved his numbers across the board during his sophomore season at UConn and was then drafted 12th overall by the Houston Rockets in 2012.
He was soon traded to the Oklahoma City Thunder, where he spent his first three NBA seasons, averaging seven points and two rebounds per contest across 148 games. Lamb is currently playing with the Charlotte Hornets. Fellow freshman Shabazz Napier posted 7.8 points, 2.4 rebounds, and 3.0 assists for the Huskies, but he too played in every game and got significant minutes for coach Jim Calhoun.
Napier stayed at UConn all four years and as you will read later, bookended his college basketball career in fine fashion. The guard was drafted 24th overall in 2014 by the then-Bobcats, but was traded to the Miami Heat the following day. He bounced between the NBA Development League and the pros during his rookie year, averaging just over five points per game in 51 contests with Miami. Napier was traded to the Orlando Magic last July.
The cream of the crop in terms of current UConn players in the NBA is Hornets point guard Kemba Walker. The Bronx, N.Y. native led the team in points (23.5), assists (4.5), and steals (1.9) during his championship junior season. He was mega-clutch in both the conference and NCAA Tournament, earning the Most Outstanding Player award. Walker forwent his senior season, and was drafted ninth overall by Charlotte in 2011. Across five seasons and 360 games played, No. 15 has come as advertised, averaging 17.4 points per game and 5.3 assists as well.
2011-2012 Kentucky Wildcats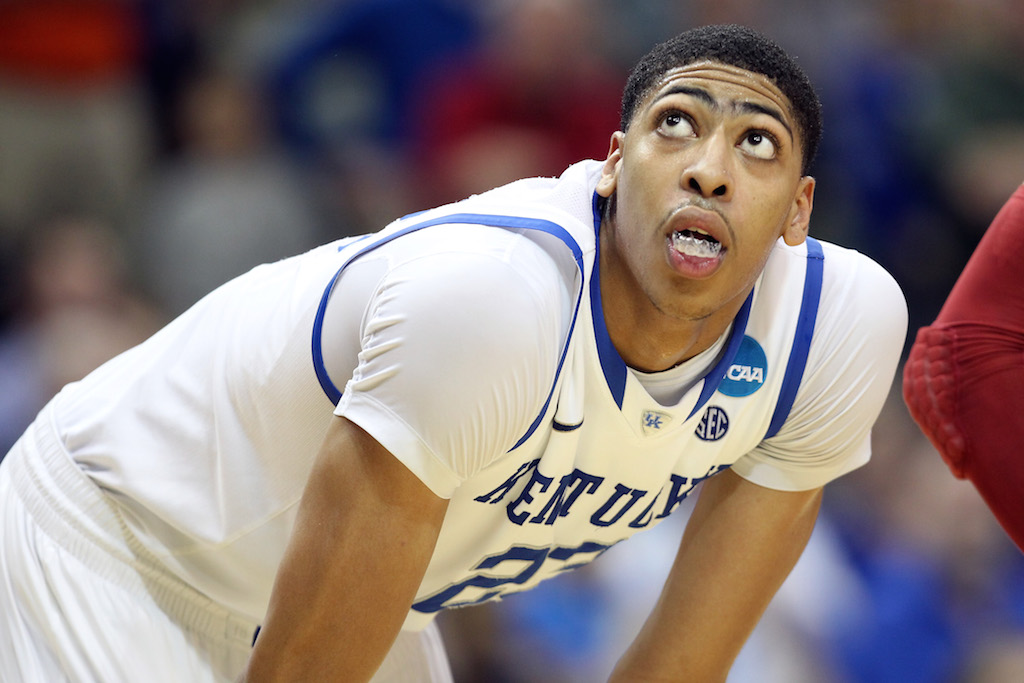 Current NBA players: Anthony Davis, Terrence Jones, Michael Kidd-Gilchrist
The 2011-12 University of Kentucky Wildcats, as usual, were absolutely loaded with underclassmen talent. None of them had a larger impact — both figuratively and literally — on the college basketball world than Anthony Davis. As a freshman, The Brow posted a sick stat line of 14.2 PPG, 10.4 RPG, and 4.7 BPG (all of which led the team), and was the leader of this nearly undefeated team.
Davis declared for the 2012 NBA Draft following the title win, and to nobody's surprise, was taken first overall by the New Orleans Hornets (now Pelicans). Davis has been extremely successful in translating his college ball success to the pros, as he has already racked up three All-Star appearances over his first four seasons.
Terrence Jones was a sophomore during this Wildcats championship run and he may have been the second-best player on the squad. In 38 games that season, he was third in scoring average (12.3), second in shooting percentage (.500), third in rebounding (7.2), second in steals (1.3), and second in blocks (1.8). He, too, left the program after winning the trophy and was selected with the 18th pick by the Rockets. The 24-year-old has struggled to stay healthy so far in his young career, playing in just 177 games across nearly four seasons now.
Michael Kidd-Gilchrist was one of six freshman on that Kentucky team (making up half of the roster), and he averaged a superb stat line of 11.9 PPG, 7.4 RPG, and 1.0 SPG. Like Davis and Jones before him, MKG was taken in the first round of the draft, second overall by the then-Bobcats. Also much like Davis and Jones, Kidd-Gilchrist's NBA career has been partially marred by injuries, as his game totals have dropped from a career-high 78 in his rookie campaign all the way down to a measly seven this year.
2012-2013 Louisville Cardinals
Current NBA players: Gorgui Dieng, Montrezl Harrell, Russ Smith
Unlike some of the previous guys on this list, former Louisville Cardinals big man Gorgui Dieng was not an underclassmen, can't-miss, lottery-bound prospect when his team won it all. Primarily known as a defensive stud and rebounding machine (much like he is today), the Senegal native was in his junior season when he tasted championship glory.
Dieng averaged 9.8 PPG and led the team with 9.4 RPG and 2.5 BPG before the Utah Jazz took him with the No. 21 and subsequently traded him to the Minnesota Timberwolves. In three productive years with the Wolves, the underrated forward/center has posted 8.4 PPG and 6.9 RPG in 211 career games (99 of them have been starts).
Montrezl Harrell was just a freshman when Louisville won it all, but he made his presence known on the court with 3.6 RPG and 0.7 BPG in just 16 minutes of action per night. Harrell stayed for his sophomore and junior seasons before entering last year's draft, and was taken in the second round by the Rockets. He has played 12 games in the D-League this season, but has also been in 38 games and averaged 9.8 MPG.
Russ Smith was one of five juniors on the Cardinals' roster in 2012-13 (along with two seniors) and he led the team in scoring at 18.7 per night. He returned for his senior season and was then taken 47th overall by the Philadelphia 76ers in 2014, before being dealt to the New Orleans Pelicans. Then, in January 2015, he moved to the Memphis Grizzlies in a three-team trade. He spent nearly all of last season in the D-League and was waived by Memphis after playing in 15 games this season.
2013-2014 UConn Huskies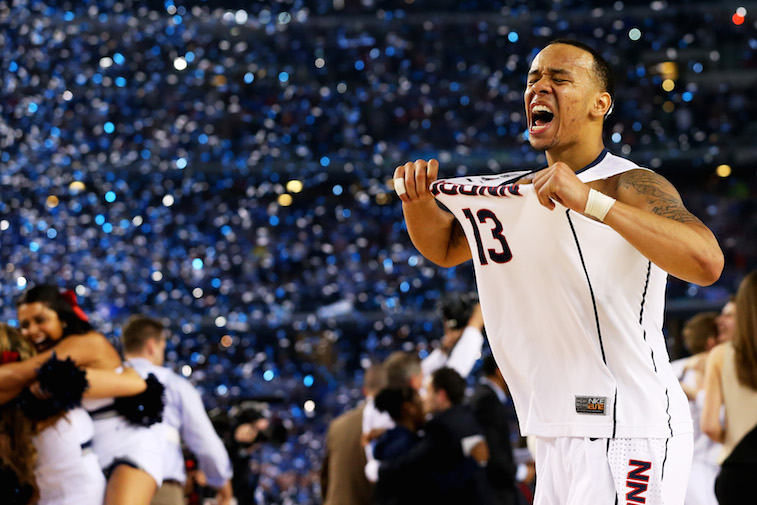 Current NBA player: Shabazz Napier
We already discussed Napier's fine freshman season with the Huskies and broke down his NBA career thus far (See the 2010-2011 UConn Huskies.) So let's look at how the rest of his decorated UConn career went, with particular attention to his senior season in 2013-14.
Napier played in all 40 games for the champs, leading the team in PPG (18.0), APG (4.9), SPG (1.8), and MPG (35.1) as well as shooting a terrific 87% from the free-throw line and a deadly 40.5% from downtown. Bazz was the driving force in Connecticut's stunning run as a seven-seed all the way to a NCAA title.
2014-2015 Duke Blue Devils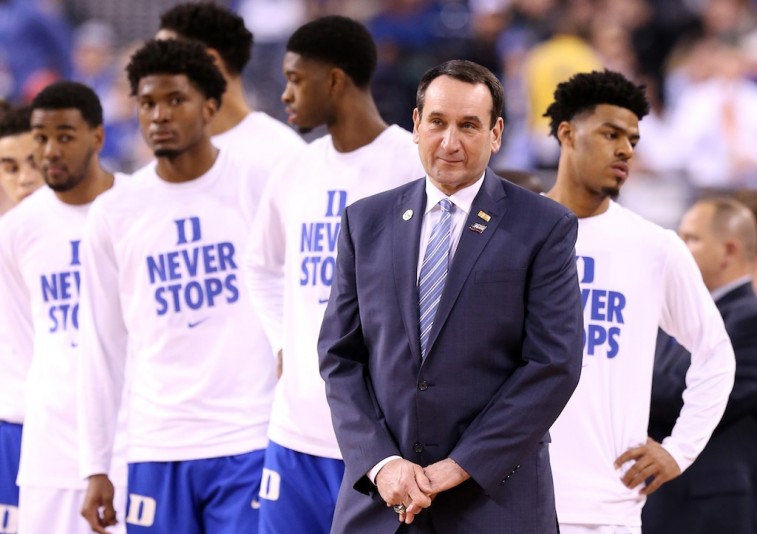 Current NBA players: Tyus Jones, Jahlil Okafor, Justise Winslow
The Most Outstanding Player of last year's tournament, Tyus Jones, was one of three stellar freshman (who left after one season) to win the title with Duke University against the University of Wisconsin. Jones averaged a solid 11.8 points and 3.5 rebounds during the year, while pacing the club with 5.6 assists too.
The 19-year-old was selected 24th overall by the Cleveland Cavaliers last June, but was then traded to the Timberwolves. He has bounced between the D-League and NBA this year, but overall, Jones has averaged 4.2 points and 2.6 assists for the Wolves in 33 games played.
We knew for a while that last year would be Jahlil Okafor's only season sporting Duke blue, and he was terrific in helping lead the team to the championship. In 38 games, Okafor averaged a team-leading 17.3 points, 8.5 rebounds, and 1.4 blocks per contest, while shooting an absurd 66.4% from the floor.
The big man was taken third overall by the Sixers and has been mostly solid, averaging 17.5 points and seven rebounds per game. He is on the shelf for the rest of the season though, recovering from surgery to repair a torn meniscus in his right knee.
Justise Winslow will be the only one of the Duke trio to be in the NBA playoffs this spring, as his Miami Heat may be a dark horse contender in the Eastern Conference. Winslow put up 12.6 PPG and 6.5 RPG during his lone season with the Blue Devils, and then Miami took him with the 10th pick. Chief Justise has been solid, if unspectacular for the Heat this year, appearing in 74 games (including eight starts), posting averages of 6.5 points, 5.1 rebounds, and 1.6 assists per game.
Follow Victor on Twitter @vbarbosa1127
Statistics courtesy of Sports-Reference.com/CBB and Basketball-Reference.com.