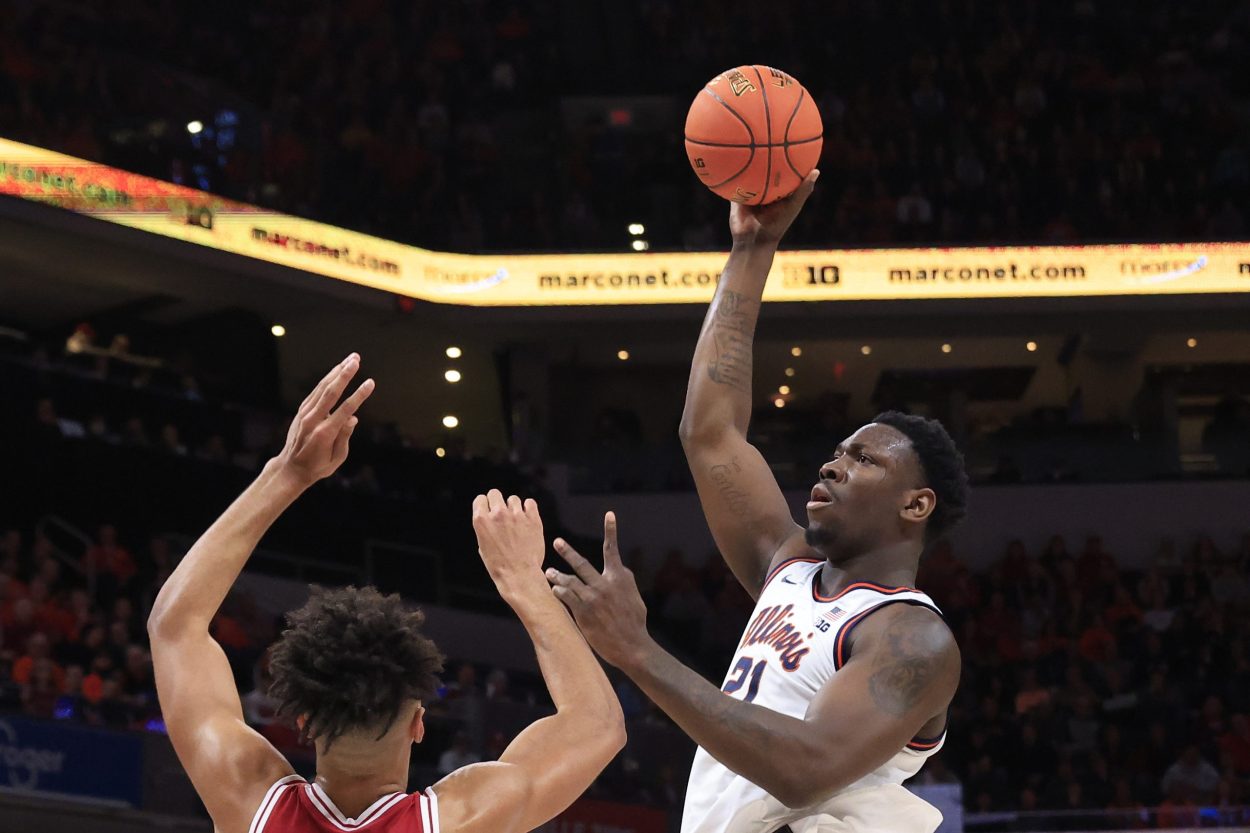 March Madness: Illinois Ripe for Another Devastating Upset
For a second consecutive March Madness, it's entirely possible that the University of Illinois falls victim to a tough upset.
March Madness came a bit earlier than expected for the Illinois Fighting Illini last season. One year later, they could again find themselves on the wrong end of a matchup with all the glorious upset potential of an NCAA Tournament game.
Last season's Fighting Illini squad earned a No. 1 seed in the 2021 NCAA Tournament only to unfavorably draw a deep, underseeded Loyola-Chicago team in the second round. Illinois had another strong campaign this season and will be hoping to make a deep run as the No. 4 seed in the South Region.
However, the Fighting Illini face an incredibly steep challenge in their first-round matchup against the Chattanooga Mocs. Head coach Brad Underwood's team could very well face another devastating early exit.
Illinois' chances of a deep March Madness run rely mostly on Kofi Cockburn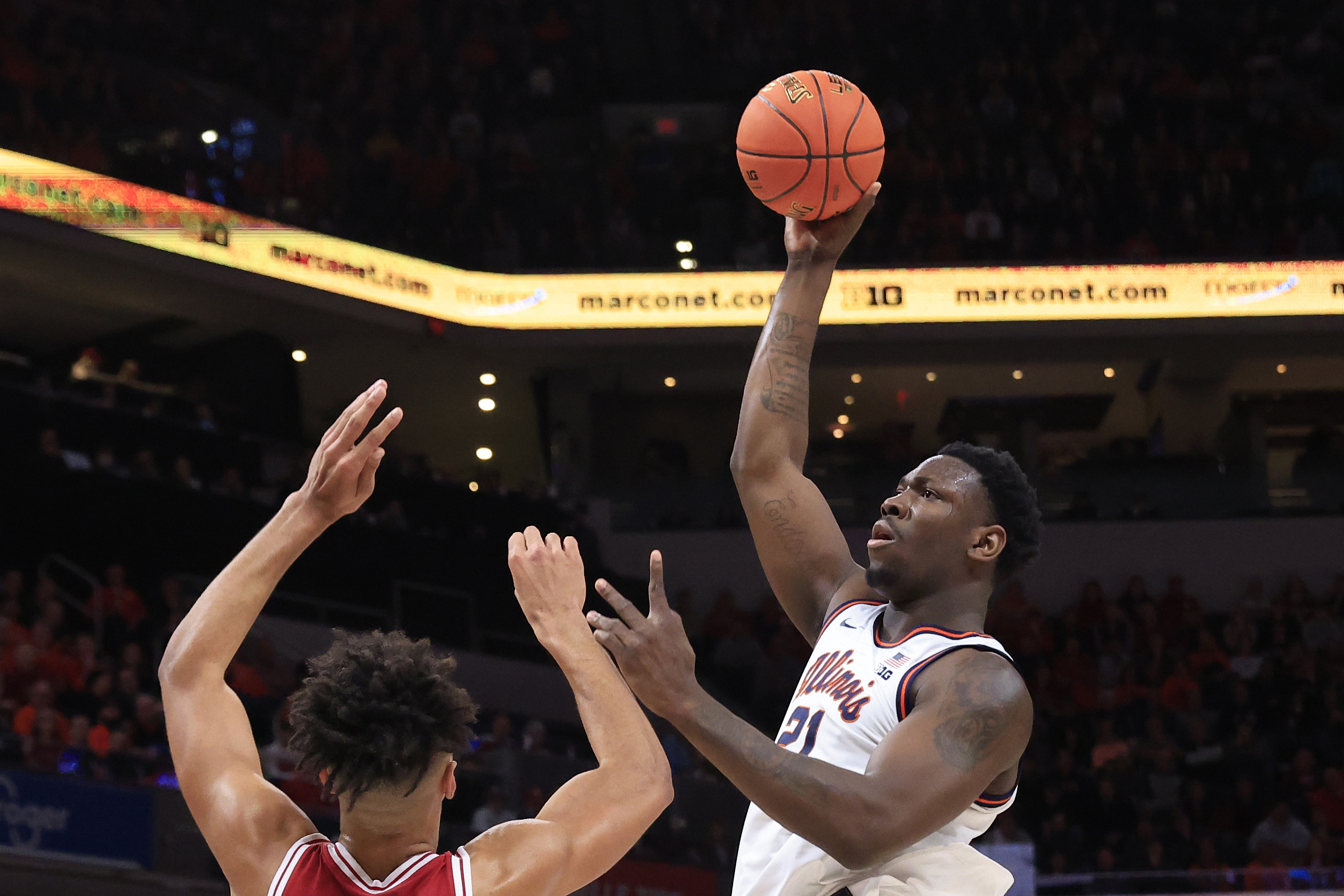 The Fighting Illini have a seemingly deep backcourt group. All of Alfonso Plummer, Trent Frazier, and Jacob Granderson scoring in double figures and Andre Curbelo providing slashing and playmaking off the bench.
Ultimately, though, Illinois lives and dies with Kofi Cockburn, who could define the team's NCAA Tournament.
The Jamaican was one of the best bigs in the country this season, averaging 21.1 points and 10.6 rebounds in 26 games. Given his physical size and strength, Cockburn is almost impossible to stop when he gets deep position on the low block. Opposing teams sending doubles at him also risk leaving shooters on the perimeter.
Illinois' inside-out attack is dangerous. But it falls apart without Cockburn.
Teams with size give the Fighting Illini problems because they can limit Cockburn and get him in foul trouble. The junior big man shot 5-of-15 in a loss to the Arizona Wildcats in December. He went 3-of-9 against Purdue's massive frontcourt of Zach Edey and Trevion Williams before again shooting just 5-of-15 in a Feb. 24 loss to Ohio State.
Fortunately for Illinois, the Mocs do not have a ton of bigs and typically struggle to defend inside. However, that doesn't tell the whole story. Chattanooga can certainly play the role of March Madness Cinderella.
Why the Mocs pose problems for the Fighting Illini
Although Chattanooga lacks starting frontcourt size, they're quite athletic and scrappy.
The Mocs rely on Kansas transfer Silvio De Sousa to provide some toughness in the frontcourt. He does just that, averaging 11.1 points and 7.0 rebounds while attacking the offensive glass and giving Chattanooga a switchable defender.
This team also gang rebounds to perfection. Oustanding guard Malachi Smith averages 6.7 boards. Fellow backcourt mate Darius Banks pulled down nearly five per game.
The Mocs are going to send bodies at Cockburn. It won't be easy for him to negotiate Chattanooga's feisty guards trying to get their hands in the pocket. Plus, the Mocs defend the three-point well and are sound in their rotations, so they won't be totally out of place when going to double Illinois' star center.
On the other end of the floor, the Fighting Illini could have a tough time stopping the Mocs' backcourt. Smith, Banks, and David Jean-Baptiste make for a big and physical backcourt with tremendous shot-creation.
Jean-Baptiste is a handful going left and has a quick first step off the bounce. It should be fascinating to see how he matches up with Frazier. Smith can score at all three levels. He shot 41.5% from beyond the arc and also gets to the line at a solid clip. That scoring ability helped him post 20.1 points per contest this season.
Ultimately, the Mocs lock down the perimeter defensively and have lots of individual creativity off the dribble, with De Sousa as a rim-runner and lob threat around the tin. They have enough size to at least make things tougher on Cockburn, with guard help surely to play a role.
If the Fighting Illini take care of the ball and knock down some triples, they could earn a big win and set themselves up for a run. Alternatively, a win for the Mocs could result in a surprising Sweet 16 run.
The "upset" region in the NCAA Tournament
The South Region of the bracket is absolutely loaded with upset-worthy matchups.
The No. 8-No. 9 matchup between Seton Hall and TCU should be a doozy. Houston faces a stiff challenge in UAB. Should UAB win that one, then it's entirely possible college hoops fans could get a 12-13 matchup, pending Chattanooga pulls the upset on Illinois.
Further down the bracket, the No. 11-seeded Michigan Wolverines have a chance to prove they deserved inclusion and were more than a bubble team in a showdown with Colorado State. Plus, Loyola-Chicago could play spoiler on the Big Ten again as the Ramblers take on Ohio State in the first round.
March Madness will surely come to the South Region. Will it arrive for the Fighting Illini as they try to fend off the Mocs?
Stats courtesy of CBB Reference.