March Madness: Previewing and Predicting the National Title Game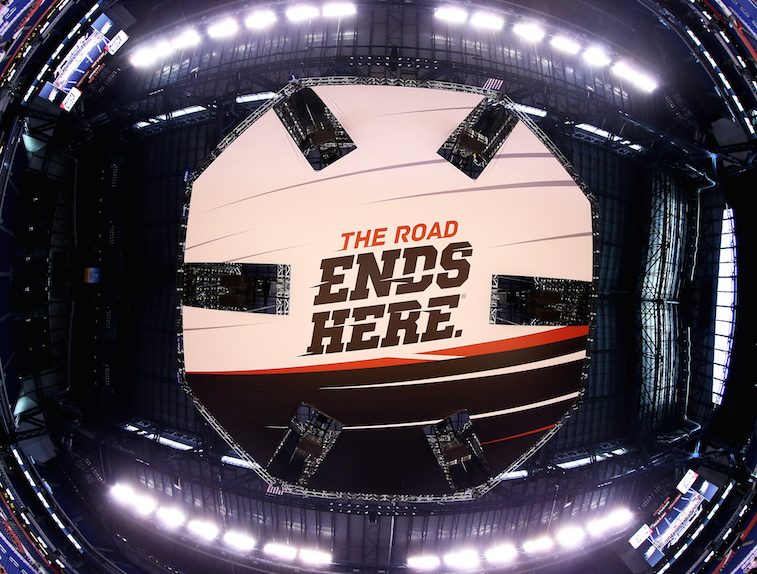 And then there were two.
March Madness will officially come to an end tonight after the Duke Blue Devils (34-4) and Wisconsin Badgers (36-3) battle it out for the 2014-15 Division-I men's national championship. Duke will be making their 11th appearance in the NCAA Tournament championship game, and will be out to win the fifth national title in program history. Wisconsin, on the other hand, is making their first appearance in the championship game of the Big Dance since 1941 – the year they won the only national title in program history. Duke got to the final game by knocking off a red-hot Michigan State team, and Wisconsin punched their ticket to the final by ending the Kentucky Wildcats' bid for perfection.
Duke and Wisconsin have been among the best teams in college basketball all season, and were both No. 1 seeds when the tournament brackets were released on Selection Sunday a little over three weeks ago. These two teams met previously this season in early December, with Duke winning that game 80-70. A lot has changed for both teams since then, and it would be a stretch to think that the Blue Devils can have a repeat of their performance in the first matchup where they shot 65% from the field.
The two headlining players in tonight's game also happen to be the two players who were in contention for the 2014-15 Naismith College Player of the Year award. Duke's Jahlil Okafor, a freshman, is one of the most physically dominant big men to play in college over the last decade. Wisconsin's Frank Kaminsky, a senior and Naismith Award winner, has a skill set that reminds many people of Dirk Nowitzki. With that being said, they are far from the only players who will be on the court tonight who are capable of taking this game over. Duke has another pair of freshmen in Justise Winslow and Tyus Jones, and a senior guard in Quinn Cook, that all have the ability to be difference-makers tonight. Wisconsin has forwards Nigel Hayes and Sam Dekker, who will be an extremely tough matchup for Duke's front line, at their disposal.
Lastly, this is a matchup of iconic head coaches. Mike Krzyzewski is one of the most successful coaches in the history of basketball. Coach K is the NCAA Division-I career wins leader, has led Duke to 12 Final Four appearances, and most importantly, Coach K has guided the Blue Devils to four national titles. On the other bench will be Bo Ryan, who has led Wisconsin to Final Fours in each of the last two seasons, while also leading them to four Big Ten regular season and three Big Ten Tournament championships during his tenure in Madison. Ryan has yet to win a Division-I national title, but he did coach three national championship teams during his time at Division-III Wisconsin-Platteville.
With that, here's a look at three things to watch for, and a final prediction for tonight's NCAA Tournament championship game between the Duke Blue Devils and the Wisconsin Badgers.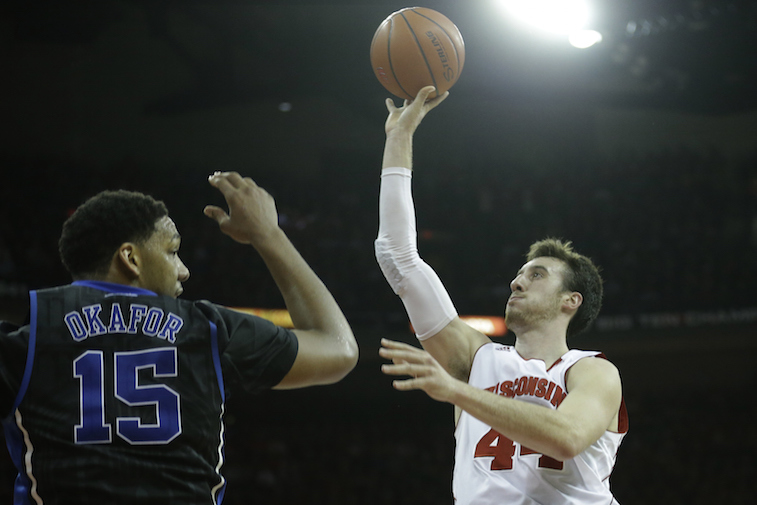 1.  Frank Kaminsky vs. Jahlil Okafor, Round 2
Kaminsky and Okafor were arguably the two best players in college basketball this season. They were in a head-to-head race for the Naismith Award for most of the year, and while Kaminsky came away with the award, Okafor can get the last laugh by leading his team to a national title in tonight's game. In their first matchup, Okafor went for 13 points and six rebounds, and Kaminsky put up 17 points and nine rebounds. That was only the eighth game of Okafor's career, and the potential No. 1 overall pick in the 2015 NBA Draft has developed into a much more dominant player since then. With that being said, Kaminsky has the ability to stretch his game out to the three-point line, which is something that could present a major issue for Okafor and the Blue Devils.
Both players have the utmost respect for one another, so this should be another epic matchup.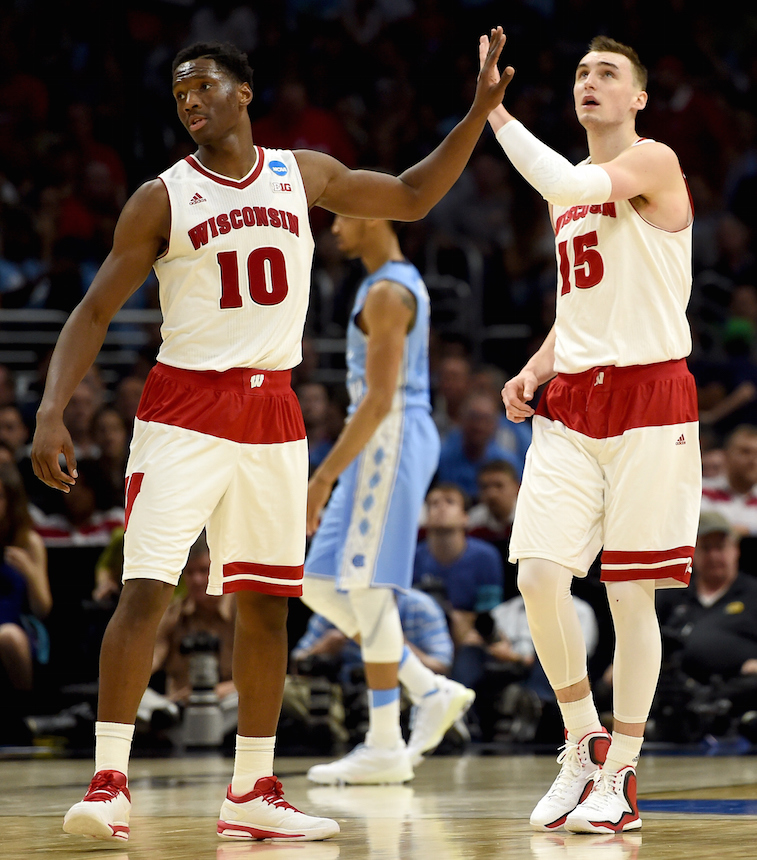 2.  How will Duke handle Sam Dekker and Nigel Hayes?
Dekker's performance could prove to be the difference in this game. The 6-foot-9 forward is a matchup nightmare for the Blue Devils, and could cause Mike Krzyzewski to use a different lineup than what he's used to get his team this deep into the tournament. Hayes is another player that could give Duke headaches tonight if he is knocking down shots and playing well defensively. The 6-foot-7 forward will likely be matched up with Duke's Justise Winslow for the majority of the game, and the Hayes-Winslow matchup will be one to keep an eye on tonight. Don't be surprised if the player who wins this battle also happens to be on the winning team tonight.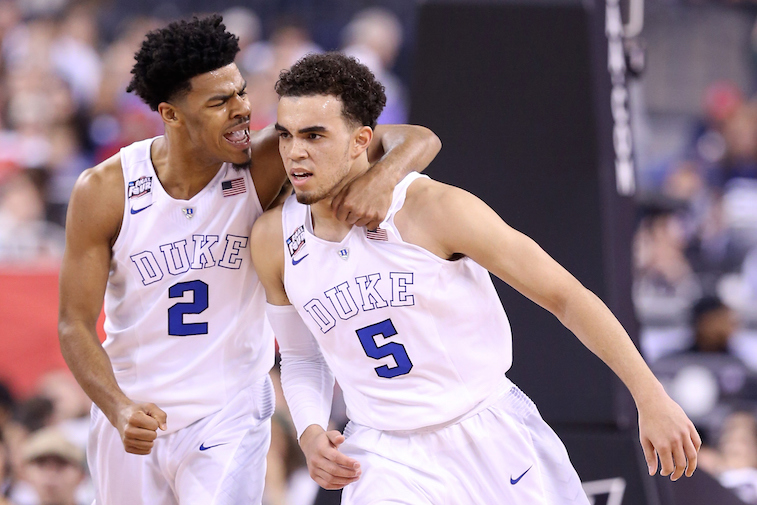 3.  How will Wisconsin handle Tyus Jones and Quinn Cook?
In the first meeting between these teams, the combination of Jones and Cook were the main reason the Blue Devils walked away with a double-digit win. Jones tallied 22 points, six rebounds, and four assists, while Cook added 13 points of his own. Jones will likely matchup with Bronson Koenig this time around, as Koenig has essentially switched roles with Traevon Jackson after Jackson suffered a midseason injury. Meanwhile, Cook is set to matchup with Josh Gasser, who serves the role of glue-guy for the Badgers. If Wisconsin lets Jones and Cook go wild again tonight, it will be hard for them come away with a win.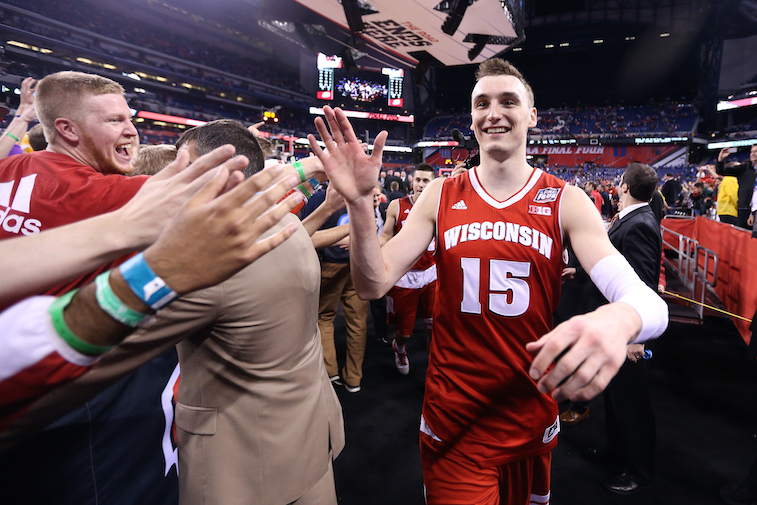 Final Prediction
Point Spread:

  Wisconsin favored by 1 point

Over/Under:

  140.5
The Wisconsin Badgers will carry their momentum over from their huge win over Kentucky on Saturday night. Frank Kaminsky will win the "battle of the bigs" by forcing Jahlil Okafor to guard him outside of the paint. Sam Dekker will prove to be the X-factor and will be the best player on the floor tonight. Wisconsin wins the second national title in program history, and Bo Ryan gets his first at the Division-I level.
Final Score:  Wisconsin 79, Duke 76
Point spread and over/under courtesy of Sportsbook.ag.