March Madness: Talking the Tourney With Former UConn Coach Jim Calhoun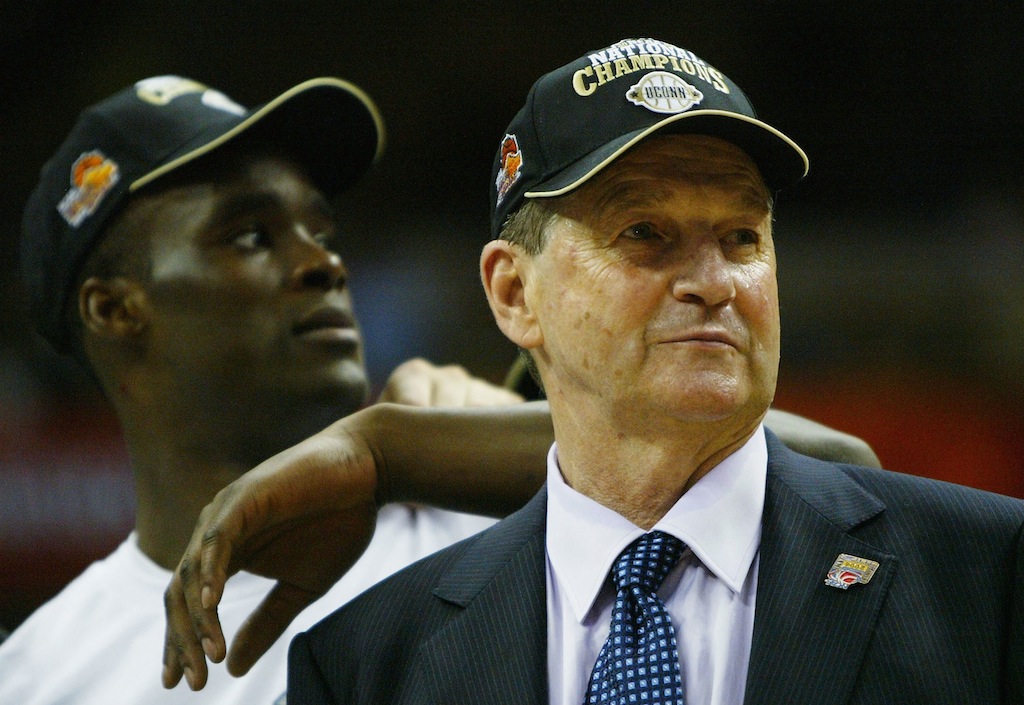 It's not everyday that you find yourself in a position to converse with a legend. So, when you're presented with an opportunity to speak with one of the winningest coaches in college basketball history, you take it. And luckily for us, legendary former Connecticut Huskies coach Jim Calhoun had plenty to say.
In case you're unfamiliar with the man who put UConn basketball on the map, here's a little refresher. During a coaching career — at both Northeastern and Connecticut — that spanned 40 years, Coach Calhoun amassed a record of 877-382 (.697 winning percentage), made the NCAA tournament 23 times, went to four Final Fours, and won three national championships. In the world of college athletics, this is a man who needs no introduction. Still, how could we not draw attention to a résumé such as this? Suffice to say, the man's earned it.
While the UConn Huskies were eliminated in the second round of this year's tournament (at the hands of the Kansas Jayhawks), Coach Calhoun's involvement in the Dove Men+Care March Madness campaign allowed us the chance to not only gain some insight into his incredible career on the bench — and the talented players he was fortunate enough to coach — but also hear his thoughts on this year's unpredictable 2016 NCAA tournament, the upcoming Final Four, and which team he believes will be the last one standing.
So, if you think this has already been an unforgettable March Madness, just wait until you view it through the eyes — and words — of the legendary Coach Jim Calhoun.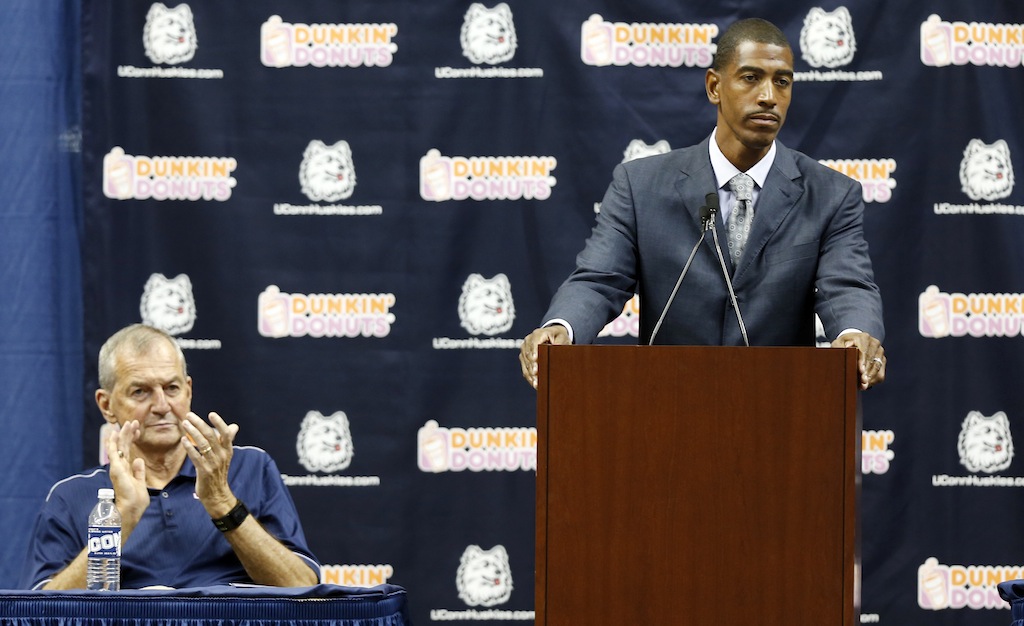 In the 2016 NCAA tournament we've seen a number of heavyweights go down in the early rounds. In your opinion, what has been the biggest upset of this year's March Madness?
I couldn't say [the biggest], but Michigan State getting beat was an incredible upset. As much an upset as that might have been, Syracuse coming from 16 down in the last seven minutes of the game against Virginia. That never happens. Not that Syracuse couldn't win, but Virginia never lets a lead go like that. So, those are the two biggest upsets I would probably say.
Many pundits questioned Syracuse's inclusion in the field of 68. Now that Jim Boeheim's 10th-seeded Orange are in the Final Four, what do you think has been the key behind this group's unlikely run?
They went through a lot of stuff this year. And once again, I'm not going to go into a great deal of discussion about valid and invalid — basically, the problem, they went through a lot of things. Missing Jim [Boeheim] for nine games, had a lot of injuries to debilitate them. But bottom line, he came back, they got better, and of course, they've taken great advantage once they got to the tournament. And there's no doubt in my mind that they're a tremendously surprise team.
Conversely, I watched who they beat during the season and they certainly deserved to be in the tournament, and I've said that enough on different TV shows about [how] they should've definitely been in the field. And you know, Jimmy's made me look good.
In the Dove Men+Care March Madness campaign, you note that the greatest gift you can give someone is to "legitimately care." Given how much UConn and the success of the men's basketball program means to you, would you say that your decision to name Kevin Ollie as your successor is the perfect encapsulation of this message? And what made you so sure he was the right man for the job?
Well, you're never going to be sure he's the right man. Now for the job, sometimes, I thought he fit the different things we were looking for at UConn. You always have a situation where you try to have "he's the perfect prototype of what you want out of a person to represent." Kevin was caring, great family guy, loved his mom. Strong, tough, caring. He had all the things that I thought would be good. And his relationship with the guys who have played before him and then later on after him was pretty special. So I thought that since he embodied so many of the characteristics we wanted our program to represent, he was the perfect guy at the time and, once again, another guy who's proven me to look pretty good. He's done a great job at UConn, certainly.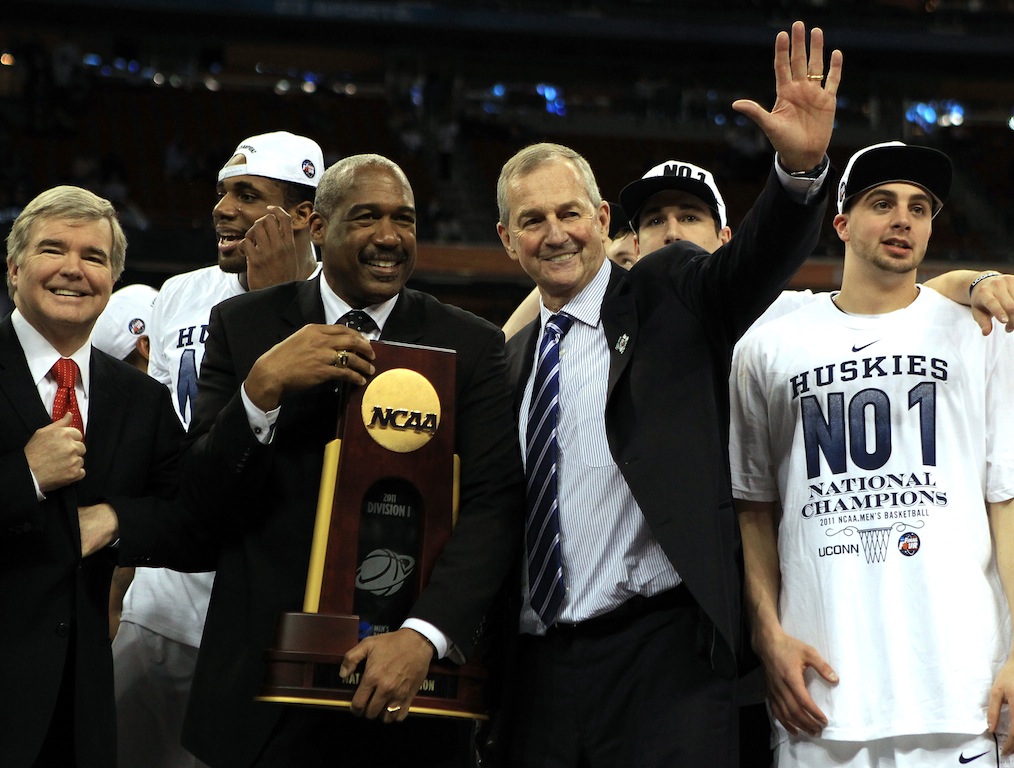 Watching Buddy Hield continue to deliver night in and night out for the Oklahoma Sooners, it reminds us of what Kemba Walker did during the 2011 NCAA tournament. While it obviously took a complete team effort to capture that year's national championship, what was it like to go through the tournament with a player who, for all intents and purposes, was practically unstoppable?
Well, that's a great point. And I think that Buddy Buckets, they call him "Buddy Buckets," actually scores from every part of the court. He shoots it, he leads, he rebounds. I mean, he's a really good player, obviously. And to have someone as we did back in 2011 like Kemba, we saw the shadows of that in the Maui tournament where he averaged 40 point a game against two or three, really, of the top-20 teams. We saw it at the end of the season during that 11-game win streak — five games, five days in the Big East championship, another six games in a couple weeks when we won a national championship. When you have a guy that you know you can go to at the end, I'll tell you what, you sleep much better at night.
And it's a safety valve for our players. Our players knew who could win the game for us down the stretch. And, of course, we got him the ball to make sure he did that. It's a pretty special thing, I can tell you that much.
During your time on the bench, you've had the privilege of coaching many outstanding players. If you could choose any five of them, three frontcourt and two backcourt, who would make the starting lineup for the All-Time Coach Calhoun team?
Yeah, it's hard to do that because they've been so good in different times, different ways. But the guys who had probably, there's a lot of great impact players, but the first guy who had the greatest impact might've been Donyell Marshall, who was our first All-American, got us to the final eight [the 1993-94 Huskies actually lost in the Sweet 16], pretty special player, obviously. Emeka Okafor in 2004. Tremendous, tremendous player. National Player of the Year, MVP of the tournament, Rookie of the Year in the NBA the next year. Very, very special player. And then after that, I'd have to go with three guards. I'd have to go with Rip [Richard] Hamilton, 1999 most valuable player in the tournament. Certainly Kemba Walker in the backcourt. And how can I forget Ray Allen? I can't. Greatest three-point shooter in the history of the game. So, bottom line is that I've had some great players. I can't leave Ben Gordon, Caron Butler, some of those other guys out, but, that would be a pretty good starting point, trust me.  
We can put them as "two" first guys off the bench.
Yeah, exactly.
This year's Final Four features two top-flight matchups – Villanova versus Oklahoma and North Carolina against Syracuse. Which two teams do you see meeting in the national championship game and, ultimately, who's going to be cutting down the nets?
Well, I think that, even though it's a little surprising, I think think that Villanova will beat — because of the depth and just stylistically: they're defensive, the way they play, and that will be —  [I have] Villanova beating Oklahoma even though I think it's going to be difficult. And I've said this all along, if Carolina makes shots, which they certainly have the ability to do, they're not unbeatable, but they are certainly the best team in the field. So, Carolina and Villanova meet for a championship and the Tar Heels bring it home. As long as they make shots, they're going to bring it home.
Statistics courtesy of SR/College Basketball.