Here Are the Most Likely Matchups for the March Madness Championship, According to Vegas
Every sports fans favorite month is just around the corner, with March Madness kicking off shortly. Whether you're a basketball enthusiast, a degenerate gambler, or simply a college student with a rooting interest, March Madness promises plenty of intrigue for millions around the United States. Last season, it was the North Carolina Tar Heels beating the Gonzaga Bulldogs in the championship game. Who will it be this season?
As always, the oddsmakers in Las Vegas are on top of it. Let's take a look at who Vegas thinks the favorites are, the odds they're laying, and a little more about each team with serious championship hopes this spring.
Note: All odds and stats current as of 2/21/2018.
10. Ohio State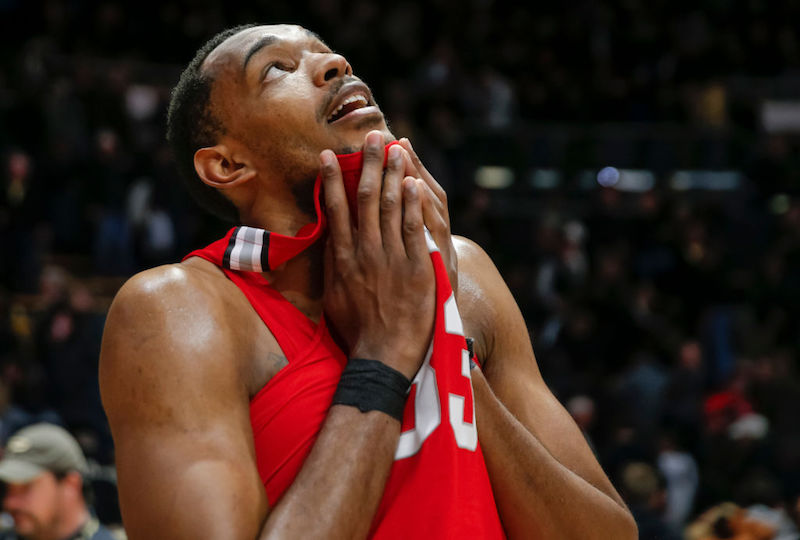 Odds: 16-1
Record: 23-7 (14-3)
Highest Rank: 8
Ohio State, somewhat amazingly, made it all the way until the middle of January before cracking into the top-25. They moved all the way up to No. 8 in mid-February, but back down to No. 16 a week later.
The Buckeyes packed an impressive road victory over Purdue and an embarrassing loss to Penn State within eight days of one another, but they do have some impressive wins on their record. Ohio State took down Michigan State (then ranked No. 1) on 1/7 by a score of 80-64. Junior forward Keita Bates-Diop leads the team with 19.0 points and 8.7 rebounds per game.
9. Texas Tech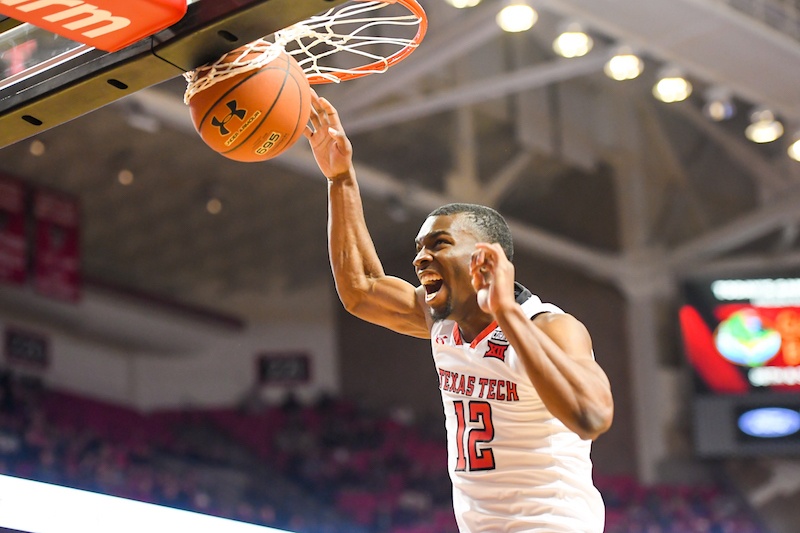 Odds: 16-1
Record: 22-6 (10-5)
Highest Rank: 6
The highest that Texas Tech has risen in the rankings this year is No. 6, and recent losses to Baylor and Oklahoma State aren't going to help their cause on Selection Sunday.
The Red Raiders do have quality wins over West Virginia (they were No. 2 at the time), Kansas (No. 10), and Baylor (No. 8). Texas Tech can boast one of the top-10 defenses in college basketball, allowing just 63.1 points per game. Senior guard Keenan Evans leads the team in scoring and assists, with 17.6 and 3.2 in those categories, respectively.
Next: The Auburn Tigers
8. Auburn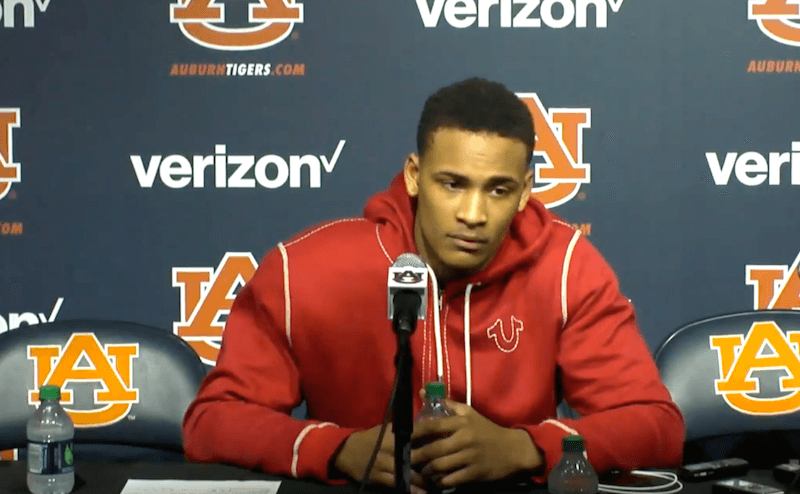 Odds: 16-1
Record: 24-4 (12-3)
Highest Rank: 8
Auburn has been a fast-riser in recent weeks, going unranked through the first two months of the season before finally breaking through in January. The Tigers don't exactly have a ton of major victories over their belt, but they did take both games on their schedule against top-25 ranked teams.
A 14-point loss to Temple early in the season works against them in the eyes of those setting the tournament bracket, as well. Auburn is one of the top offensive teams in the nation, averaging 84.9 points behind guards Bryce Brown and Mustapha Heron.
Next: The Arizona Wildcats
7. Arizona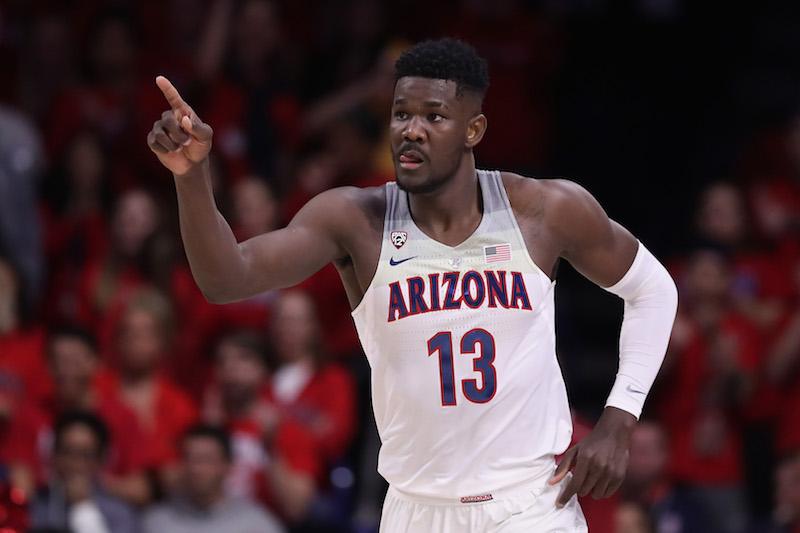 Odds: 12-1
Record: 21-6 (11-3)
Highest Rank: 2
The Arizona Wildcats pulled off something rare this year, starting the season ranked No. 3, moving up to No. 2, and then dropping out of the top-25 completely within the span of three weeks. If you're wondering whether this has to do with their unconscionable loss to Southern Methodist University, it does.
Arizona features one of the best players in the nation and a top NBA prospect in DeAndre Ayton, who is averaging 19.7 points, 10.9 rebounds, and 1.9 blocks per game as a freshman.
Next: The Purdue Boilermakers
6. Purdue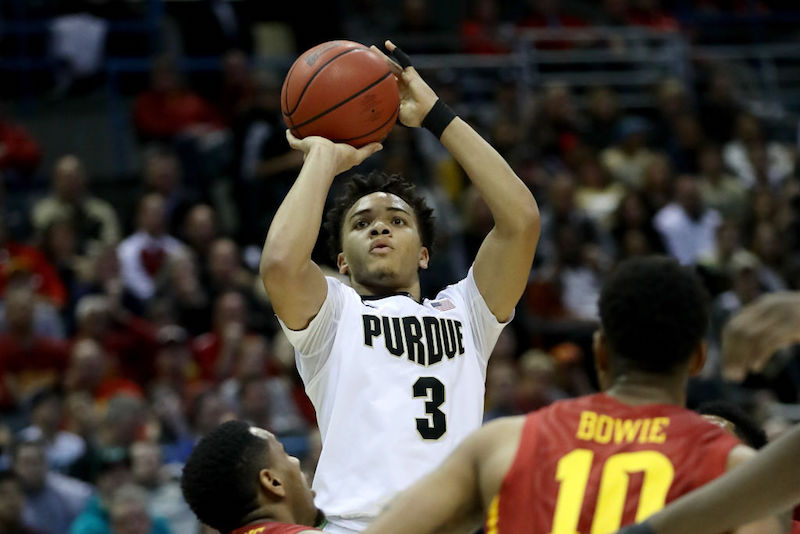 Odds: 10-1
Record: 24-5 (13-3)
Highest Rank: 3
Considering that Purdue was No. 20 in the preseason poll and unranked at the end of November, making it as high as No. 3 in the nation is quite a feat. They currently sit at No. 9, having dropped in recent weeks due to a three-game losing streak to Michigan State, Ohio State, and Wisconsin.
The Boilermakers do have a few quality wins under their belt, including a blowout victory over Arizona. Sophomore guard Carsen Edwards leads the way for Matt Painter's team, averaging 17.4 points per game this season.
Next: The Xavier Muskateers
5. Xavier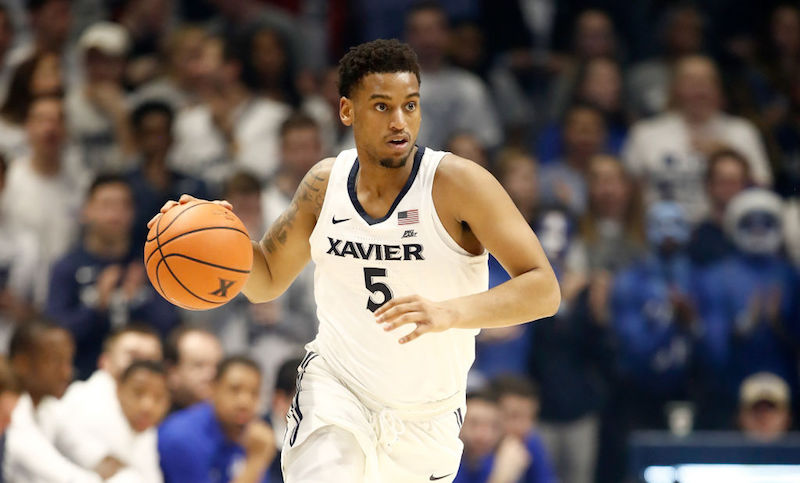 Odds: 10-1
Record: 25-4 (13-3)
Highest Rank: 4
Xavier may not be ready for the big-time, having recently been embarrassed on their home court by No. 3 Villanova by a score of 95-79. In fact, 'Nova represents two of the four losses that Xavier has compiled on the season, with the other two coming at the hands of unranked Arizona State and Providence.
Senior guards Trevon Bluiett, J.P. Macura, and forward Kerem Kanter (brother of Enes Kanter) do the bulk of the scoring. While the Muskateers are good at putting up points (85.2 points per game) they also have one of the worst defenses (75.4 points).
Next: The Duke Blue Devils
4. Duke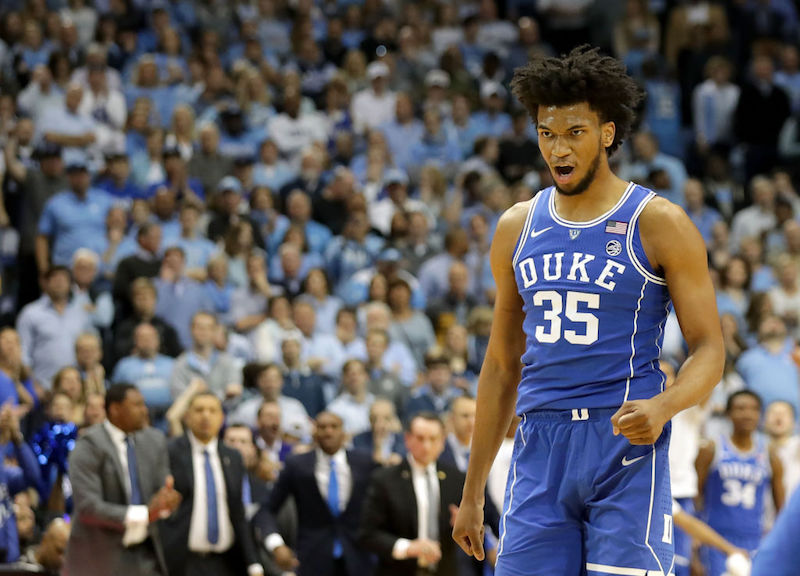 (image of Marvin Bagley III)
Odds: 7-1
Record: 23-5 (11-4)
Highest Rank: 1
The Duke Blue Devils were the AP preseason No. 1, and then again for the first four weeks of the season as they went 11-0. But since then, Duke is just 12-5 with losses coming to Virginia, St. Johns, and North Carolina all within the span of less than two weeks.
The Blue Devils are led by freshman forward Marvin Bagley III, who is averaging 21.2 points and 11.4 rebounds per game this year. Senior guard Grayson Allen has chipped in 15.6 points this year while shooting 38.5% from three-point range.
Next: The Virginia Cavaliers
3. Virginia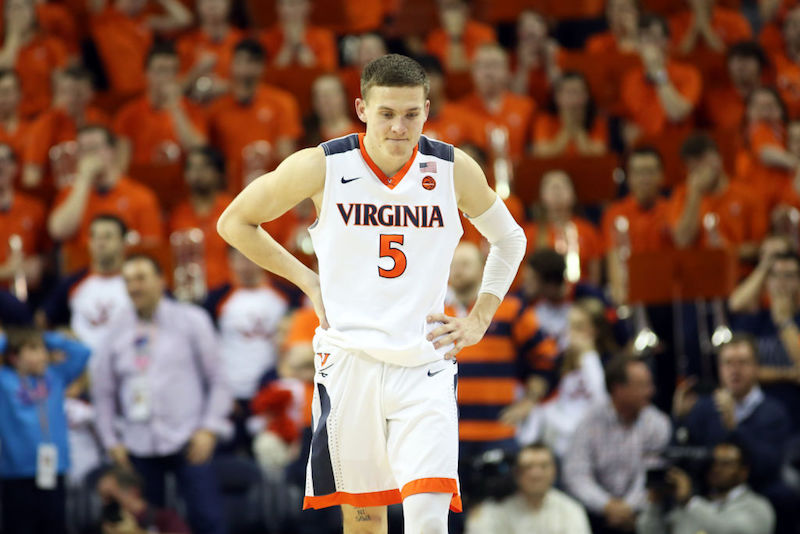 Odds: 6-1
Record: 25-2 (14-1)
Highest Rank: 1
Right now, Virginia is the top-ranked team in the nation. They're 25-2 overall, including 14-1 in the ACC. The Cavaliers' two losses this year have come to top-25 ranked West Virginia and in double-overtime against Virginia Tech.
Sophomore guard Kyle Guy leads Virginia in scoring, putting in 14.9 points per game this season. Tony Bennett's squad has the best defense in the nation, allowing just 52.7 points per game on average.
Next: The Michigan State Spartans
2. Michigan State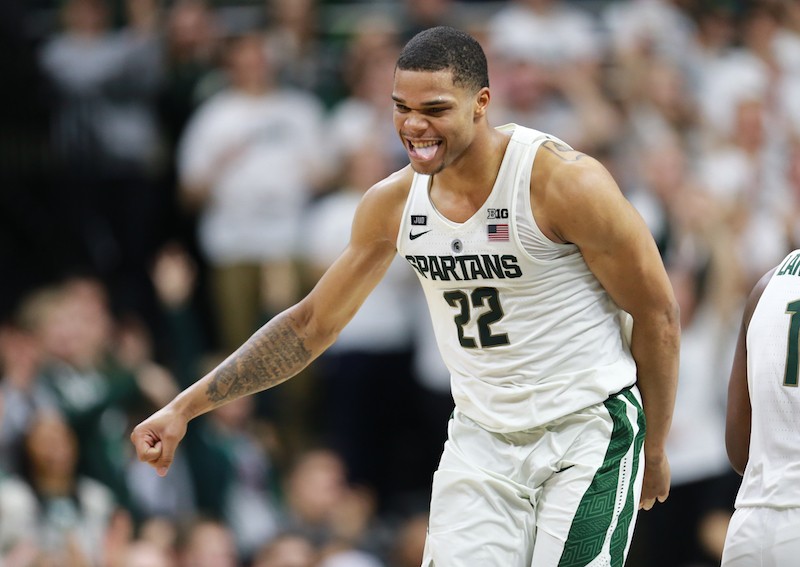 Odds: 5-2
Record: 27-3 (15-2)
Highest Rank: 1
Thanks to sophomore guard Miles Bridges returning this year instead of declaring for the NBA draft last summer, Michigan State came into the 2017-18 season projected as one of the favorites for the NCAA championship.
The athletic Bridges has averaged 17.1 points and 6.8 rebounds per game, and MSU had one week where they held the top spot in the rankings. They currently sit at No. 2, and it's worth mentioning that they lost 88-81 to Duke earlier this season a neutral court.
Next: The Villanova Wildcats
1. Villanova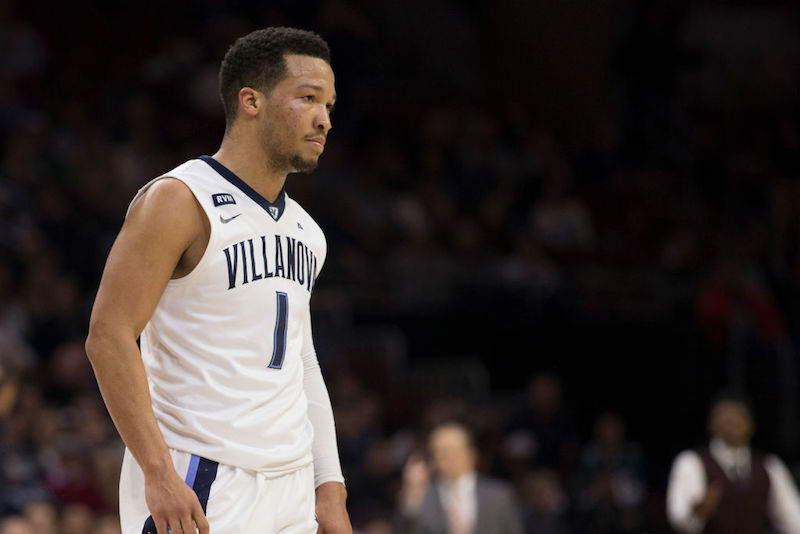 Odds: 9-2
Record: 25-3 (12-3)
Highest Rank: 1
Villanova sat in the No. 1 spot in the country for eight weeks this year, including five weeks in a row until being bumped down to No. 3 on 2/12 following losses to St. Johns and Providence. Even still, 'Nova appears to be a lock for one of the top seeds in the NCAA tournament.
What's more is that with freshman guards Mikal Bridges and Jalen Brunson, the Wildcats have arguably the best one-two punch of any backcourt. Brunson leads the team with 17.1 points and 4.9 assists per game.
All stats courtesy of Sports Reference.