March Madness: The 4 Most Important Players Left in the Tournament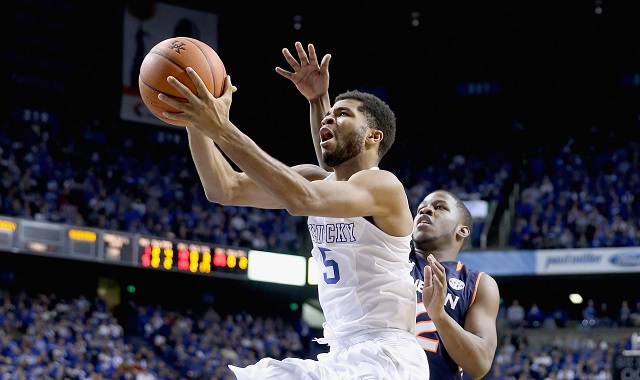 This past March was certainly filled with plenty of madness, but now college basketball's slate is once again wiped completely clean.
The NCAA tournament isn't over yet, but the Final Four is an animal in and of itself. These four remaining teams have avoided upsets, overcome obstacles, and conquered their respective regions. And now they will meet in Indianapolis with the chance to be the last one standing. This is when things get really exciting.
It doesn't matter the path that each of these teams took to get to this point, what matters is that they made it. All four teams in the 2015 Final Four have outstanding coaches, storied programs, and what it takes to cut down the net. But the Final Four is the biggest stage in college basketball and that requires something different. It requires that each team gets high quality play from its biggest players. That's not to say that a supporting player won't rise to the occasion to provide a lift when you least expect it. Because that will most likely occur. But this is the time in the season when each team needs a little extra from the main players who helped get them here.
There is a great possibility that these players are the best on the team, but that's not always the case. Sometimes it's the guy who sets the tone. Sometimes it's the player who leads by example. Sometimes it's the heart of the team. It's these players that need to seize the moment. It's these players that have to come through in the end. Each of these four teams has a player like that. Now we will see which one steals the show.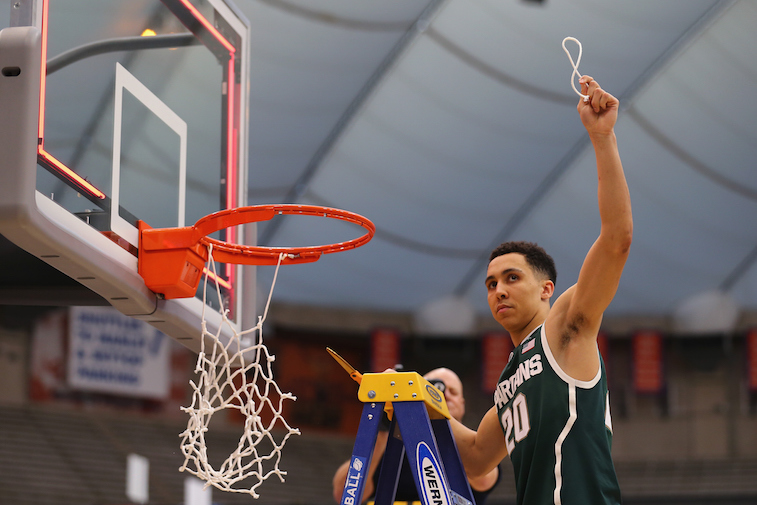 1. Travis Trice, guard, Michigan State Spartans
2014-15 statistics: 15.3 PPG, 3.2 RPG, 5.1 APG
If the Michigan State Spartans hope to continue their fairytale run in the 2015 NCAA Tournament, then they're going to need senior point guard Travis Trice to remain at his best. His numbers during the 2014-15 regular season were respectable, but they're nothing compared to what he's done in The Big Dance. Trice scored 23 points in the round of 32 against the second-seeded Virginia Cavaliers, 24 against Oklahoma in the Sweet 16, and most recently dropped 17 against fourth-seeded Louisville in the Elite Eight. If he can remain hot, then the Spartans have a chance to keep the magic alive.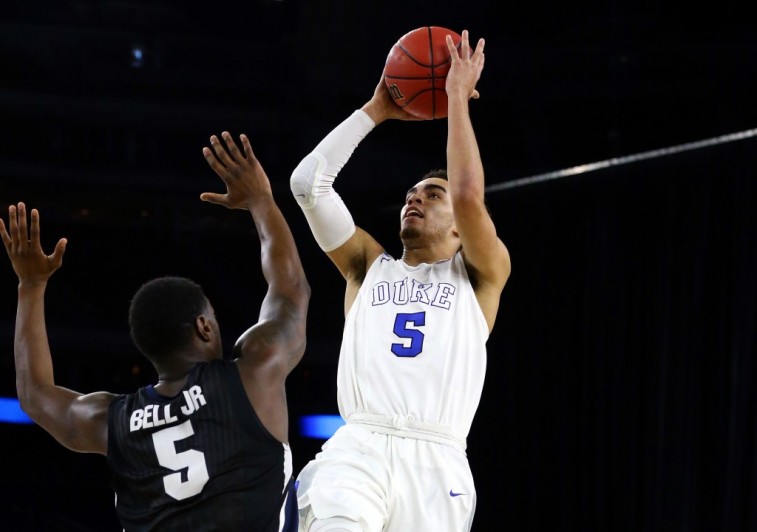 2. Tyus Jones, guard, Duke Blue Devils
2014-15 statistics: 11.6 PPG, 3.5 RPG, 5.7 APG
It's easy to see how this pick could be either Jahlil Okafor or Justice Winslow. Okafor's freshman season has been absolutely spectacular, and he's one of the most polished big men to come through college basketball in quite some time. And Winslow's been Duke's x-factor in the NCAA tournament. Whenever the Devils have needed a bucket, it's been Winslow who's delivered. But this isn't about which team's player is best, it's about which team's player is most important. There is a difference. And for Duke to be successful, it needs freshman point guard Tyus Jones to shine. He needs to control the flow of the game, he needs to make smart decisions with the ball in his hands, and he needs to knock down big shots. On the season, Jones has risen to occasion against big opponents. He scored 22 at Wisconsin, 22 in his first-ever game against North Carolina, and dropped 24 when Duke played the Tar Heels again in Chapel Hill. The Blue Devils need Jones to deliver again. Does he have it in him?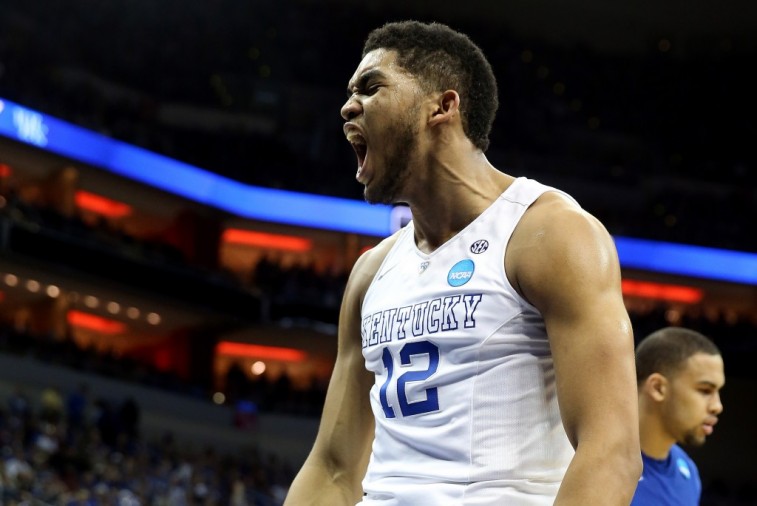 3. Karl-Anthony Towns, forward, Kentucky Wildcats
2014-15 statistics: 10.1 PPG, 6.6 RPG, 1.1 APG
When the Kentucky Wildcats are playing their best basketball there is not a single team in the country that can match them. And the same goes for forward Karl-Anthony Towns. When 6-foot-11 freshman plays up to his potential, there is no one who can stop him. He flashed this brilliance during the Wildcats' 68-66 victory over the No. 3 seed Notre Dame Fighting Irish in the Elite Eight. Towns went for 25 points on 10 of 13 shooting, including 5 for 6 from the free throw line. If this kind of performance carries over into the last weekend of the tournament, then the Kentucky Wildcats could be poised for their one shining moment.
4. Frank Kaminsky, center, Wisconsin Badgers
2014-15 statistics: 18.7 PPG, 8.0 RPG, 2.7 APG
It may sound surprising, but the Wisconsin Badgers are excited to play the Kentucky Wildcats in the 2015 Final Four. It was the Wildcats who knocked the Badgers out at this same stage in last year's tourney, and they'd love nothing more than to return the favor. The fact that it would also end Kentucky's perfect season would merely be the cherry on top. But if that's going to happen, then Wisconsin needs its best player to be its best player. And that guy is senior Frank Kaminsky. His importance to the Badgers cannot be understated. He's great on the inside, but he can also extend the floor and hit shots from the outside. Kaminsky put up 29 in the Elite Eight and the Arizona Wildcats had no answer to his dominance. This is his last chance to win a national championship and he's going to have to earn it. The Wisconsin Badgers are counting on him.
All statistics are courtesy of SR/College Basketball.