Which NCAA Coaches Have the Most Final Four Appearances?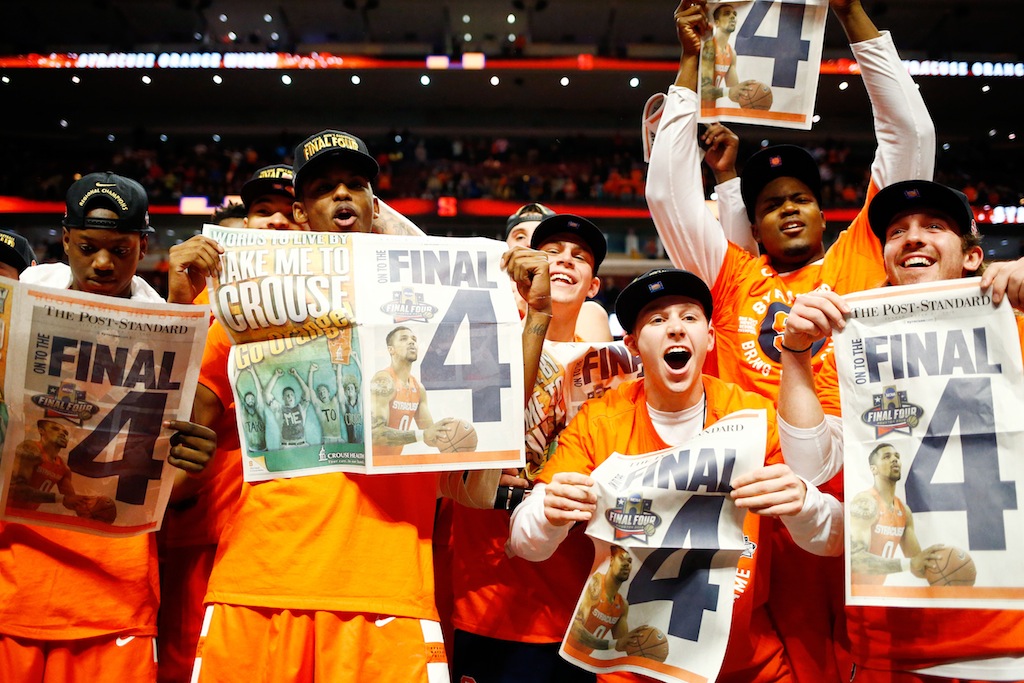 It's easy to look at college basketball and fixate on all the dominant players the sport has seen throughout history. After all, these are the individuals who lace up their kicks, take the floor, and face the pressure of knocking down the big shot when the game is on the line.
And yet, after watching the Syracuse Orange turn the NCAA tournament on its head in 2016, reaching the Final Four as an unheralded No. 10 seed, we can't help but be reminded that without quality coaching, a team is more or less screwed. Great players come and go, but the direction fueled by an all-time great coach is what helps a program sustain success over the long haul.
Thanks to the Orange's improbable run in 2016, head coach Boeheim has now reached the Final Four five times in his career (The Orange were not selected to play in the 2017 NCAA tournament). And while that's undeniably impressive, it's hardly a record by college basketball standards. You don't believe us? See for yourself.
5. (tie) Tom Izzo
Final Four appearances: 7
Despite having Vegas in its corner prior to the start of the 2016 tournament, Michigan State flamed out in the first round, losing to No. 15-seed Middle Tennessee State by a score of 90-81. And while this upset may have shocked the Big Dance to its core, it doesn't change the fact that Tom Izzo makes a habit out of leading the Spartans to postseason success.
Now in his 22nd season at State, Izzo has been to the NCAA tournament 20 times, taken the Spartans to the Final Four on seven separate occasions, and cut down the nets back in 2000. The 2016 season proved to be a dud for Izzo and the Spartans. Perhaps they'll go out and shock the country in 2017. It wouldn't be the first time.
5. (tie) Rick Pitino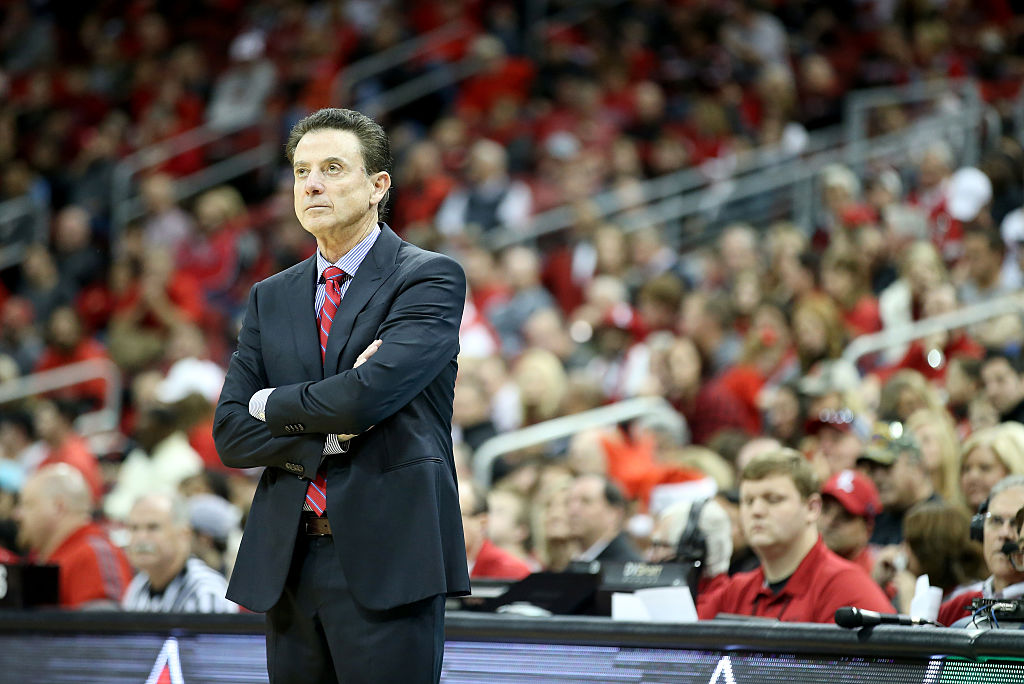 Final Four appearances: 7
Rick Pitino's success as a college basketball coach goes beyond 769 career wins and a lifetime winning percentage of .740. The most impressive thing about the man steering the ship for the Louisville Cardinals is that he's managed to help three different programs reach the Final Four.
In 30-plus years of coaching, Pitino has been to 21 NCAA tournaments, won two national championships, and led Providence, Kentucky and Louisville to a combined seven Final Fours. After being forced to miss the tournament in 2016 because of a self-imposed postseason ban, the Cardinals are poised to make up for lost time in 2017. If you ask us, an eighth Final Four appearance for Pitino is a real possibility.
4. Roy Williams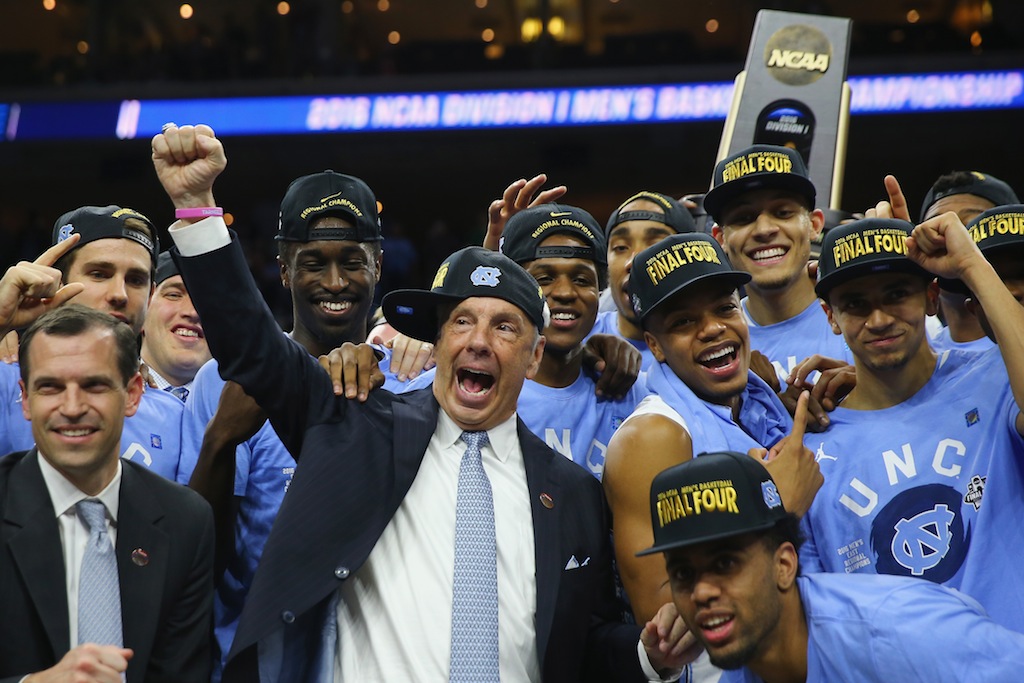 Final Four appearances: 8
In 2016, thanks to a 88-74 victory over the No. 6-seeded Notre Dame Fighting Irish, the North Carolina Tar Heels became the only No. 1 seed to reach the Final Four. In doing so, this group allowed head coach Roy Williams to move into sole possession of fourth place on the list of all-time Final Four appearances by a single coach.
Unfortunately, UNC's run didn't culminate in a championship, as Villanova won the title with a buzzer-beater that will haunt folks in Chapel Hill for the remainder of their days. And yet, if the Tar Heels are able to play up to their potential in 2017, Williams has a superb shot of adding a third title to his already loaded resume.
3. Dean Smith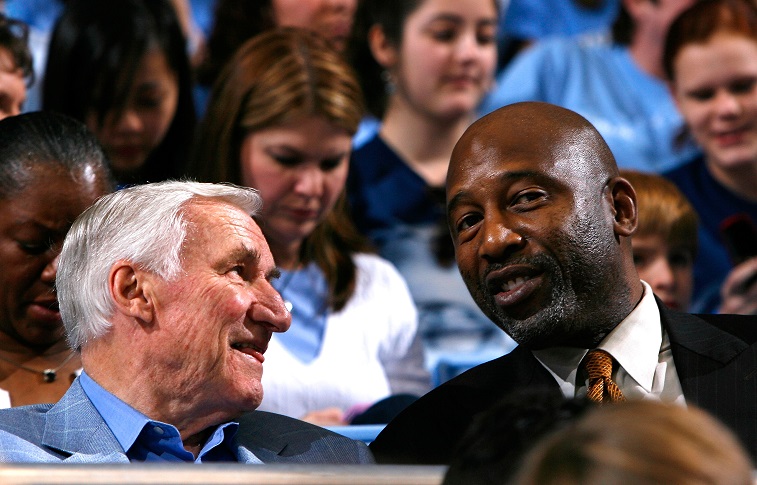 Final Four appearances: 11
The late, great Dean Smith spent his entire college coaching career at North Carolina. We could best sum up his time there in one word: legendary. In 36 seasons, Smith amassed 879 wins, posted a career winning percentage of .776, and took the Tar Heels to the NCAA tournament 27 times. During that span, he won two titles (1982 and 1993) and made 11 trips to the Final Four. As we said before: legendary.
1. (tie) John Wooden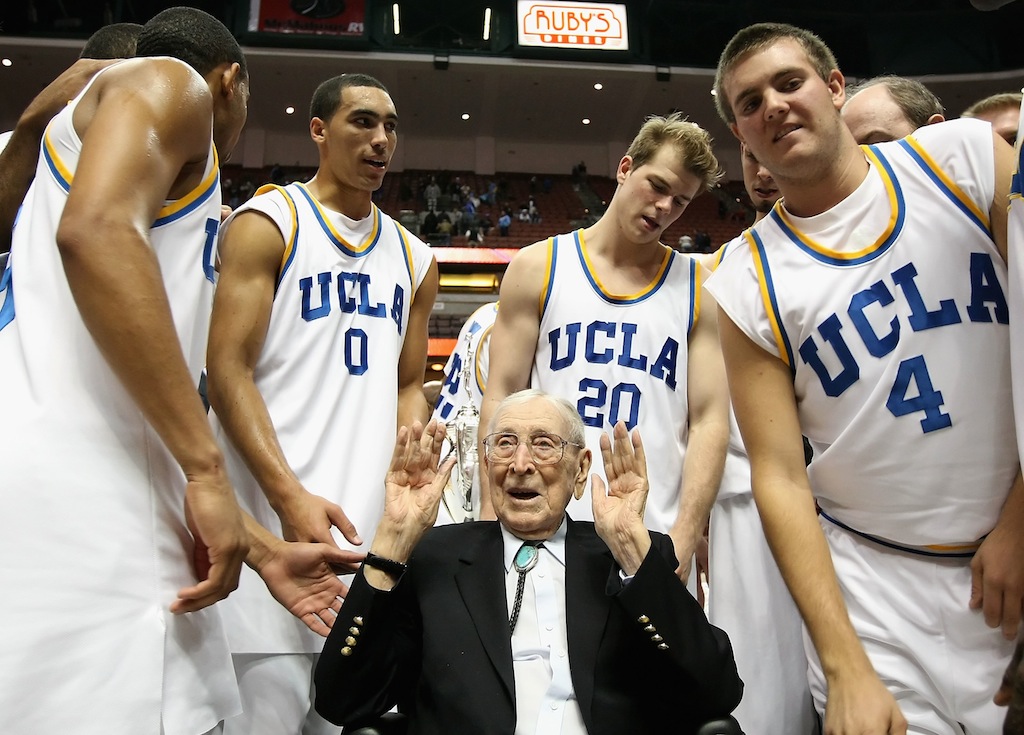 Final Four appearances: 12
When you consider what John Wooden accomplished during his time as the head coach of the UCLA Bruins, it doesn't seem real. But we assure you, it was. Wooden led the Bruins to the big dance 16 times, went to 12 Final Fours, and won the national championship on 10 separate occasions, including seven in a row from 1966–67 to 1972–73. Having success as a college basketball coach is one thing, but what Wooden managed to do, well, we're not even sure there's a proper word for it.
1. (tie) Mike Krzyzewski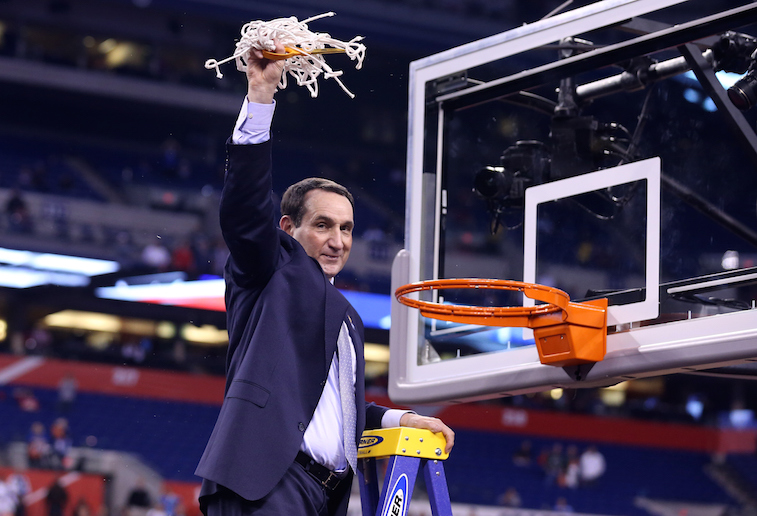 Final Four appearances: 12
Duke Blue Devils head coach Mike Krzyzewski is the standard by which all of today's men's college basketball coaches are measured. With 1,070 career wins (the most all time), 33 tournament appearances, 12 Final Four births, and five national titles, Coach K has essentially turned the Duke program into an unrivaled machine of excellence. And with the incredible haul of talent he has at his disposal in 2016–17, don't be shocked if he soon finds himself sitting alone at the top of this list.
Statistics courtesy of SR/College Basketball and NCAA.org.